I have finished my first large crochet project, woo! This is the Tiramisu blanket (first blogged here). It's for Meredith, of course – I've got to create for her until she's old enough to tell me that handmade stuff is not cool, heh heh. Mods to the pattern – I used a much smaller hook and thinner yarn and therefore rejiggered the numbers somewhat from the pattern.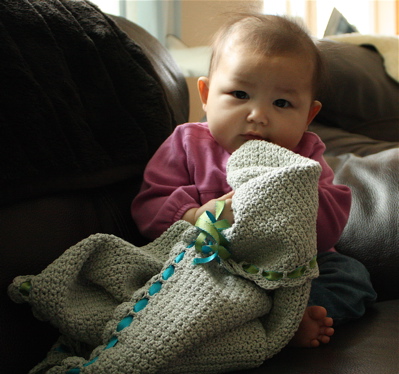 I used Lang Borgosesia Colle yarn (100% cotton, DK weight, cabled and dense). The final dimensions are about 30-31″ square. My gauge relaxed as the project progressed, and the finished end is an inch wider than the beginning. I thought I could block it straight, but crocheted cotton isn't that forgiving. But that's OK.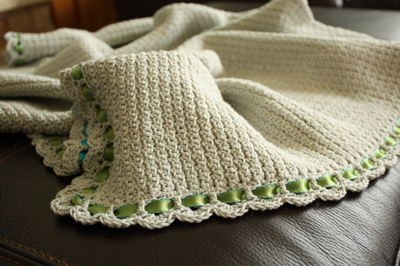 My ratio for picking up the sides to attach the edging also was a little wonky – I picked up a few too many stitches. However, the blanket looks quite nice with a slightly ruffled border, and I have decided that it's a feature, not a flaw. 😀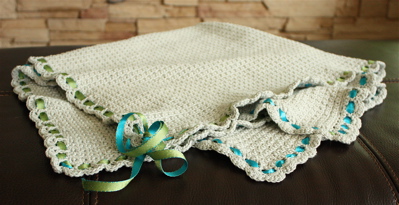 I found the best ribbon at a local shop, it is a satiny 2-sided ribbon, teal on one face and spring green on the other. I love it!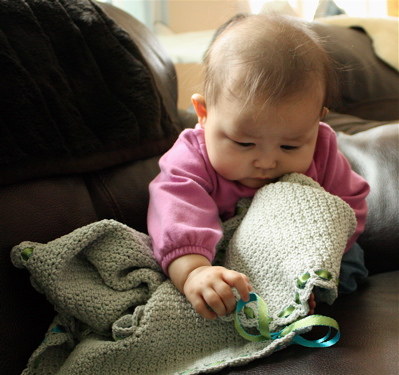 Meredith approves!