Catchy title, eh? Actually, I tried to come up with the most obvious search terms because I want every breastfeeding mom who is wondering how to combine working and pumping to find this little post.
When I went back to work full time, I knew I wanted to keep Meredith exclusively on breast milk until she was at least 6 months old. I am extremely fortunate to have a large personal office with a lockable door and the opportunity to pump whenever I want. But pumping itself is a drag – you have to hold the horns up to your breasts for 10 to 15 minutes while the machine milks you (see here [possibly NSFW?] for the visual – I call it the "chicken wing position"). During this time, you can DO NOTHING. Can't dial a phone. Can't type. Can't read anything that requires you to turn pages. It is uncomfortable and lame.
Pumping generally has to occur every few hours to ensure that Baby will have enough milk for the next day – for me, that meant pumping 3 times during the course of the workday. You do not know the eternal hell of time ill spent until you have been tethered to 1 spot (the cord on the pump is only so long), holding your hands to your breasts for 45 minutes while staring dully into space. Yes, you can put down a bottle, but it is all too easy to spill a few drops of milk every time (sour milk office smell, anyone?), plus everything needs to be readjusted to get centered and vacuum sealed again. Generally, it's a nuisance to stop and start pumping multiple times per session.
What to do? Teh Internets to the rescue! Check this out! The method worked with any hairband I had laying around the house, and it worked with any bra (with or without clips). I wiggled and waggled and was pleased to see that it all stayed put. However, in practice, when the bottles were nearing full, gravity intervened, and I couldn't reliably maintain a good seal. Also, I worried about the bottles falling, so I was afraid to move, afraid to have a good laugh or cough.
Better solutions? This requires you to wear the same bra every day, day in, day out. Eh, no thanks. This is onto something… but it's not adjustable (zipper closure). What about this velcro-and-elastic band? Hmm…
I already had 4″ wide waistband elastic (from my maternity pants of epic fail), purchased here. I had Aplix Touch Tape (like Velcro, only much softer, commonly used in cloth diapers), purchased here. I knew how to make buttonholes. Surely…?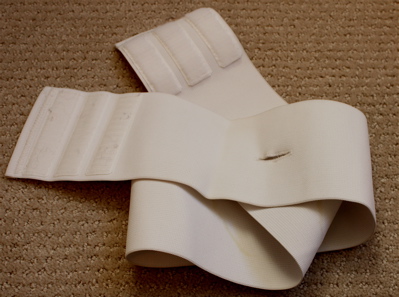 I measured myself at the widest point, cut the elastic slightly longer, folded the edges, and covered them with zigzag stitches. I applied the Touch Tape to both ends, making a wide overlapping area in case I shrank over time (I was optimistic about getting skinny with breastfeeding! Ha ha ha – the rest of my body [except tummy] is smaller, but my chest only got bigger!). I clipped the corners of each piece of Touch Tape to avoid being jabbed by sharp points.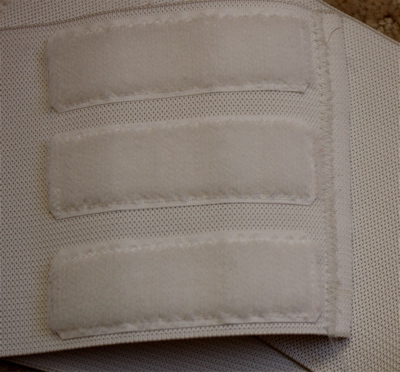 I put the band on and marked dots where the horns would be. I measured the size of the horn neck and added appropriately sized buttonholes.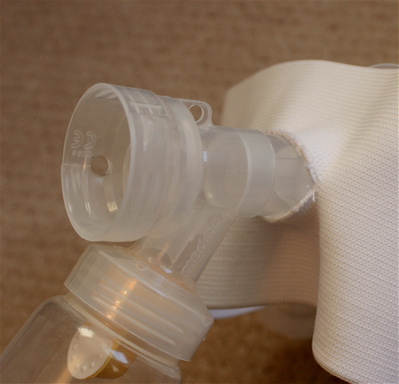 Actually, I fudged the buttonhole size a little – my sewing machine has a mind of its own and appeared to independently program itself to make a certain-size buttonhole based on the size of the first one sewn. It does this even if your first buttonhole is a test one because you've never made buttonholes on this machine before. And it doesn't know that you were just making the largest buttonhole ever because you were kind of reading the manual while the machine was running. Hm. Reboot! But I figured that as long as they were large enough for the neck to get through and small enough that the wide end of the horn would not get through, the size was fine.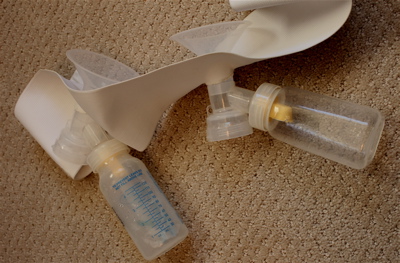 And now – hands free, baby! I "strap on" and continue to work while I pump. It's very secure (no neck strap needed), and I can read, move between my computer and writing desks, type freely, etc. It cost me next to nothing (or, more accurately, it cost me no new money) because I used supplies in the stash. Total project time – I think 30 minutes, not counting the time I spent investigating how to make buttonholes. If you are a breastfeeding, working mama who can sew even a little bit, I strongly recommend that you make yourself one of these.