Hey, it's navel-gazing time again!
1. What did you do in 2013 that you'd never done before?
I went through a corn maze. Thanks to Matt's expert sense of direction, we got through this 12-acre maze in <2 hours without a map.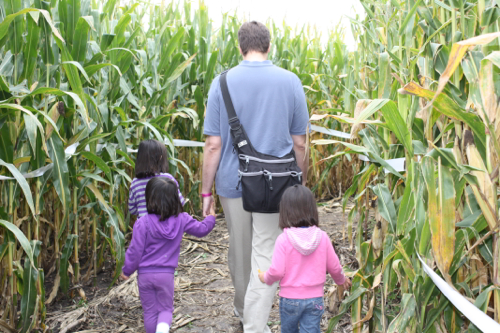 I also drove a go-kart for the first time. I was a very timid driver and laughed at myself when 12-year-old boys (and their middle-aged fathers) whizzed past me.
2. Did you keep your new year's resolutions, and will you make more for next year?

No new year's resolutions, as always, but I turned 39 this summer and made a birthday resolution to be in better shape by the time I turned 40. Didn't act on the resolution 100% until late September, whoops, but I'm doing well now. Who knows what next year will bring?
3. Did anyone close to you give birth?

No babies in my family this year!
4. Did anyone close to you die?
My cousin Sandy died of pancreatic cancer this summer. She leaves behind her husband and teenaged daughter.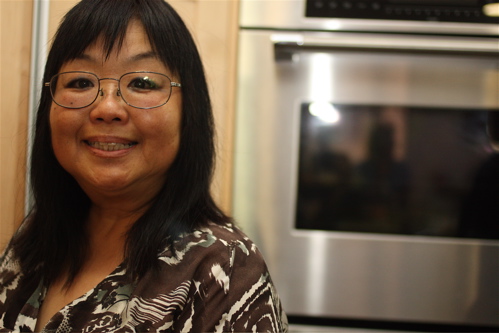 California, 2011
5. What countries did you visit?
We stayed in the good old US of A.
6. What would you like to have in 2014 that you lacked in 2013?
Oh, my gosh, nothing? I feel like all my material needs are pretty much covered. But I sure would love more free time. Well-fitting clothes wouldn't be too shabby, either.
7. What dates from 2013 will remain etched upon your memory, and why?
March 29. House closing! Almost didn't happen, as I mentioned before, but everything got signed on time.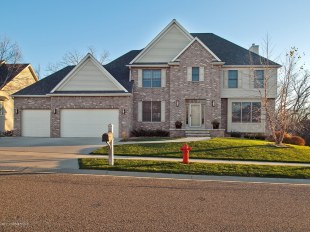 8. What was your biggest achievement of the year?

I looked for and found my iron-clad discipline again. Kidding, sort of.
9. What was your biggest failure?
I suspect it has to do with my parenting again, ha ha. Am I too strict? Too lenient? Not sympathetic enough? Am I spoiling them? Can someone please peer into their crystal ball and let me know if I'm setting the girls on the right path?
10. Did you suffer illness or injury?
None! Healthy as a horse. Although I think I freakin' had the flu over Christmas, despite receiving a flu shot.
11. Where did most of your money go?
Not including the house, a lot of our money went to daycare, holy cow, because it costs twice as much in Rochester as it did in Northfield. Guess there's a lot of cardiologists and neurosurgeons having kids, eh?
We paid off our cars this summer (hooray – and yes, we drive cars for 10 years and/or until the repair bill exceeds the car's value) and are now focusing on repaying my student loans, loosely following the debt snowball plan. I've been out of school since 2003, so it's high time we finish paying for my education.
We've had to replace or repair a lot of appliances this year (washer, dryer, microwave, dishwasher, furnace motor… probably more, I'm forgetting now), which turned into an unexpected money suck, but I love the replacements and use them daily, so it's all fine.
12. What was the best thing you bought?
The house, the house, the house! (Happy dance.) I look around and just love it. Best thing right now in the dead of winter – radiant heat in the basement. When I lay on the floor to do yoga, it is the coziest thing ever.
13. What did you get really excited about?
The house, the girls' birthdays, a beach vacation at the end of the summer, dropping weight, and being happy about where I am in life.
14. Compared with this time last year, are you:

– happier or sadder? Happier for sure. The 2012 mess at work got straightened out, mostly, so we had far less work-related stress. The house purchase took a huge weight off my mind. We have some ongoing heath-related issues in the family that we are dealing with, but they seem to be in control for the time being.
– thinner or fatter? Thinner! I hit an all-time high weight in September that scared me, so I prioritized my health and went all type-A on it. I'm logging what I eat (via MyFitnessPal) and regularly doing yoga, stairclimbing (I work on the 10th floor and next to a 20-floor building, so I don't take the elevator anymore and sometimes climb the stairs next door when I take a break), Stronglifts 5×5 (just started a few weeks ago), and C25K (week 5). I've come down about 15 lbs and am now the same weight as I was in college.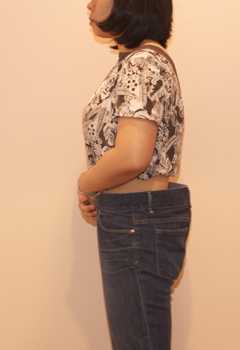 These pants were a little tight in August
– richer or poorer? Poorer, probably, with the house, but my life feels richer.
15. What do you wish you'd done more of?

Creative pursuits. Never enough hours in the day!
16. What do you wish you'd done less of?

Laundry. Sheesh.
17. How did you spend Christmas?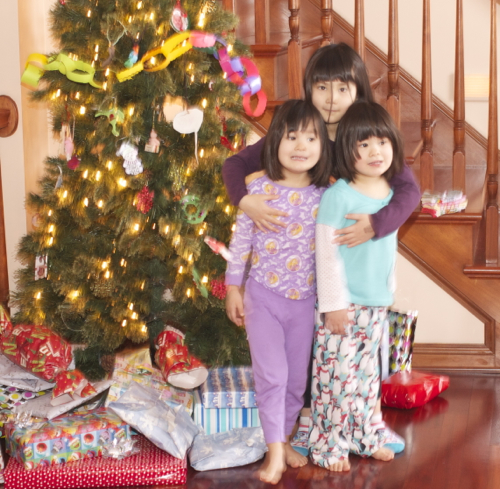 At home with Matt and the girls. We had carnage on Christmas morning with small, greedy children, which was partly amusing and partly horrifying. After lunch, in lieu of naps, we went sledding! After dinner, I zonked in bed because of the cold.
18. What were your favorite books of the year?
Do instructional videos count? I really have been digging Craftsy classes this year. I've bought more than I've watched so far, but I spent a lot of time with Amy Herzog's Knit to Flatter and hope to have a finished sweater soon. I've also watched classes on jewelry and sewing, although I've yet to try the techniques.
19. What did you do on your birthday, and how old were you?
I went to work and had a nondescript day. I turned 39. Matt and the girls took me out to dinner afterward, they gave me handdrawn cards and earrings. That was lovely.
20. What one thing would have made your year immeasurably more satisfying?
Damn, this was a pretty satisfying year.
21. How would you describe your personal fashion concept in 2013?
Unkempt! I culled most of my clothes and now everything that remains is too big. Rotten year to be on a RTW fast, LOL.
22. What kept you sane?
Thinking "This too shall pass." Eating really good instant ramen. Climbing 40 flights of stairs and realizing I've caught my breath back in only a couple minutes. Cleaning lady who does the floors and bathrooms twice a month.
23. Tell us a valuable life lesson you learned in 2013.

Love, forgive, teach, listen. Try to be kind, always.
—
Thanks for coming by this year! I wish you the best in 2014.