This is my knitting project for the commute home. I'm pretty brain-fried by that time of day, and I find that I make interesting mistakes when I knit-sleep. Still, I'm pleased with the progress. (All identified mistakes have been picked out and corrected.) For reference, I've laid it on the model pullover.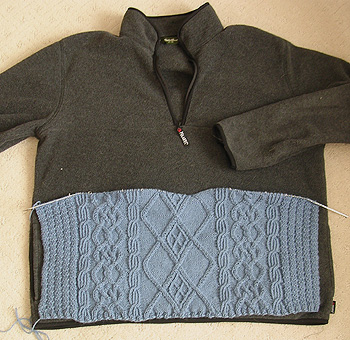 It's coming along. The ribbing on the side pulls in slightly, but the difference is less than 2″ on a 26″-wide piece, I think it will block out easily.
Please leave a comment if you're interested in a .pdf of the 2 cable patterns that I designed (free download). It'll motivate me to get them online if I have even 1 request!