Continuing in my quest for whole wheat goodness, I dipped back into an old favorite, banana bread. This recipe is from the King Arthur 200th Anniversary Cookbook.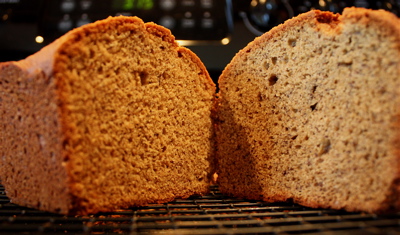 I've always been a somewhat impatient person who prepares ingredients on the fly as the rest of the dish is coming together. Most of the time, it's fine, but sometimes it is a pain to stop what I am doing to do something finicky, like zesting a lemon. I know the standard in cooking is to make a "mise en place," and while I've resisted doing it for years, I finally have admitted that it is the smarter way to cook.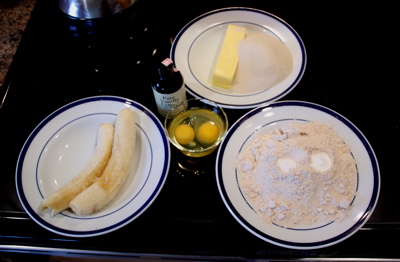 1/2 c butter (1 stick)
1 c sugar
2 eggs
2 very ripe bananas
1 glug vanilla extract
2 c white whole wheat flour
1 t baking soda
1/2 t salt
Heat oven to 350 F. Spray a 1-lb bread pan with PAM+flour.
Cream butter and sugar. Don't just combine it – cream it until it changes color and turns pale. (With a hand mixer, this takes ~10 minutes.) The picture below shows it at the "just mixed" stage. Silly me, I forgot to take a picture when it was fully creamed. The aeration helps keep the texture lighter.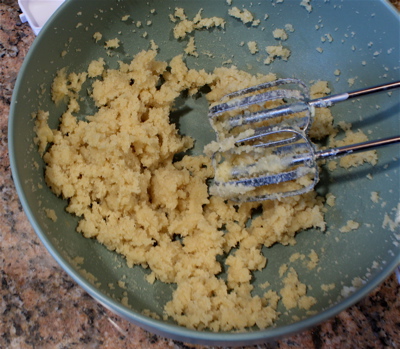 Add eggs 1 at a time, beating on high for at least 2 minutes after each egg. Add bananas and vanilla. I don't mash the bananas ahead of time because the very ripe bananas will disintegrate (more or less) with only a little encouragement. The batter may look "broken," but it's fine.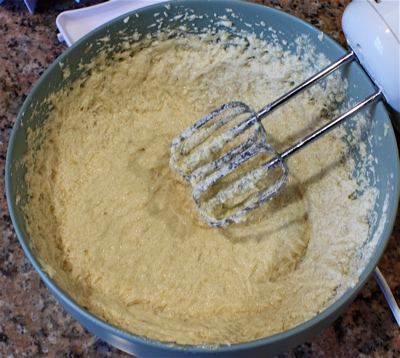 Mix the soda, salt, and flour. (I tend to scoop up the soda and salt and sprinkle it into the batter, and I mix well to disperse before adding flour.) Add dry ingredients and mix on low until just combined. Smooth into the baking pan.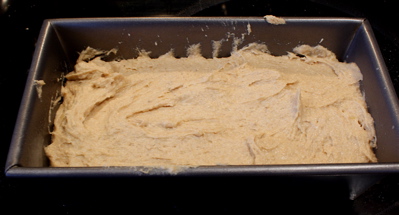 Bake for 60-75 minutes (until a skewer in the middle comes out clean). Tent with foil after 50-60 minutes to prevent the top from becoming overly brown.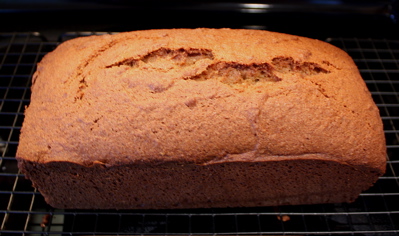 This has a very different texture from regular banana bread. I would describe it as firm and almost "sandy" (but not gritty). It is not mushy or feathery. Deb of Smitten Kitchen once referred to whole wheat bread as being "earnest," which is a great descriptor of a certain genre of baked goods (ie, it makes me think of whole wheat muffins with oat bran, raw carrots, coconut, sunflower seeds, eggs, and hardly any sugar). Anyway, this is not earnest banana bread, but it's not cake-like, either. I've made this a couple times and have grown quite fond of it.