Sometime in June, I think, I finished the Swallowtail shawl.
Sometime in July, I blocked it. The color is all wrong in the next 3 photos.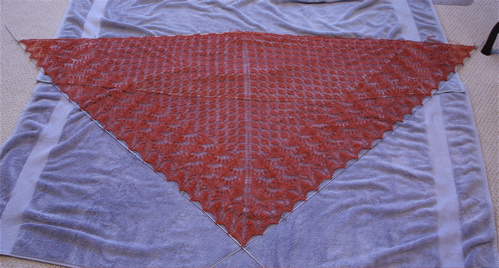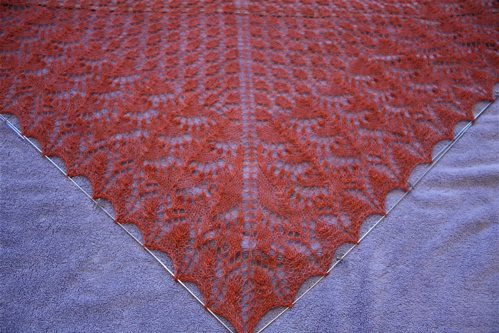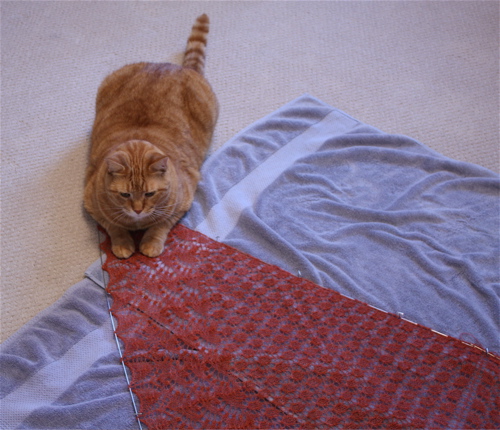 Charlie, ever obliging, helps hold down a corner
The fabric is super lightweight and drapey.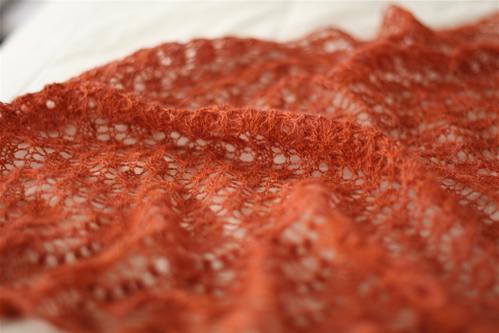 The color is most accurate in this picture.
I used Ted's hint when creating nupps. Essentially, when you have a yarnover for the nupp, make it a double yarnover. On the purl side, move all the stitches to the right needle, dropping the extra yarnovers, and then move the stitches back to the left needle. This helps even out the tension. Then perform the p5tog, ensuring you haven't accidentally hooked one of the bordering yarnovers. It makes for a very lovely, very easy-to-execute nupp.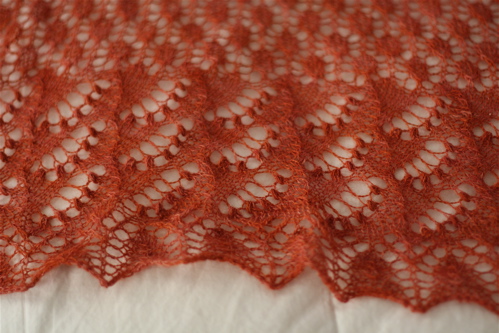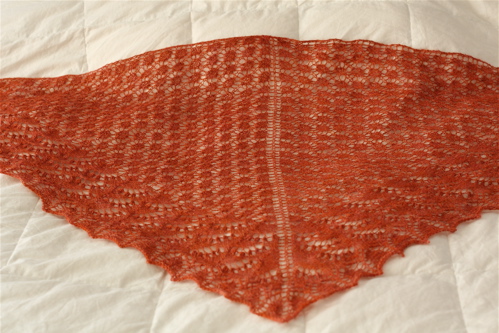 Sometime in August, I wove in the ends and took a few modeled shots.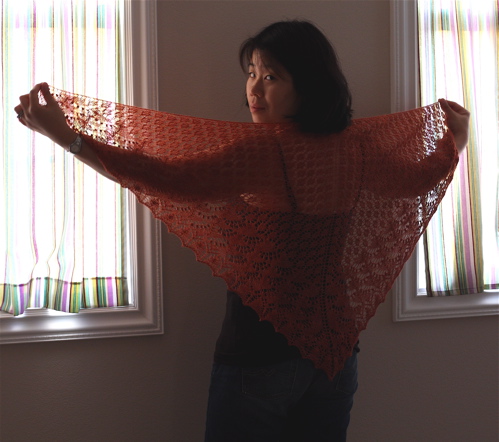 Fly away, Swallowtail!
Recap–
Pattern: Swallowtail shawl by Evelyn Clark (pattern here)
Yarn: Alpaca Misti lace, 100% alpaca. Handdyed by me.
Modification: I used the recommended yarn (a first for me?) and the recommended needle size (US 4, 3.5 mm), but I made the shawl larger by knitting the "budding lace 2" chart 19 times (instead of 14) and by repeating the "lily of the valley 1" chart one more time after LoV2 (omitting rows 1-2 the second time around).Thanks to Ravelry user kmcschmidt for the clear explanation.
To celebrate project completion, I have a yarn giveaway. I started with 3 full skeins of Misti alpaca lace yarn (150 g), I ended with just over 80 g. You should have enough for your own larger size Swallowtail shawl, if that's what you choose to knit (doing the math, my shawl must have been ~70 g).
If you'd like a chance to win, please leave a comment. You will receive the full skein (still in hank form) and the partial skein is as I used it, in a center-pull ball. (Allergic folks – observe the cat in the picture above.) I'll hold the random drawing in 2 weeks, after the comments close. Entrants, you are in luck – bloglines largely has stopped seeing me, so I have lost most of my readers – that means odds are good that YOU will win!