I get the Williams-Sonoma catalog every so often because Matt and I registered there back when we were getting married. Once you are on their mailing list, they are loathe to let you go – I know that I have not ordered anything from them in a really long time. Anyway, it still is pretty eye candy, and once in a while, they have a recipe that I am drawn to, so I haven't asked them to remove me from their list. This is one of the recipes (modified slightly by me) that accompanied their Le Crueset cookware.
If you've ever made the no-knead bread that was all the rage a couple years ago, somewhere in your pantry lurks an enamel-covered cast iron Dutch oven. Yes, it does work well for this dish, but so would any other heavy-weight saucepan. I was cheap and bought my enameled ironware at TJMaxx for $35. It has held up to infrequent use (ie, once a quarter for a few years), but I note that the interior bottom has a scratch and a slight bubble in it. I suspect water has broken through the coating and rusted the pan within, so its days likely are numbered.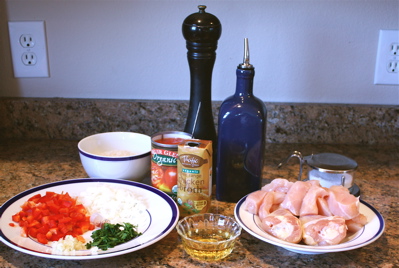 Mise en place
1 lb chicken (2 drumsticks and 1 large chicken breast)
2 T olive oil
1/2 yellow onion, diced
1 red pepper, diced
pinch of saffron
(pinch of red pepper flakes)
3 garlic cloves, minced
1/4 c sherry
1 c chicken broth
1/4 c water
1 14.5-oz can diced tomatoes (do not drain)
1 1/2 c medium-grain rice
(1/4 c green olives, halved)
handful of flat-leaf parsley, minced
Heat oven to 350 F. Season chicken with salt and pepper. Heat Dutch oven over medium-high heat, add 1 T olive oil. When oil shimmers, brown chicken in 2 batches, 7-8 minutes per batch. Add the next T of oil for the second batch. Lower heat if the fond (crust on the pan) begins to get dark, don't let it burn.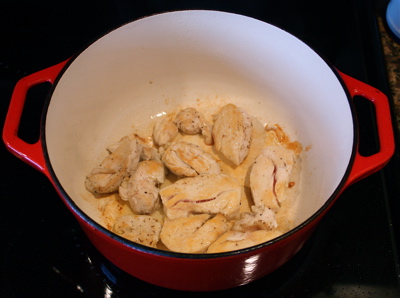 Remove chicken, add onion, pepper, and saffron (if desired, add red pepper flakes at this stage). Cook until onion is softened and browned, 8-10 minutes. Add garlic, cook for 30 seconds. Add sherry, cook for 1 minute. Return chicken, add broth and tomatoes with juice. Simmer (covered) for 20 minutes.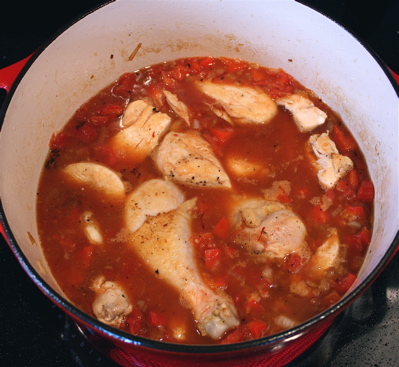 Add rice (and olives), generous pinch of salt and black pepper, bring to a simmer. Transfer pot to oven (covered), bake for 15 min; stir; bake another 15 minutes. If a lot of the rice seems to have a hard core after 15 minutes, add 1/4 c more water and stir. Remove from oven and let stand for 10 minutes. Stir in parsley before serving.