Swallowtail shawl
Because you know that I finished my Simurgh shawl in March and Meredith's bolero in April, you might be wondering what the heck I've been working on since then?!
Check it out – the ubiquitous Swallowtail shawl (.pdf pattern) by Evelyn Clark!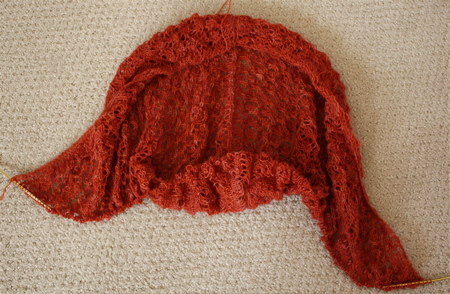 Admittedly, it's not much to look at here.
I'm using my own hand-dyed yarn (blogged here). I love the subtle variegation of the colors. It really came out well.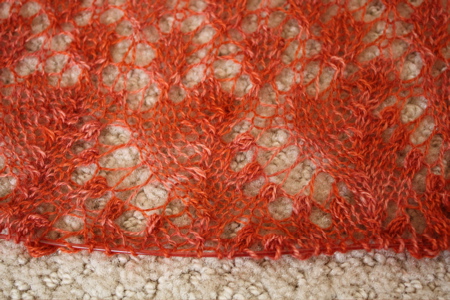 This yarn is, by sheer coincidence, exactly the same yarn recommended in the pattern (Misti Alpaca Lace). I was looking through Ravelry for suggestions on what to do with the yarn and couldn't believe how many people had made the Swallowtail Shawl. I had a real DUH moment when I finally looked at the pattern.
My plan is to make the shawl a bit bigger than originally indicated by the pattern. I first saw Pepperknit's version of the shawl, which had some nifty instructions on how to make it larger (ie, 19 repeats instead of 14 for the first lace pattern). Then, as I wandered through Ravelry, I found others had widened the nuppy Lily-of-the-Valley part by adding a third repeat (as Pepperknit herself mused about). Essentially, knit chart 1, chart 2, and then repeat chart 1 again (but omit rows 1 and 2 this time). Sounds pretty straightforward.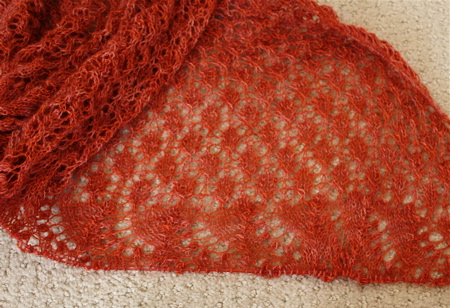 This shawl is for an aunty of mine in California. She is fabulously creative – I've shown you some of her work before. She sewed all sorts of clothes for me and my sister when we were growing up, and this past spring, she even sent a handmade jacket for Meredith. Aunty definitely deserves a reciprocal gift.

Print This Post