I browse general crafty sites (not just knitting) in my copious free time (*cough*), and back in April, I read about what seemed like another case of a big company swooping in and stealing (?) the ideas of an indie designer, this time between Sublime Stitching and Urban Threads. I'm not going to get into who's right or wrong, who's lying or not (see the links and make up your own mind), but the Sublime Stitching brouhaha did get me to start thinking about embroidery.
Some background – I have almost no experience with embroidery. I think I learned how to make French knots back in grade school, and I remember making up a pillow or 2 using a kit with stamped muslin and candlewicking thread. I also recall making some kind of embroidered Christmas ornament, also from a kit. It featured a red bird – a cardinal, I guess – and when it was finished, I sent it off to my seamstress Aunty and pretty much never thought about embroidery again.
Anyway, I wandered over to check out the patterns at Sublime Stitching, and some of the cute baby stuff (like this!) made me want to embroider something for Meredith. Because Matt can draw very well, I asked him to make a vegetable in simple line art. How 'bout a pea pod? He drew the image, I transferred it to the t-shirt (using a wooden DPN and nonwax transfer paper).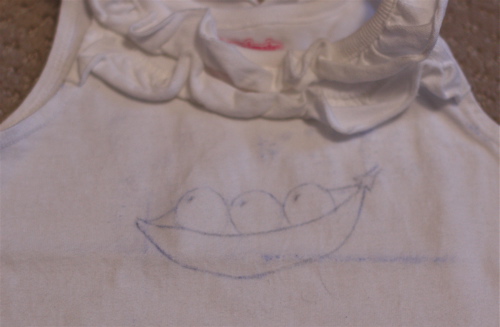 T-shirt fabric, being a knit, stretches a lot and needs stabilization for embroidery. I went to the big box craft store and picked up 2 packets of Sulky tear-away stabilizer, one that is ironed to the fabric and one that is simply placed above or below the fabric. I had no idea which would be best for this project, so I decided to wing it and used the non-ironable kind this time. I hooped the fabric with 1 layer of stabilizer and began stitching the design. I soon realized that the act of embroidering perforated the stabilizer and made it tear prematurely, so I rehooped using 2 layers of stabilizer. It still wasn't great, I am going to try the iron-on stuff next time. That said, it did tear away marvelously.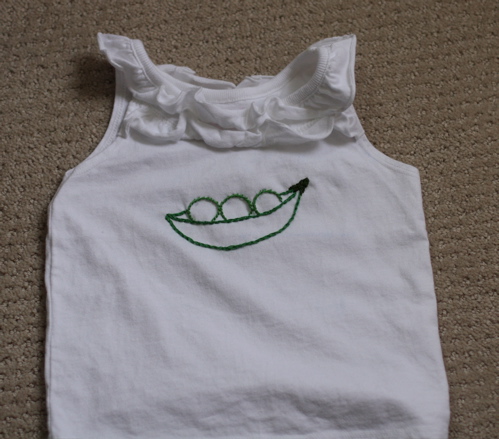 As for stitches, I used the split stitch for the pod, stem stitch for the peas, and made a pathetic attempt at satin stitch for the tip of the pod (what is that, the sepal?). I used the instructions here for split stitch and stem stitch, satin stitch instructions from here. I used several different green colors of DMC embroidery thread. As I stitched away, the transferred image all but disappeared because the no-wax tracing paper color rubs off really quickly.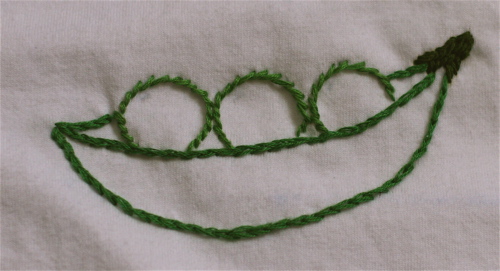 The entire design was finished in a single day. I would say it took… maybe 2 hours? I did have sore fingers afterward, though. But it was very pleasing to start and finish a project so rapidly, and call me biased, but I think it looks super cute!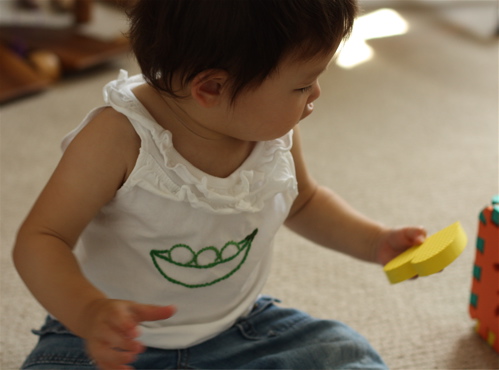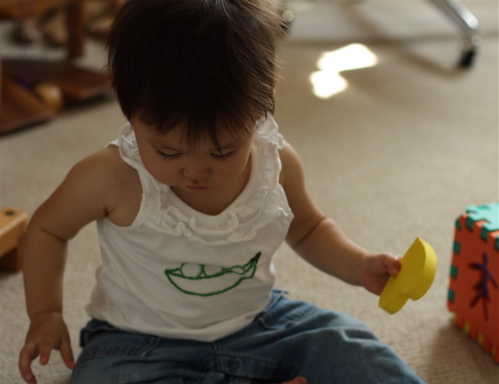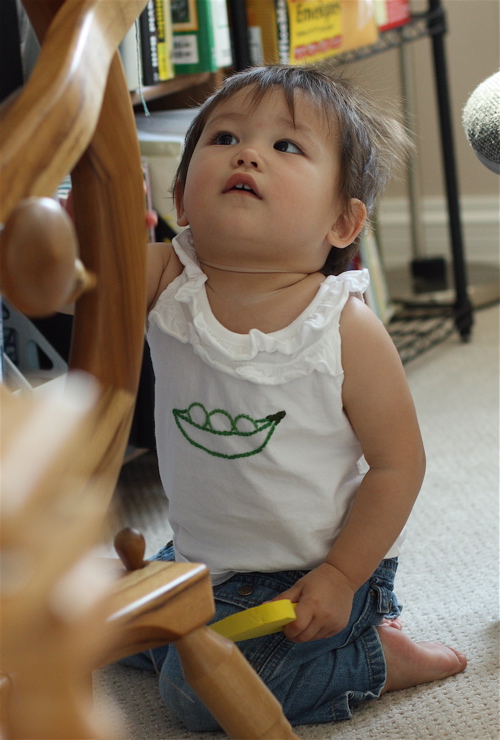 I think I'd like to combine this with freezer-paper stencils – perhaps paint a solid object and embellish with embroidery? I think that would look pretty cool.