Thanks to everyone for their good wishes last week. Everything went smoothly, and we had no complications (that we know of! Ha ha ha!). I went back to work on Monday and am feeling OK these days.
—
So let's talk about something more pleasant – I am knitting a sweater! For me!
Some months ago, I found myself in the hot teenage throes of an knitcrush on Seneca (by Jared Flood [heavens, do I even need to link to him? Is there anyone who doesn't know who he is by now?]).
In case you're living under the proverbial knit rock –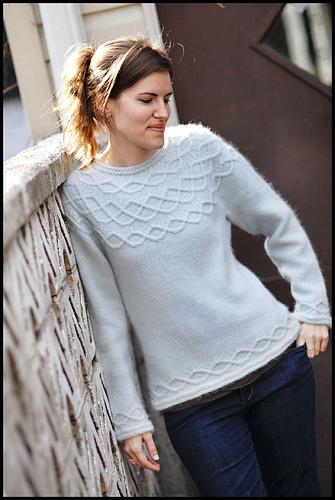 I have this soft spot for yoke sweaters, can't quite explain it. The only other really successful sweater that I knit myself and still wear a lot is also a yoke sweater (preblog, no photo). Aside – egads, I just realized that the sweater is NINE YEARS OLD. It's the Ribbing is No Yoke sweater, designed by the brilliant Charlotte Quiggle, published in Knitters (before Knitters started to stink, bleh). Go look it up on Ravelry.
Back to Seneca. The recommended yarn is CE Lush. I have worked with Lush before and thought that it shed a lot, so I was loathe to try that line again. During my LYS's anniversary sale this summer, I picked up a sweater's worth of Berroco Ultra Alpaca, a 50/50 blend of alpaca and wool. (Even Berroco has jumped on the Peruvian alpaca bandwagon, eh?) It turned out to be the proper grist for Seneca, I was all set.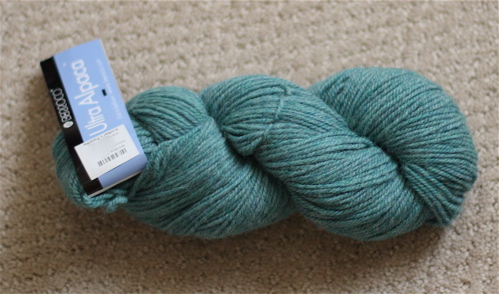 It's neither a soft nor harsh yarn, but I will definitely wear a long-sleeve tee under this sweater when all is said and done. For the first time in a long time, I skipped washing the yarn ahead of knitting, and I didn't even swatch! (I know, right?!) I tried Claudia's oft-touted "sleeve-as-swatch" approach and was happy with the gauge that I got. I cranked through both sleeves in record time.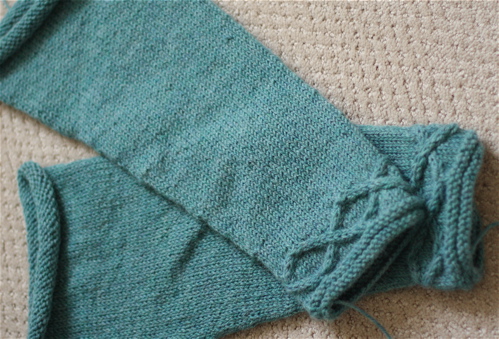 Aren't those chain cables fun? I didn't have any problems with the make-3-from-1 maneuver, but that's because I have knit a couple AS Aran sweaters that use this technique. (Actually, her patterns often incorporate more increases in the back, so you can make a 5-from-1 increase in 2 rows.)
I'm a bit farther along now, the body is done, the sleeves and body are united, and I'm working on the short rows to lengthen the back slightly. Stockinette in the round sure goes quickly. And hoo boy, it would be nice to have a sweater this year. Still, I'm nervous about the fit. I think after I have the first chain of the yoke complete, I'm going to put everything on waste yarn and have a "moment of truth" fitting session and decide whether it needs some ripping.