A word about Bloglines – if you were one of the "lost" subscribers (it tells you my feed is broken, but there's nothing you need to do), please try subscribing with this address: http://www.twosheep.com/blog/wp-atom.php . At least that one appears to get updated on a reasonably timely basis.
—
Hey, so I finished something!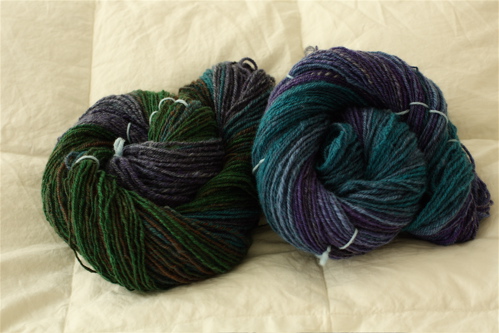 It was a couple years in the spinning, but the plying took only a few hours. This is a 3-ply (chain-plied), sport-weight yarn, 100% Polwarth. I don't know the yardage, but the weight is 4.8 oz.
I was really disappointed in this roving. It was felted into an unusable, clotted mass. Perhaps it didn't start out that way – it could be a function of the carding oil oxidizing with time. Taking my own advice, I stopped spinning the fiber when the pleasure of spinning gave way to tedium.
If you follow the progression of spinning (easy to do because of the chain plying), as the roving got more and more felted, the singles got progressively ragged and pilly-looking on the bobbin. The last part of the yarn looks like hell, frankly. I am hanging onto the unspun portion and may try v.e.r.y. gently washing it, but I am not optimistic about its rescue. Such a shame, the colors really are wonderful.
Currently, the yarn is resting quietly in the stash bucket in the basement. Any suggestions of a project for a small amount of yarn with very long color sequences?