A handspinner and knitter that I have known through online fiber groups for many years has recently opened a new virtual shop, International Fleeces. NAYY, other than she is a friend.
I made a small purchase to help her on her way –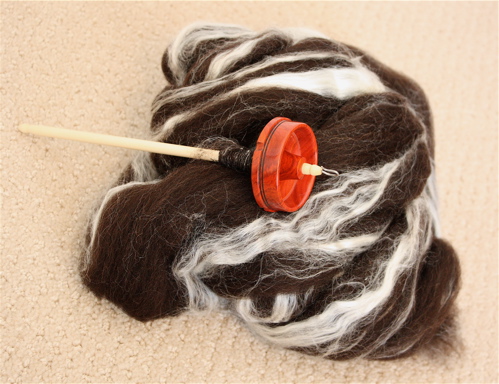 That's 4 oz of Shetland/silk (70/30) – doesn't it sort of remind you of Pepé Le Pew?
And I couldn't resist the True Creations spindle (0.7 oz, a colorful whorl made of chakte kok, a wood I'd never heard of before).
Shipping (with UPS) was prompt, as was e-mail notification of the purchase, and I'm very satisfied with my experience shopping with her. She also threw in a couple freebie fiber samples (camel/silk blend and spiral-dyed Merino), which were nice.
Go forth and treat yourself! And tell Talia that I sent you. 😉