I finished the Seneca sweater that I started last fall! Actually, I finished it a long time ago (more than a month prior) but haven't had a chance to write about it.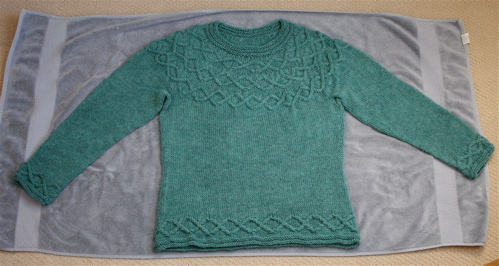 The construction was pretty straightforward (in the round, from the bottom up, a little waist shaping), but I had problems with the yoke. The yoke depth (based on an EZ percentage, I think) seemed too long for my body; specifically, I think a yoke that extends considerably past the bustline apex makes a sweater look a bit frumpy.
I tried the sweater on after knitting the first two cabled rings.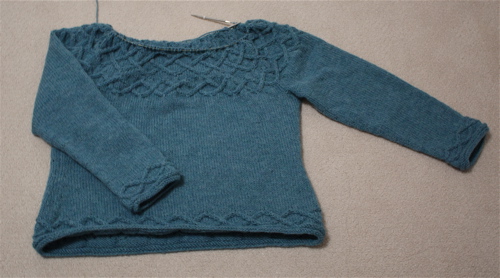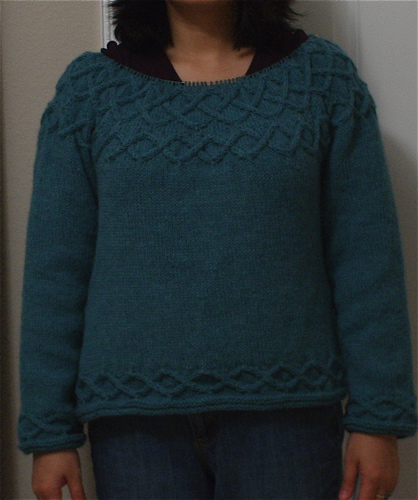 I couldn't tell at that stage whether it would work – I didn't want to let the yoke go any longer than what you see here, but I wasn't sure how much depth would be added by the third ring and the neck shaping. I decided to forge ahead and knit the third ring.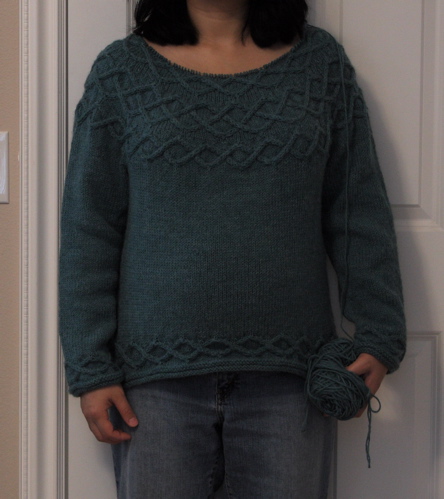 Sorry for the dark pictures! I tried to enhance it digitally so you can see the details. Note that the sweater is riding up in front because of the baby belly. On a normal figure, the hemline is straight across.
Anyway, you can see at this point that the yoke hangs well below the bust. That's not right! I ripped out the yoke to the middle of the second cable and reknit. I truncated the middle cable to decrease its height and then knit the third ring.
A note on cable crossings: I changed the direction of the cable crossings so they would alternate (left over right, right over left) between rings, I thought it was more interesting to knit that way.
The neckline described in the pattern differs from the sweater shown in the pattern pictures. Instead of having 2 levels of purl rings (as shown in the photos), the pattern has you knit 3. I couldn't decide whether to follow the pattern or go with the model sweater – the sleeves and hem have only 2 rings, but the yoke has 3 cables. Most finished Senecas on ravelry showed 3 rings.
I brought the sweater to my Tuesday night knit group for opinions. Those ladies know me too well. Some of them grinned slyly and said it was clearly no good, they strongly recommended that I rip the whole sweater back to the cuffs and hems to knit a third round of purls! We all had a good laugh, and group consensus was to leave it with 3 neck rounds. Good enough for me!
I wet-blocked it and was pleased to see that it did not grow horrendously like some of my past sweaters. The blocking smoothed out the rumply cables and tamed the hem, which flipped upward originally.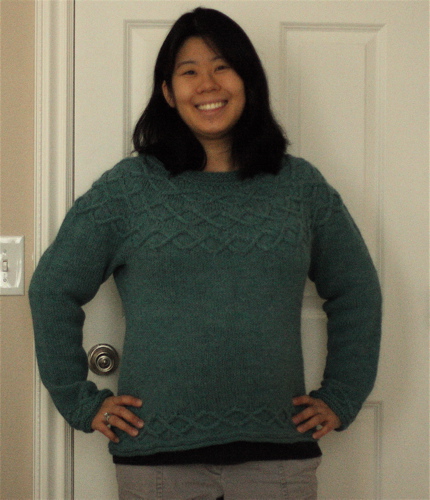 Comment on the fit: All of the yoke decreases happen in the few rows between the cables. I think the area between the upper bicep and shoulder could fit a little better and not be so baggy, but that would be hard to do for this sweater, since it would require a more gradual decrease (fewer decreases per round but more rounds with decreases).
Summary of mods to the pattern: 1) I tried on pieces as I went along, knitting to my body instead of knitting to the schematic measurements, so the sleeves are a little shorter than suggested. 2) Instead of knitting the yoke using cables charts A, B, and A, I knit A, A, and A to shorten the yoke.
One technical suggestion: The cable crossing that Jared describes for C5F is odd, requiring 2 cable needles and holding 1 center stitch back while you cross the surrounding 4 stitches. I crossed mine as follows – hold 3 st to back (on a cable needle, if you wish), k2, k3 from cable needle. I didn't even need to use a cable needle. The result – absolutely identical and MUCH less fiddly. I learned this from an Alice Starmore pattern. 🙂
All in all, I thought Seneca was a friendly project that moved quickly on US8 needles. The yarn (Berroco Ultra Alpaca) was nice, even color, no knots, frogged and reknit nicely, and didn't stretch with wet blocking. I purchased mine on sale and got it a good price, too. I am looking forward to wearing the sweater next year (can't wear it right now because it doesn't fit over the babies). It's been a long time since I made a wearable sweater, it feels very gratifying.
—
Update on the babies: Everyone is doing well. I am having an ultrasound examination every other week to monitor their growth, and so far, so good. They are HUGE and growing well – they are 63rd and 65th percentile in size for gestational age, whee! We learned in January that we are having TWO MORE GIRLS! We are thrilled and open to name suggestions! 🙂
As for me, I am chunking up (we have return of the double chin and yet I am still under the ideal weight, sigh) and am uncomfortable as hell, but I'm more than halfway done with this pregnancy. My cervix looks like it's holding out very well, so I am optimistic about taking these girls to term. Still, the heavy pelvic pressure that I was feeling months ago has since morphed into terrible crotch pain, frankly, and there are times when I roll over in bed and can literally feel pelvic bones grinding against each other (imagine white-hot sparks of pain). I had similar problems with the previous pregnancy, but not this early nor this severe, so I have an appointment with someone in Physical Medicine and Rehab to get some exercises to help stabilize my pelvis in the context of relaxin-loosened ligaments. Otherwise, I am feeling OK, I think.