A month-plus ago, I went shopping for maternity skirts, figuring I could grab a couple of elastic-waist numbers to wear for the remainder of the pregnancy. Well, color me surprised – many designers apparently expect you to wear a skirt with the waistband at the apex of the bump! Huh? I tried on 3 or 4 skirts and was dismayed by how uncomfortable they were.
I have a pair of maternity pants with a stretch panel that goes very high – it starts immediately under the bra, pulls over the bump, and merges with regular pants at the hip level. If you don't mind multiple layers over the torso while experiencing the heat of pregnancy, I think these are acceptable. Still, I think the Japanese Weekend line of clothing really gets it right. Their elastic OK waistband goes *under* the belly, which is much more comfortable, imo.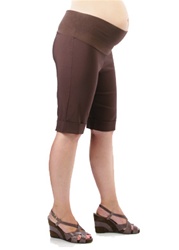 In a fit of pique, I decided to – what the heck – make myself a custom-fit maternity skirt. I pulled out my copy of Sew What! Skirts and sort of followed directions for drafting an elastic-waist skirt. The instructions tell you to make a 2-gore skirt — essentially, a front piece and back piece, with the grainline going down the center front and back. This makes for an oddly unflattering garment because the resultant skirt lays like a flat bedsheet across the belly and then hikes into folds and drapes around the side seams. If you look at the Sew What! Skirts flickr pool, you will see what I mean.
Since I can't seem to do anything without making it excessively complicated, I decided to make an 8-gore A-line skirt with 2″ of ease around the hips. The waistband is 3″-wide elastic, cut to a length that fit comfortably around my body, and I used a remnant from this t-shirt to cover it. I basted and checked the fit before serging the seams. To decide where to attach the elastic, I tucked the skirt under the waistband, pulled until the hemline seemed mostly even, and drew where I wanted the waistband to land. I gathered the skirt in 2 parts (front and back) to match the waistband, checked fit, and serged it all together. You can see how sloped the waistband had to be to go under the babies but still go over my rear.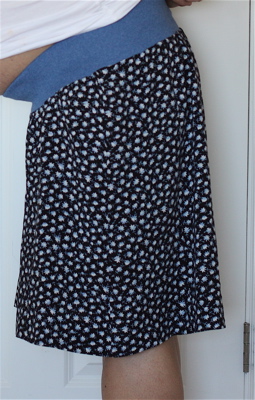 I did have some problems hemming the skirt. I didn't do so well with my new chalk hem marker – I probably was leaning in to make the fabric touch the dispenser, and I sure as hell couldn't see what I was doing on the back half of the skirt – but I tried 3 times (the last with Matt's help), and I couldn't get a straight hem to save my life. I ended up just pinning by eyeball, trying it on and rotating in slow circles in front of Matt, and readjusting when he would say things like "Is it supposed to be higher in back than in front"? I serged the edge and hemmed it by machine (blind hemstitch). And here it is!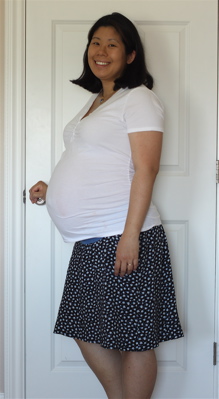 So… Does this outfit make me look pregnant?
I wish I could wave my hand in a carefree manner and tell you in lilting tones that I just knocked this out in a couple hours one afternoon, but truthfully, this little skirt probably took about 20 hours from start to finish. Matt questioned why I was investing so much time on a piece that I would not wear for very long, but I think it was a good experience. Or that I gained experience, anyway, handling fluid fabric, using my serger, drafting a pattern, fitting a waistband, etc.
Sewing has been a constant sore spot for me. I am lousy at fitting, and it doesn't make sense to me to spend the time, effort, and money to make my own clothes if the fit is worse than RTW. But I felt encouraged by this mini-interview with Kenneth King. I felt better when he said that I should "expect to destroy several acres before you get good" and felt he was talking directly to me when he said, "If you are afraid to make a mistake, afraid to ruin some fabric, or afraid to waste some time, you won't ever get really good at this craft. It's the dues you pay for becoming proficient." Thank you, KK. I expect I'm at least halfway toward destroying my first acre, anyway.