My friend Barb offered to bring in my entries to the MN state fair knitting competition earlier this summer. She was going to the fairgrounds anyway, to drop off her own entries (canning competition). I gratefully handed over a pair of socks, a sweater, and a handspun lace scarf a few weeks before the fair began. And then, after the items were out of my hands, I promptly forgot all about the fair.
One Thursday morning, I got a strange, cryptic e-mail from a handspinning friend, Shelley. The subject line said "State Fair" and the message was simply "Whoooooo hooooo!!!!!" I briefly wondered what the heck she was talking about. But babies were crying or something, and I just closed out the message, figuring I'd get back to it later, whatever it was.
Then Barb e-mailed me Thursday afternoon and asked me how I did at the fair. Huh? Oh! The fair opened that day! And the results of the competitions were posted online that morning! Ohhhh! Hey, did I win something? Is that why Shelley was so excited? (All right, guys – in my defense, I'm a little sleep deprived, OK?)
BTW–Barb kicked some serious butt this year! 😉 She is now a THREE-time winner of the MN State Fair Prestigious Processor of the Pantry Award – read more about her here.
We went to the fair on Saturday. Gorgeous day – 70s, sunny. The girls were NOT happy. We were there for a couple hours, and I think 2 of the 3 were crying at any given moment the whole time. Lots of people stared. Moms of twins stopped me to offer encouragement (that was nice). But we ate lots of food on a stick, Meredith and Matt rode on the carousel (yeah, she clung to Matt, wept, and whispered repeatedly that she was "all done" and "want[ed] to get off"), and we saw my knitting on display! Sorry for the lousy pictures – I had only a cameraphone.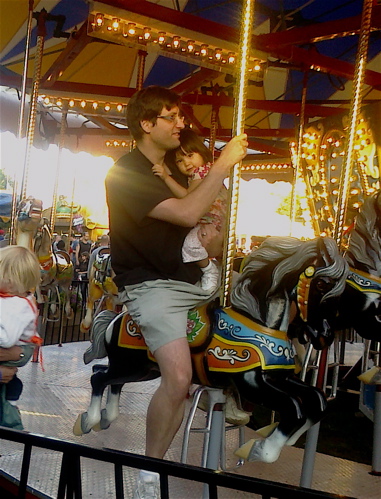 And the results! <drumroll >
Socks, fifth place!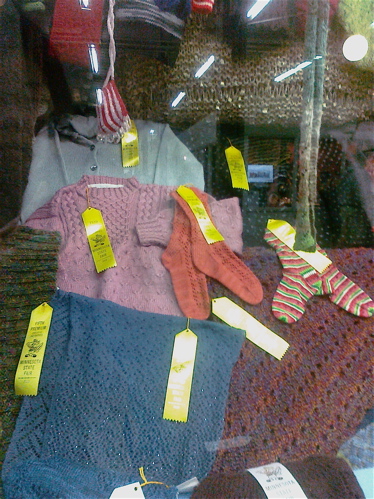 Sweater, third place!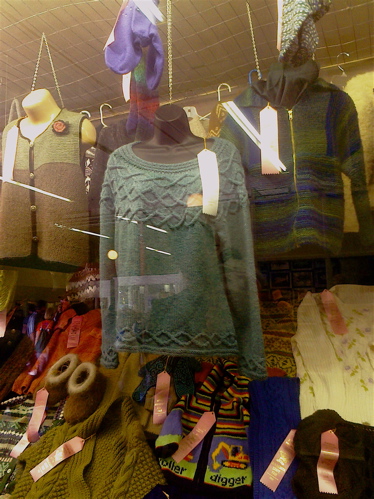 Lace scarf, first place! Check out that blue ribbon! Also – it won a special award from the Northern Lights Handspinners Guild!