Random thing 1: Someone recently e-mailed me about a very cool variant on the DNA scarf. I think this is highly awesome.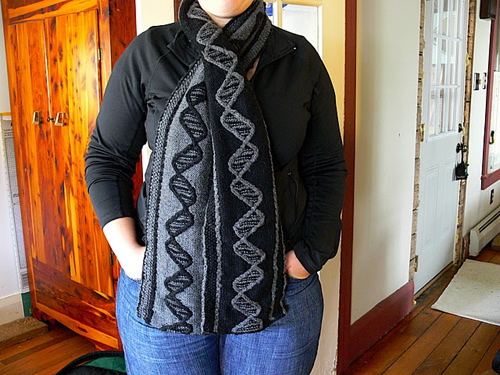 Image by Jamie P
See more pics here (rav link) or here (non-rav link).
—
Random thing 2: I was browsing through the site of a former infertility blogger (now mommy of 2 boys, 1 about Meredith's age). She recently moved to Turkey and posted pictures of a carpet shop that she visited with her family. She mentioned the dyes, the knotted pile, and included a picture of a woman spinning.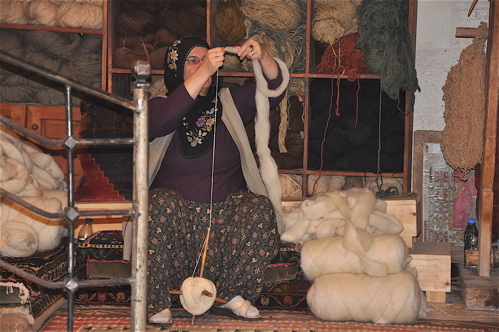 Image by Wendi K
I was really tickled by this photo. "Hey," I thought to myself, "a Turkish spindle! In Turkey! How neat is that?!" (Ha ha ha I AM TIRED.) Looks like she's using it as a support spindle to make worsted-weight singles. Nifty.
—
Random thing 3: Acting on the advice of Etherknitter and others, I recently sent off a superfine Merino (gracefully aged 7 yrs in my stash, purchased from here) to Morro Fleece Works. I figured it would be at least 6 mo before I saw it again. Wrong! Shari e-mailed and said it would be done this week!
—
Random thing 4: If you're a breastfeeding (or otherwise busty) gal who has a hard time finding tailored blouses that close over "the girls" without pulling or gaping, Carissa Rose clothes are designed for you. They have a special sale going on as part of Breast Cancer Awareness month. Click here for details. NAYY, other than a previous customer.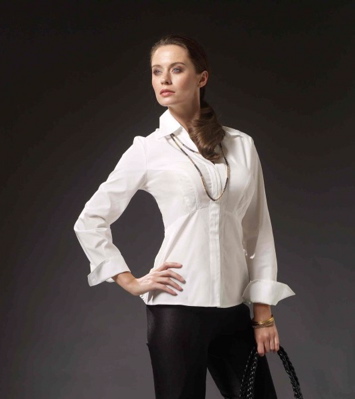 Image by Carissa Rose
—
Random thing 5: My babies are now in full-time day care. They are doing mostly well, although Casey is (after 1 week) still very reluctant to accept bottles of breastmilk during the day. The day care ladies have tried everything – our latest trick is to have someone drape on a shirt that I've worn, in case the scent helps. (Interestingly, the only caregiver who has had any success feeding her also happens to be a nursing mom – coincidence?)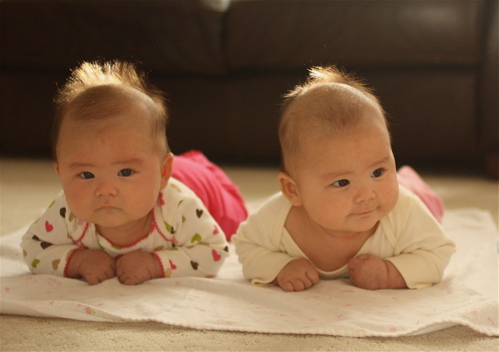 Jordan, Casey
We see the pediatrician in another week for their next wellness appointment, but can anyone please offer me a reassuring story in the meantime?