I've cast on for a new sweater for me! Here I am on Sleeve Island: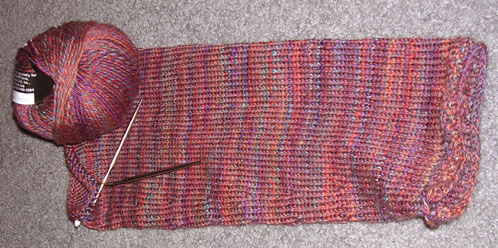 The yarn is Reynolds Odyssey – looks just like the way I wish handpainted yarn would knit up. It's a four ply yarn. Each strand sings its own song, but they blend together in a manner that just takes my breath away!
We've been rather cold here in our unforgivably uninsulated, Boston-area home. When the temps drop below 20 F outside, our heating system just does not cut it. This morning, I woke up to an indoor temp of 56 F (that's about 13 C, for the metrically inclined). Don't complain to me about how cold you are – you don't know cold until you are wearing several layers of wool clothing *and* a down-stuffed coat indoors while you are cooking dinner!
Our landlord have provided an electric heater. The cats and I lounge around it on the worst days.