Meredith received a gift of nused Robeez shoes when she was born. They had adorable little puppies on them. Giant baby that she was, I think she outgrew them by age 4 mo. I considered buying her a new set, but I was reluctant to spend the dough ($25-ish) on such a transient item.
At the time, I was a bit obsessed with window shopping for handmade, boutique baby gear, and I immediately was all I CAN MAKE FANCY SHOES, RIGHT? and hopped on the Internet to enable myself. I bought a 3-lb box of colorful leather scraps, a fancy shoe pattern, and paid for priority shipping to get started ASAP. Ha ha ha groan. Can I chalk it up to poor judgment due to sleep deprivation? 🙂
The pattern looked so sweet, but I was intimidated after reading through the instructions and going online to read tips for sewing with leather (here's one that sums it up well). Special needles! No pins allowed! Permanent holes! Can't make mistakes! And then, a week later, I was shopping at Target and found/bought little leather baby shoes for about $12. I stowed the pattern and leather scraps in an opaque stash bin and went on my merry way.
Fast forward a couple years, I felt like I had to make at least 2 pairs to, I don't know, justify the expense in my head. Bear with me, it's guilty in here. After my most recent baby girls outgrew their last rummage-sale Robeez ($3 a pair! Gack!), it was time to bite the bullet.
As it turns out, sewing with leather is not terribly difficult. I used a regular sewing machine and installed a leather needle. I had to use a hump-jumper (ETA: see this link for description of hump-jumper) and handcrank the flywheel when I was sewing over 4 layers. I used washaway seam tape (instead of a glue stick) that I cut to make it half-width, and paper clips held the layers together.
Look how cute they are!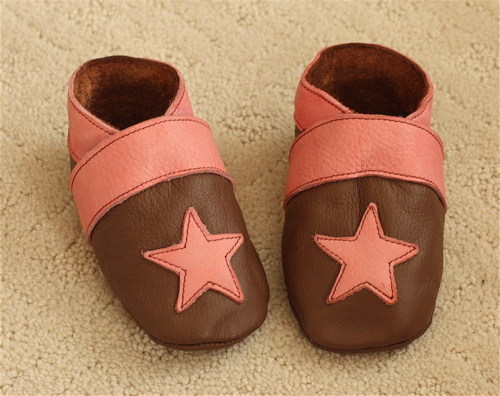 One thing that I learned (the pattern did not discuss) was that the leather benefits from a little molding, just like lace benefits from blocking. When the shoe is freshly completed and turned right-side-out, the leather doesn't curve easily around the seam. It is analogous to having unpressed seams in a garment. You can see here that the shoe took on almost a rectangular shape (like duck feet!), even though the sole is obviously quite rounded.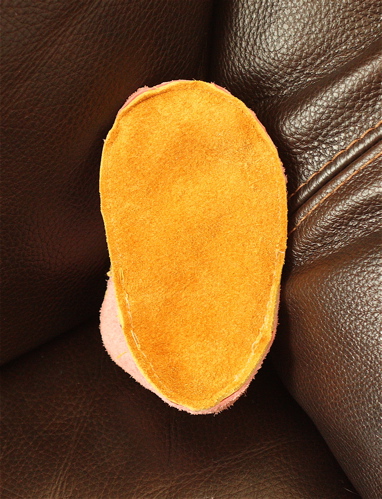 Can you tell which shoe was molded and which was not?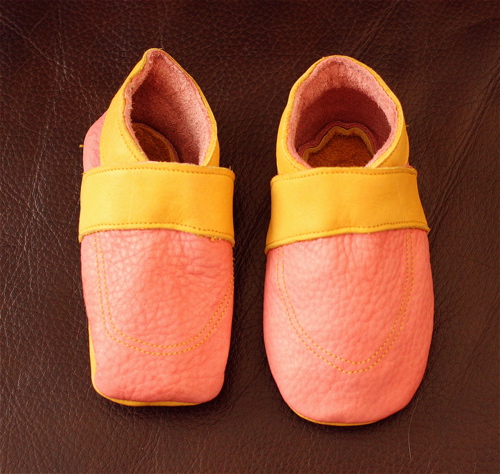 To remedy this shaping problem, I stuffed the shoe with a washcloth and wet the outside with my hands. I didn't try to saturate the leather, I just got it a little wet. I used a chopstick to push the washcloth deep into the toe, stuffing firmly to help the toe keep its rounded shape. After it dried, it look much more like a human foot. The one on the left is still a little squarish, but it looks better with a foot inside.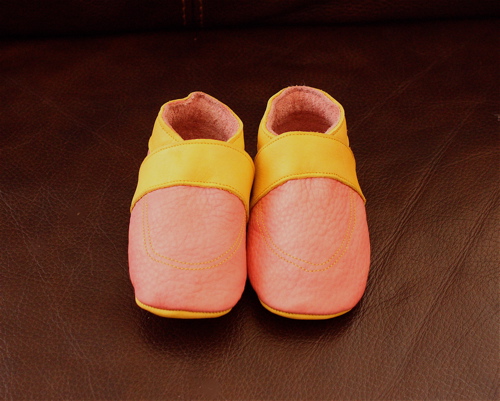 This was fun! But hard! I don't think I want to make any more, not right now.