A long, long time ago, Grumperina went to yarn shops, Home Depot, and knit 2 baby sweaters. Now, she's a busy mom of a newborn, so I predict that her priorities are just a leeetle bit different now…!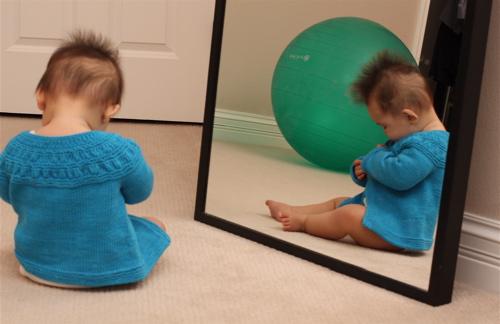 The sweaters that she sent for my girls were beautiful. I am usually somewhat opposed to Mommy-n-me Matchy Matchy, but I was seriously tempted to make an adult one for myself because the pattern looks so nice, so appropriate for children but also not juvenile at all.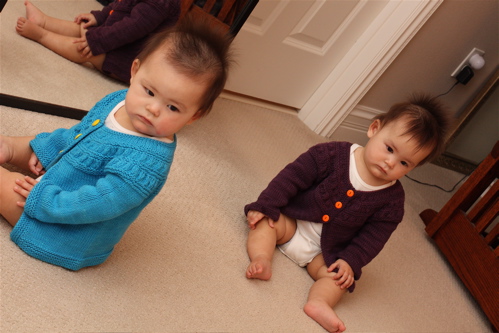 Jordan in blue, Casey in purple
Although I give birth only to very large children, it still took a while for the girls to grow enough to really fill the sweaters out. But, since March, wear them they have! They were great this past spring and probably will still be big enough to fit into in the fall, if Jordan doesn't chew the sleeve off first. (Teething, yay…)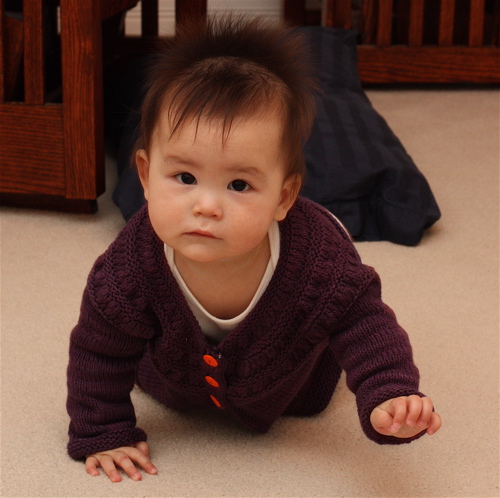 The pattern is Tiny Tea Leaves. You can see the specifics of how the sweaters were knit on Grumpy's page.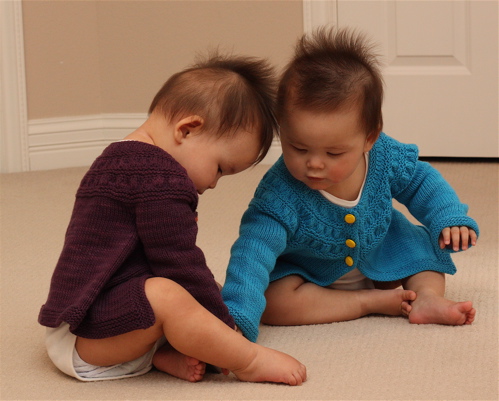 She also sent a lovely gift for Meredith, a pair of Octopus mittens. I'm sorry that I don't have my own photo, but you can see them in their glory here. Meredith didn't really get a chance to wear them last winter because she is very tall for her age (>99th percentile since birth!) and her hands didn't fit inside. (I had to giggle at Grumpy's estimate that it would fit a 4- or 5-year old because Meredith was 2 at the time!) She did love carrying them around, though. We are saving them for the kidlets. And perhaps for future dolls.
Thank you, Kathy! We are touched by your heartfelt generosity. I hope you are enjoying your time with the new baby! (And hey, if you're seeing this, get off the computer, go get some sleep! Ha ha ha…)