I bought a little mound of blue and yellow roving at MDSW 2006. Golly, what was that, a lifetime ago?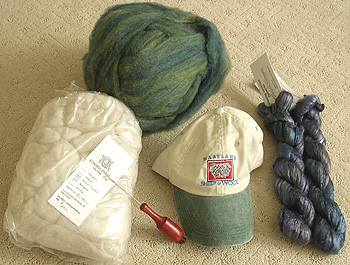 In its native form (plus the rest of my haul from that year – hey, I still have the cap!)
The fiber is primarily indigo-dyed Corriedale with a good percentage of silk dyed with osage orange. The silk gave the singles such a warm, golden shimmer. The spinning was very smooth, no problems that I recall. The singles languished for years, but this spring, I found all the storage bobbins and plied that sucker up. In its final form, it was a round 3-ply, probably heavy worsted or aran weight. I didn't weigh it after washing all the carding oils out, so I'm not sure how much was there. (Four ounces? Maybe a little more?)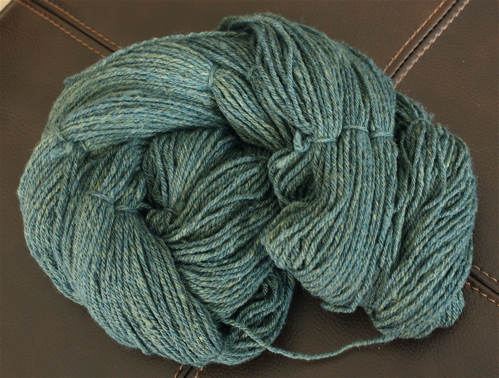 I sent it away as a gift, so I hope someday to see it in a more functional form! 🙂 Here are a few close-ups of the final yarn.