Copycat
Friday December 30th 2011, 12:55 pm
Filed under:
Misc
I'm lifting the survey from Linda.
1. What did you do in 2011 that you'd never done before?
Shepherded the family through "3 under 3″ while working >1.0 FTE for a quarter of the year and having our house on the market and show-ready. I thought I'd die of busy, but I made it through.
2. Did you keep your new year's resolutions, and will you make more for next year?

I'm not for new year's resolutions, I set goals all the time! Probably the biggest goal semi-achieved was my quest to reclaim an adult life. We invited people over for dinner (first time in 2 yr), I got a high-maintenance hair cut (first time in 2 yr), I shed the baby weight (never even tried after Meredith was born), and I resumed abandoned hobbies (including the blog!).
Next year, I'd really like to be a more patient person. I also want to feel more comfortable in my parenting decisions.
3. Did anyone close to you give birth?

Yes, my cousin and his wife had identical twin sons.
4. Did anyone close to you die?
Sadly, yes. This has been an awful year for our families, our worst since Matt and I have been together. We lost Matt's grandmother in March, my uncle in August, Matt's aunt in November, and a long-time Oshiro family friend in December. Our 13-yr-old cat James also died very suddenly in July.
5. What countries did you visit?
We stayed in the good old US of A.
6. What would you like to have in 2012 that you lacked in 2011?
I would like to buy a house in Rochester. Sometimes, I feel like we have put starting a new life on hold. But I'm working harder to embrace each day, wherever I am.
7. What dates from 2011 will remain etched upon your memory, and why?
Sad: Matt's grandmother's funeral – so much love and sadness over her passing.
Sad: James Cat's death – he was fine one day, was breathing hard the next day, and was buried by that night.
Awesome: my family reunion in August – it was the first time I'd seen my California relatives in 5 years. Five babies had been born in 2010-2011, and we lined them all up on a sofa and took pictures.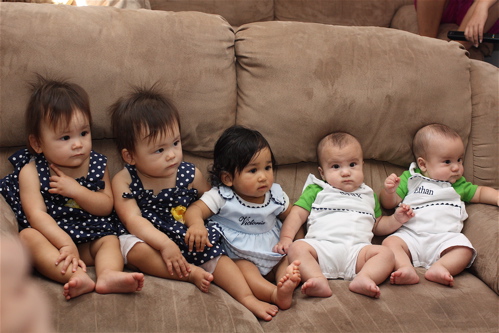 8. What was your biggest achievement of the year?

See item #1.
9. What was your biggest failure?
Parenting continues to serve up scarily new challenges. I struggle with losing my temper, and my biggest failure was actually fairly recently, when I sat in the car after a Christmas party and screamed at my 3-year-old for being irrational.
10. Did you suffer illness or injury?
I had a handful of colds throughout the year, which I attribute to stress and living with 3 girls who go to daycare. I had a creepy week of conjunctivitis last month, it entailed waking up every morning with bloodshot eyes crusted shut.
11. What was the best thing you bought?
A Fitbit. And the corollary, a standing desk from Ikea, a used True 500 treadmill (love you, Craigslist), and a free-swinging monitor arm to set up a walking workstation at home.
12. Where did most of your money go?
1) Mortgage. 2) Daycare. 3) Cocaine. Ha, just kidding.
13. What did you get really excited about?
The children. I swear I can see neurons connecting in their brains. I loved watching Jordan and Casey learn to walk, hearing them utter their first words, seeing them run up to me for hugs and kisses. Meredith is able to comprehend abstract ideas (things that happened before she was born or will happen in the future, hypothetical scenarios), and we are seeing real signs of empathy. Watching these changes in my children is like watching a flower blossom.
14. What song will always remind you of 2011?
Uhm… I guess I don't really listen to music anymore.
15. Compared to this time last year, are you:

– happier or sadder? Happier? But I'm not sure, I'm just so tired all the time.
– thinner or fatter? Thinner, hooray! (Fitbit ALL THE WAY)
– richer or poorer? About the same (except for my 403[b], which apparently yielded 4.6% of negative growth this year)
16. What do you wish you'd done more of?

More hobbies, more blogging, more cooking.
17. What do you wish you'd done less of?

Less cleaning (and less whining about cleaning), less being frustrated about parenting issues, less freaking out about completely meaningless events (eg, getting lost, talking to strangers).
18. How did you spend Christmas?
At home with Matt and the girls.
19. What was your favorite TV program?
I haven't watched TV since Buffy the Vampire Slayer ended.
20. What were your favorite books of the year?
Hmm… Perhaps You are Here and Intuitive Eating.
21. What was your favorite music from this year?

See #14.
22. What were your favorite films of the year?
I haven't watched a movie in the theater in >2 years. I feel like I have enough going on in my life that I don't need to shoulder a fictional person's drama on top of it. Also, if I had 2-3 hours to spare, I'd probably spend most of it cleaning the house. And whining about it.
23. What did you do on your birthday, and how old were you?
I think I just went to work. I turned 37 this year. I'm now old enough that I have to mentally do the math to figure out my age. I like to tell people I'm almost 40.
24. What one thing would have made your year immeasurably more satisfying?
I wish I could relax a little more. I tend to overload my To-Do list, and I always want to have those items taken care of before I do anything fun, but because of the overloaded list, the fun gets constantly pushed down the priority chain. I end up throwing a pity-party every quarter or so, when I get completely overwhelmed. Even though I always resolve to change things up, I inevitably creep back to the same scenario.
25. How would you describe your personal fashion concept in 2011?
I hate shopping for clothes, so I started using the personal shopper service at Nordstroms. Nordstroms isn't cheap by any measure, but the service has saved me a buttload of time and frustration, which is worth a lot. I tell my stylist in e-mail what I want (eg, dress pants for work), and when I show up, she has 6 or more items waiting for me to try on, as well as a dozen other complementary pieces (eg, blouses and blazers to go with the dress pants – not necessarily to purchase, but to see how it will look as an ensemble). She runs through the floors to get different colors, styles, and sizes, as I try clothes on and dissect what is right or wrong.
I respect the lady I work with, she has definitely helped me find stylish clothing to fit my postpartum body. Now that we've worked together a few times, she knows brand X has too much ease in the hips for me, brand Y is too expensive for my budget, etc. We don't have any amazing girlfriend relationship or anything like that, but I trust her and have been satisfied with my experience and purchases.
Wow, that just turned into a review, didn't it?
26. What kept you sane?
Talking over my major decisions (mostly regarding work and parenting) with Matt. I have times where I could throttle him, but more often (much more often!), I'm so grateful to have him around.
27. Tell us a valuable life lesson you learned in 2011.

Forgive. It's just money. Try again. Check your CO monitors; install them if you don't have any.
–
Best wishes to all of you in 2012. Thank you for coming to read my blog and to share your thoughts. You are appreciated!

Print This Post