Lookee, lookee, a real knitting FO!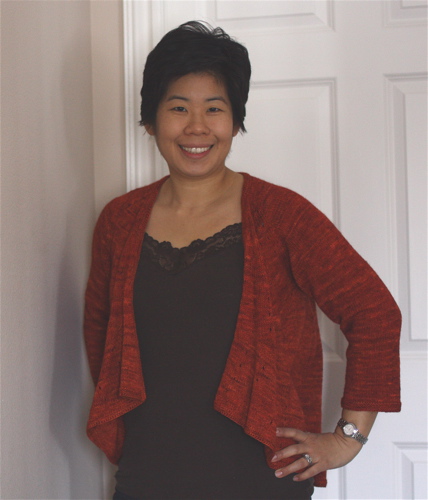 (Hm. Sorry about the picture quality! I was using [thought I was using] a custom white balance setting. I tweaked it as much as I could to lighten, but they look a little odd still.)
This is the Vitamin D cardigan by Heidi Kirrmaier. Yarn is Frangipani authentic guernsey yarn from the UK, 100% wool. (Not the softest stuff out there [actually kinda prickly, to be honest], but I'm hoping it will wear really well.) It was marvelously hand-dyed by Kim of The Woolen Rabbit (oh, she is so talented, let me tell you!), colorway New England Red. Kim dyed this for me back in 2009.
A few more words about the yarn – it was Anne of Knitspot who turned me on to this particular colorway. She was developing her Maplewing shawl pattern at the time and had posted several in-progress shots. Swoon! It was SO my color, and I happily dreamed up a gorgeous textured sweater in that fantastic shade of orange. I ordered white yarn, had it shipped directly to Kim, she turned it around in a matter of days, and then… it sat. (Y'know, 2009 – I had a 1-year-old and was pregnant.) By the time I was ready to knit it up in Fall 2011, my brain had been battered too long by chronic sleep deprivation; thus, I gave up the original idea of a complex gansey with nary a whimper. The cardigan that it did turn into is hardly a consolation prize, though. I am extremely happy with the outcome.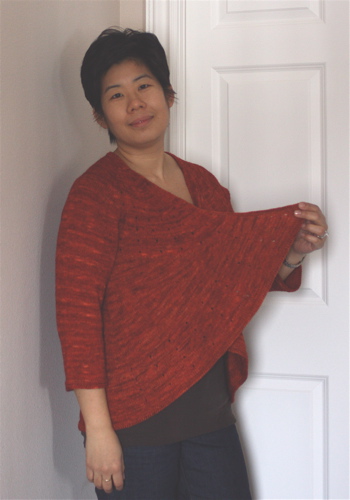 The pattern is fantastic for those knitters who prefer "blind follower" directions. Stitch counts are provided at every major point in the pattern, no calculations required. Directions are very complete. I made no changes. I used the "surprisingly stretchy bind-off" to finish up the edge. I worried that the back length might not be long enough, given some of the photos on Ravelry, but it was just fine for me.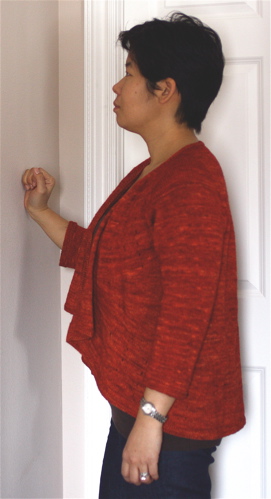 I was a little heavier when I cast on than when I cast off; in fact, with the recent weight loss and weaning of the youngers, I lost more than 4″ of bust circumference. But I had started the sweater to fit the size that I was when I cast on. In any case, you can see from the back view the the cardigan is a smidge too big (waves).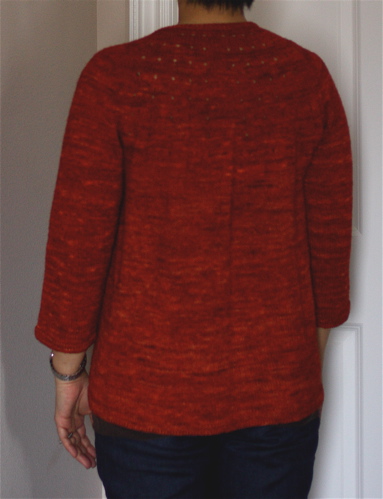 The drape in the front is actually totally fake on my cardigan. I picked a sturdy wool yarn, not a silky, drapey one (as recommended by the designer), and the front pieces splayed out in stiff panels after the initial wet-blocking. Undeterred, I placed the garment on a hanger, manually arranged the folds, and steamed the heck out of the front pieces to lock in some waves.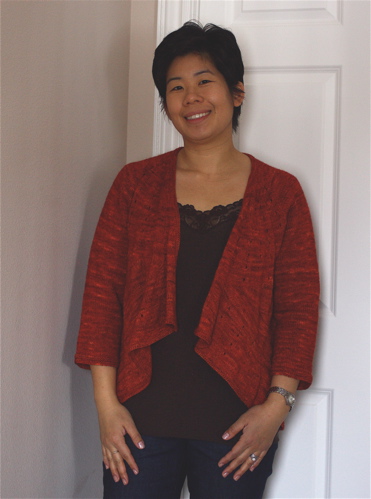 And here's an "action shot" of the sweater! I'm holding a recently released physiology book that I edited last year.