I bought "saffron" superwash top (a Brown Sheep product, I think) for the chicken Viking hat. I was originally thinking I'd go for peach, but I couldn't find any superwash fiber in that shade. This color is not too far off from raw chicken – it could conceivably come from a bird who eats marigolds (if you click the link, scroll to #11). I didn't know what the original yarn recommended in the pattern looked like, and I decided to "do the right thing" (that is, sample, sample, sample).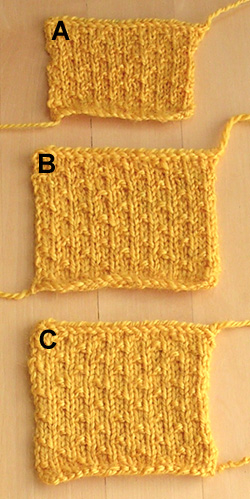 Superwash wool is kind of slick and slips if it's spun with the fibers completely parallel. I also didn't want to make the hat out of dense, worsted-style yarn. I decided to spin from the fold to incorporate some air and introduce a little friction to help keep the drafting triangle even. It's a pretty easy spin, almost boring.
The first sample (A) was a 2-ply yarn. The recommended gauge was 18 1/2 st in 4″ on a US6 (4.0 mm) needle, and I had 20 st in 4″ with the same needle. I knew the fabric would have felt "sleazy" if I had increased needle size without changing the yarn grist, and I thought I'd try a thicker yarn and larger needle. (I'm not worrying about row gauge because I'm planning to knit the hat top down.)
The second sample (B) was another 2-ply yarn, I aimed for heavy worsted weight. The swatch was knit on a US7 (4.5 mm) needle and gave me 17 st per 4″ – too big for the pattern, and the yarn was a little too thick for the needle. In the photo above, this swatch looks like it has the best texture, but as a fabric, it is too dense.
I wondered if the yarn was too soft to clearly show the goosebump pattern. The best yarns for patterned stitches are firmly spun, round yarns (think 5-ply gansey yarns), and I was not feeling the love from these 2-ply samples.
The third sample (C) was a 3-ply yarn, the overall grist was slightly thinner than the yarn in sample B. I wish there was some way you could feel the difference in the yarns, it is striking. This one finally made gauge (18 1/2 spi, baby) with the original US6 (4.0 mm) needle, showed the bumps well, and I knew what kind of yarn I needed to spin.
Honestly now, how many spinners reverse engineer yarn? I'm so much happier when I get a fiber, design the yarn best suited for the fiber characteristics, and then design a project from the yarn. I have sweater design software, "generic design" books where you measure a swatch and plug-and-chug into a predetermined gauge, size, and style.
We're going to meet Baby Daniel next week (SO excited!), and I hope to have all of the yarn finished by then.