Back to basics
Saturday October 20th 2012, 9:09 pm
Filed under:
Knitting
I cannot take a single picture of my knitting if the damn cat is anywhere near me. Case in point – 2 different days, 2 different pairs.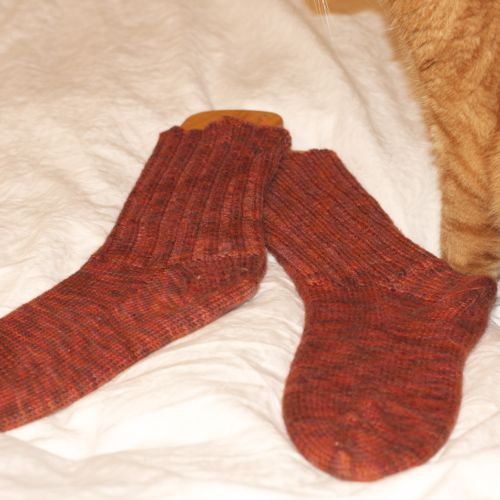 This is an old, beloved pattern – the toe-up socks so aptly named "You're putting me on" because you try them on as you go to achieve a truly custom fit. I made 2 trivial mods – I used "Judy's magic cast on" and "Techknitter's Pretty Good Bind off" (method 2).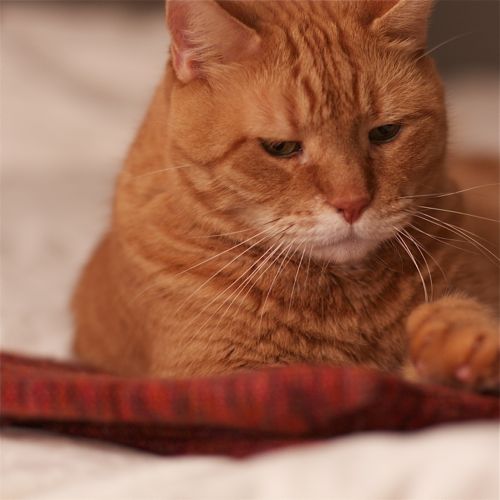 I use the generic version of the pattern with fingering-weight sock yarn, Happy Feet by Plymouth. Mine is "Color 2″ – possibly discontinued, since it doesn't appear on the manufacturer's color card page? It is 90% superwash Merino and 10% nylon, somewhat softly spun and squishy/sproingy.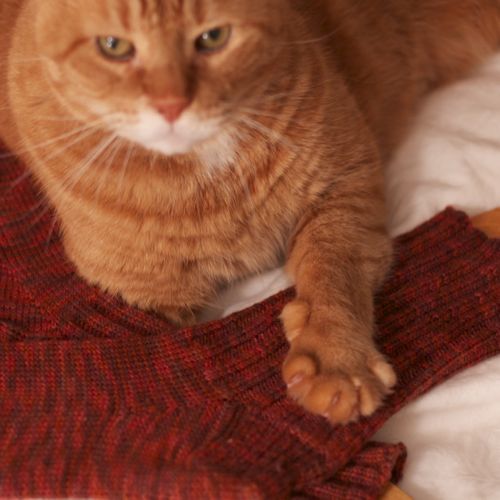 This version was knit using a 60-stitch circumference and size US 1 needles. The socks feel slightly flopsy. I thought the next time I knit these, I wanted more body to the fabric.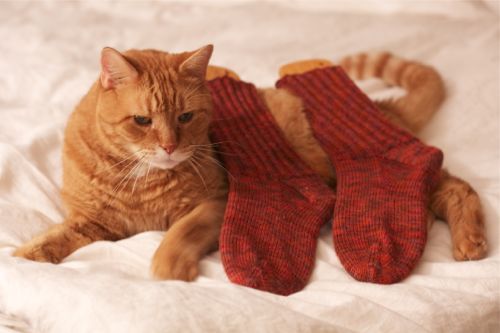 If you can't beat 'em, join 'em
So I knit them again, using a Regia cotton sock yarn (seems to be discontinued) that is actually a combination of cotton, superwash wool, and nylon. Love Regia sock yarns, they are great. In fact, I just threw away a pair of Regia socks that I knit sometime in graduate school – so at the very youngest, they were at least 9 years old! The heels had finally worn through.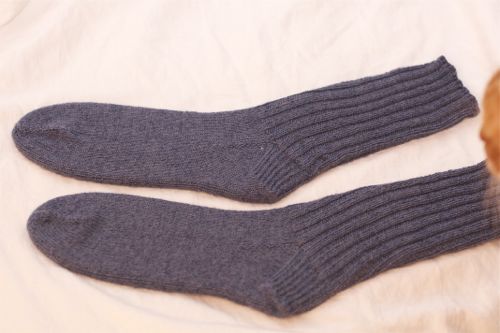 The blue socks were knit using size US 0 needles and also 60 stitches around. This made a stiffer sock (yay) but a smaller one, too (boo). They fit quite snugly, but I anticipate that they'll loosen up and stay loose because of the cotton content.

Ear cocked back because I'm saying, "Scram, kitty!"
My next planned pair will be 64 stitches around on US 0 needles, in wool/nylon. I do enjoy knitting this pattern, again and again.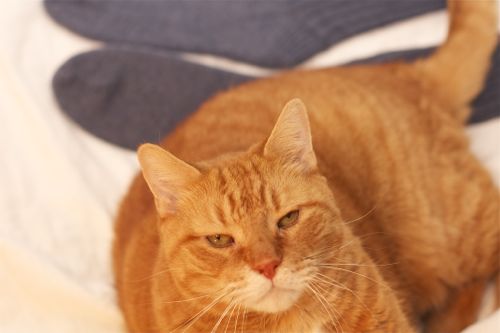 Charlie and his bedroom eyes

Print This Post