I was looking for a "craft" that I could do with my girls, and one weekend in July, we made 2 apple pies. I bought a massive bag of Fuji apples at the warehouse club and pulled out my cranking apple peeler/corer (from 8 years ago, sheesh).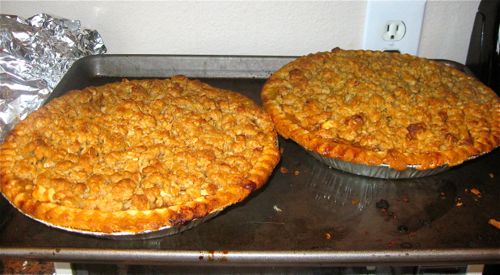 Aside from the directionality issue, my kids did a great job turning the crank, plus they did OK taking turns, not sneezing on the apples, etc. We were able to peel a lot of apples in 30 minutes – enough for 2 pies and more than enough extra for snacking. I used frozen pie crusts (from a you-bake-it chain called Gooters) and had the girls mix up the pie filling as follows (I had measured the remaining ingredients in advance):
5 c sliced Fuji apples
3/4 c sugar
juice of 1/2 large lemon (3+ T?)
1.5 T melted butter
2 T minute tapioca
cinnamon to taste (1 tsp?)
After the crusts were filled, we added a streusel topping.
3/4 cup all-purpose flour
1/2 teaspoon ground cinnamon
1/2 cup packed brown sugar
3/4 cup rolled oats
pinch of salt
1/2 cup butter, softened
(Mix first 4 ingredients, then rub butter into the dry mix using fingers.)
I have no idea the temp or duration of baking, but I'd hazard it was 350 F for… as long as it took to get golden brown! Cover the edges of the crust with strips of foil as needed, if they look like they might burn.
Serve warm with plenty of vanilla ice cream.