Meredith's favorite clothes are still the play dress and leggings. I made an outfit for her last year and thought I'd try my hand at a different pattern this winter. These are both "wearable muslins" made with fabric that I'd originally bought with the intention of sewing cloth diapers. Now that I know the patterns work (and how I'd like to tweak the top a little), I'm ready to use up some of the more expensive fabrics that I've been purchasing for the girls.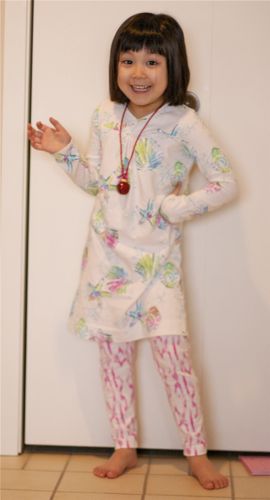 Striking her pose (click here for a back view)
The dress is the Hopscotch top by oliver+s. The pattern also includes a skirt, which I did not make this time. It is very similar to a t-shirt but with an extra style boost via the crossover neckline. There's a little bit of gathering at the front center, too. To make the dress from the top, the pattern is simply extended (A-line) to dress length, with no changes to the bodice.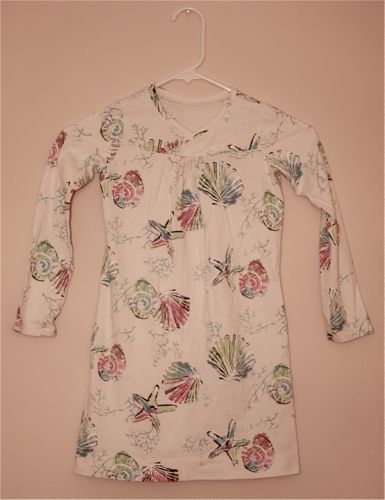 Sorry about the picture quality, I have no daylight hours for photography, and the wall color is a pretty awful background for a mostly-white dress. You might be able to see the crossover detail a little better in the photo below.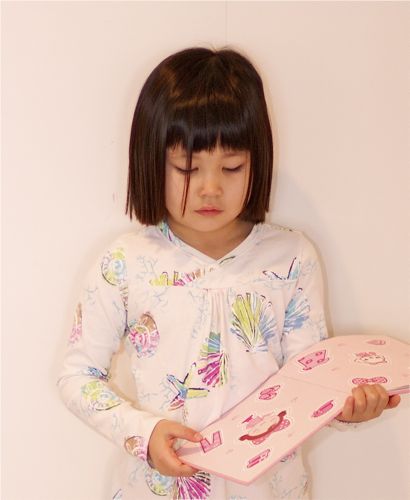 The pattern directions were nicely written and well illustrated, so the construction was pretty straightforward. The pattern was drafted well, all the pieces came together and seams matched up. I used Lastin (clear swimsuit elastic) instead of the recommended interfacing or twill tape to stabilize the shoulders and front seam. I added elastic to the sleeve cuffs at the last minute, but it was probably unnecessary. I deepened the hem to 1 inch because I dislike how narrow jersey hems curl and flip upward after a few washes, and I am not about to pull out an iron every time I wash a kid's play dress. I constructed it using a sewing machine, serger, and coverstitch machine. (Hey, if I have the machines, I want to use them!)
Meredith prefers her tops and dresses to be very loose fitting, with the sleeves extra long (covering her wrists). Even though her measurements indicated she should be a size 5, I cut a size 7 to give her the extra ease. What's a bit weird is that the neck opening is still somewhat tight and we have to force a little to pop her head through it every time (crowning, ha ha). I did double-check to make sure I had traced the right size. She may have her mama's giant noggin. Next time I sew this, I will lengthen the upper bodice piece to give her more head room.
All in all, I'm not sure that I really like this as a dress – the crossover is very near the top, and the rest of the dress just hangs from that seam (sort of boring and reminds me of a nightgown). I guess that's why the pattern is pictured as a shirt and separate skirt with an interesting pocket detail and a row of buttons!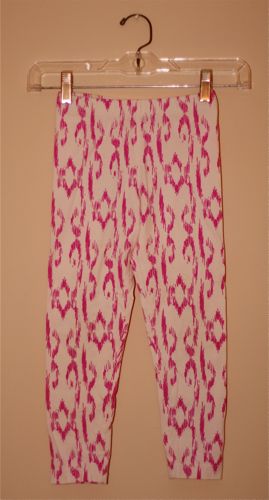 The leggings are made using Jalie 2920. This is a very simple pattern – 1 piece. No side seams, just the inseam and center seam, and a foldover waistband. I had a sizing problem with this pattern, too. By her measurements, Meredith should be a size I, and that's the size I dutifully traced out. It seemed short, but that was consistent with this review, so I just lengthened the legs substantially. I sewed the 2 seams and had her try it on. Uh oh, it was skin-tight (no pictures, it was positively indecent).
Attempt #2, I measured some of her favorite Hanna Andersson leggings at the high thigh (just under the crotch seam) and the inseam, and I picked a corresponding pattern size (now size M). I made the new pair with no changes, and these leggings were comfortable and the proper length. Go figure.
I do like this simple pattern, and given that it has a range that that goes from toddler to plus-size adults, I can see myself in a pair of these leggings someday, too. Just have to remember to measure the pattern and compare it against something that fits (not just blindly follow the size chart).
The fabric for the dress is a medium-weight cotton jersey without much stretch (which might explain why the neck seems small). The leggings are a thinner cotton-lycra jersey. Both are from Fresh Produce (but purchased via Girl Charlee). If you're interested in technical details, the review of the dress is here and the review of the leggings is here.