I think knowing both the weight and the length of yarn is important when you deal with handspun yarn. Accurate measurement of yarn length has been a little bee in my bonnet for some time. I started low tech: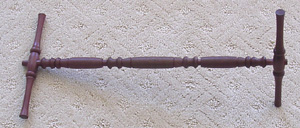 A David Reed Smith niddy noddy
Measuring yarn this way requires winding and counting. Something happens in my brain when I try to count high numbers – I can easily skip, say, from 135 to 145 without realizing it. (How do I know I do this? I count paces when I jog – kind of an OCD thing, I guess – and I realize I went from low hundreds to mid hundreds when I couldn't possibly have run that far.)
I moved up to medium tech:
This was a good idea, at least in the conceptual stage. But the Shakespeare fishing reel counter that does the actual measuring is really not suited for yarn. After measuring several thousand yards of yarn (yeah, really), it no longer turns accurately. I've disassembled it many times and removed every last bit of fiber, and it still isn't right. I don't know what can be done with it.
I considered high tech: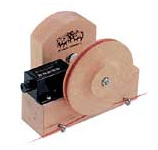 This model will cost you >$150!
But I didn't think I needed to spend that much.
So I whined on Fibernet, and I was rescued! Cj. Aberte (who I will forever think of as Cj.-The-Genius!) devised a clever homemade yarn measuring device that is REALLY ACCURATE and damn cheap to put together.

Mine is made from the lower half of a dead lamp (I unscrewed the top part, cut the wiring free, and kept the stem and base), a measuring wheel (Rolotape), two O-rings from a water filter, a tensioner from my LK150 knitting machine, and hook-and-loop tape to hold the thing together.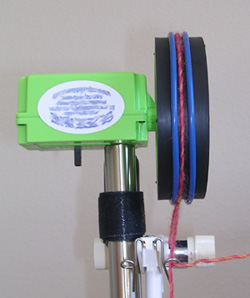 I keep mine tall so it is almost directly in line with my swift. Yarn comes in the wire eye, through the tensioner, around the wheel (between o-rings), and back through the wire eye, to my barrel winder for final winding. I measure yarn after washing because it does shrink somewhat, and another winding helps separate any strands that may have stuck together during their last bath.
Lucky for you, Cj. has given me permission to distribute a copy of her plans and ideas. You can download your own .pdf copy for free by clicking here.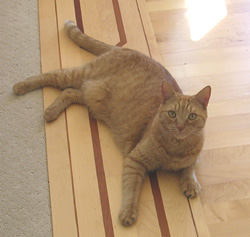 James says: Please respect the copyright notice included on the plans for the measuring wheel.