I apologize for the picture quality. We are living in a rental townhome that has – quite literally – no natural light whatsoever. It stinks, especially in the winter. I tried taking photos without the flash, but you couldn't see a darn detail, so flash it is, complete with nasty shadows from the mirror to my right.
I haven't given up on sewing yet and made the skirt and the belt in this outfit. I know it doesn't look like much, but it's good enough to wear to work, which is saying something. This skirt is made of some mystery fabric that is probably at least partially polyester and rayon. It has an elastic waist (yay comfort) and is cut on the bias and even has a lining!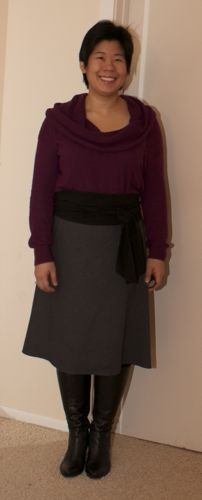 The skirt was drafted following the instructions at Angry Chicken. She calls it a "5-minute Skirt," so shhh… don't tell her it took me about 8 hours from taking my measurements to finishing the crocheted thread chains that hold the lining in place. I drafted the back to be about a half inch longer than the front, figuring it needed extra length to go over my rear, but the hemline actually is slightly slanted when you look from the side. Guess the curves of my belly and my rear cancel each other out?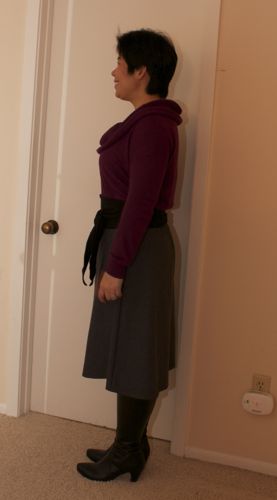 My weight is kind of a moving target these days, so the fit currently is a little large (as evidenced by the puckers in the center back). Still, I'm pleased with how it turned out.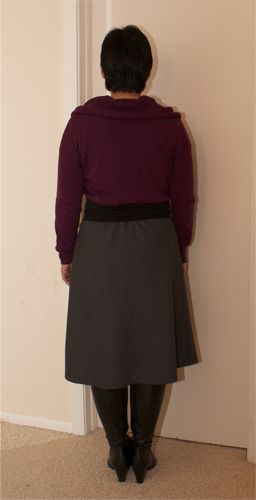 The belt (obi, sash, whatever you want to call it) was made using Mimi G's free pattern and tutorial. I made this from 2 layers of lycra cotton jersey, doubled so it won't curl. Great little tutorial, very easy to follow. The sash is very flattering (even for my rectangular figure), although Matt makes pirate jokes when he sees it.
—
I also sewed a cowl-neck top. I am a big fan of draped necklines, they seem indescribably elegant. The pattern I used is called Day-to-Night Drape Top. (Interestingly, when I was dictating notes into my Android phone, it recorded the pattern name as "Stay Tonight Grape Top.") To make the shirt more Minnesota friendly, I put the sleeves from her Birgitte t shirt pattern on it per the designer's suggestion. The fabric is an ITY jersey (poly-lycra stretchy knit).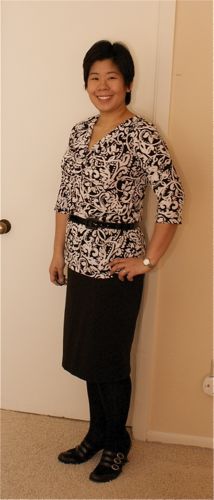 Not bad, right? I wear this to work sometimes, too.
Again, the designer says something like it'll take you an hour from cutting fabric to a wearable shirt, and it took me… Omg, a month or more, working a couple hours a week. I made mistake after mistake – first measured myself wrong and made the wrong size, cut the front piece so that there was a flower blossoming right at the apex of my bust, misread the instructions and had to sew the back neck about 3 times before it looked right…
The whole process of sewing continues to be part satisfying, part irritating. Measuring, cutting, sewing, pressing – the whole process still seems so alien to me. Nothing turns out quite as I imagined, but I'm nevertheless putting together clothes that can be seen in public. Call it a tentative win? I don't know. I just keep plugging away and hoping I improve.
—
In other random thoughts, I took about 1244 pictures (with my tripod and remote) to get 4 that I felt were OK to post. I used to never hate being photographed, but now I feel kind of weird having my picture taken. I don't have any real "body issues" – that is to say, I know how I look, and I'm OK with it – but what is with this middle-aged awkwardness? I deleted the forced smiles, stiff expressions, jazz hands – you can thank me later. 😉