I am very fond of a certain Japanese hot cake mix
. It is easily found in most Japanese groceries, but I've yet to see it for sale in Minnesota.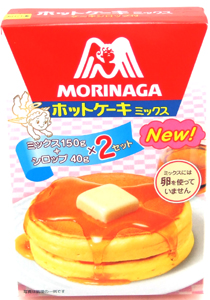 This cute article from Japan Today describes the difference between "hot cakes" and "pancakes." For me, one of the biggest differences is thickness – see the picture on the box above, each cake is easily a half-inch tall. They also have a lot more sugar and a lot less salt (I never understand why Bisquick mix is so darn salty!), and while you could eat them with syrup, you don't really need to because they're already quite sweet.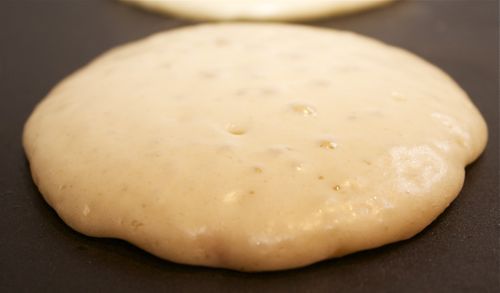 Because I no longer have easy access to the Morinaga mix, I thought I'd start making hot cakes from scratch. Curiously, I had a hard time finding a recipe. I'm going out on a limb here, but I speculate that just as we Americans like our convenient mixes, so too do the Japanese. I eventually came across this Japanese recipe and used Google translate to understand what it said.
I love automatic translation, partially for its convenience but also because of the weird phrases it produces. Exactly how much is "11 milk 0g"? And I love to add "those little vanilla oil."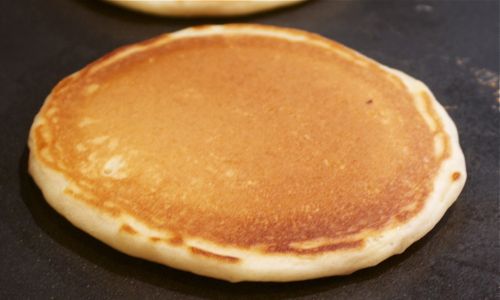 Here is my revised recipe. Bowing a little to American pancake preferences (or else Matt will deem them "Weird" and will not eat any), I make the pancakes a little less sweet (so we can still use syrup) and a little flatter (so we can eat more than 1 before feeling full).
3 eggs
scant 1/3 c sugar
2 1/4 c milk
1/4 c plain yogurt
5 T butter, melted
1 T vanilla
3 c all-purpose flour
1.5 T baking powder
pinch of salt
(Whole-wheat "transitional" version: use 181 g all-purpose flour, 181 g whole wheat flour, 1 T gluten)
Heat a griddle before you start preparing the batter. I use an electric tabletop griddle, and the temp that works for me is 325 F. (Whether it really is that temperature is debatable, but that's what the dial says when the pancakes cook nicely.)
Mix together the eggs, sugar, milk, yogurt, butter, and vanilla. In a separate bowl, mix flour, baking powder, and salt. Add dry ingredients to wet, stir until homogeneous, and begin cooking pancakes immediately.
I pour hot cakes using a large cookie scoop
. It makes a 4″-diameter pancake, a size that makes us all happy. This recipe makes about 30 pancakes, which is enough to feed everyone breakfast and have a few left over for pseudo-dorayaki.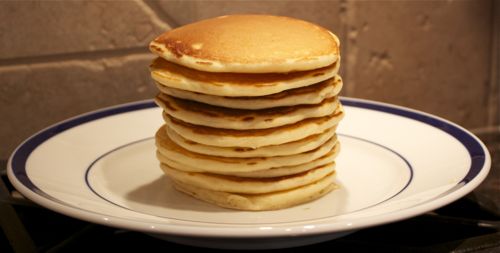 Hot cakes! Eat 'em up, yum. 🙂
PS. It's also my birthday today! Go eat some cake!