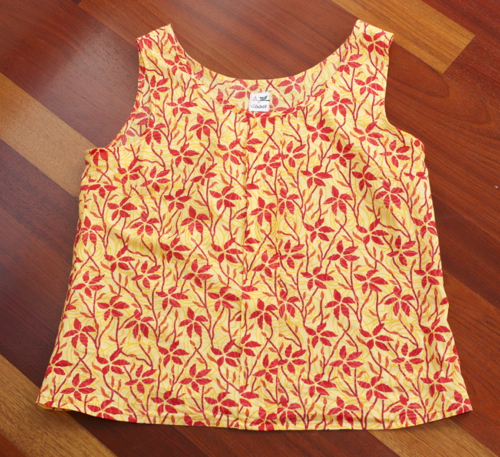 More than 100 members of PatternReview have sewn the Colette Sorbetto top (reviews here). A sewist would have to be living under a rock to be unaware of this cute freebie.
I made 2 mock-ups out of muslin because I am nervous like that, and I finally went with a size 10 (graded out to size 12 at the hips) with modifications.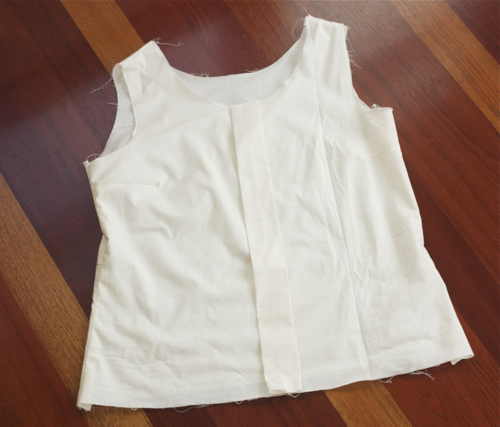 I lengthened the top by 1 inch. I initially lowered the bust dart (just because so many reviews said it was necessary), but during muslin #1, it was clear that I should have left it where it originally was. My right shoulder slopes more steeply than my left, probably because I always carry a purse/diaper bag/work duffle on the left side, and caused the armscye to gape. I angled the shoulder seam downward by about 1 cm, which pulled up the extra fabric and fixed the problem.

No more gaping. Also, note to self: turn off the camera flash next time.
For the armscye binding, I followed Grainline's wonderful tutorial on making flat hidden bias facings, it looked a little cleaner to me.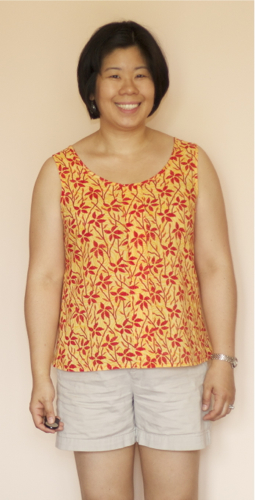 Check out that sloping right shoulder!
The fabric is 100% cotton, a not-quite-sheer batik from the always fabulous Ginny's Fine Fabrics and Support Group. I love going to this store – I only wish I could sew better and do justice to the beautiful textiles that she offers. Ginny is a terrific lady with radiant enthusiasm, the kind of person that you hope stays in business forever.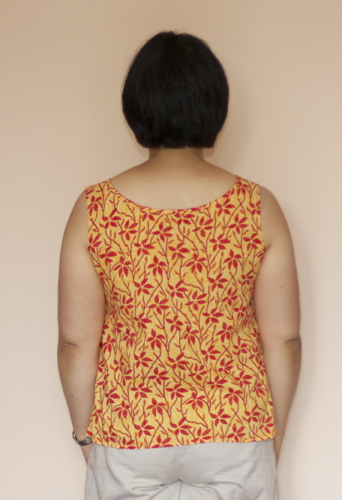 I debated putting in some tiny vertical fisheye tucks on the back, just to give it the suggestion of shaping. However, in the muslin, I couldn't pinch them out in a way that didn't leave the bottom hem all wonky, so I left them off. I'll have to think about that some more.
I love the colors of this top, and it's wonderfully light and breezy to wear. Still, I do not love how much it wrinkles. By the end of the day, it's a mass of creases across the stomach. I actually have taken to tucking this in, at least the creases are covered up.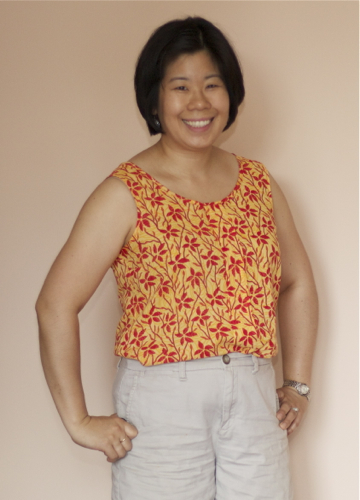 I'm trying to embrace the summertime casual (crinkly) look, or maybe I should try sitting less throughout the day. Or maybe I can just stop thinking about wrinkles altogether and just smile giddily and think to myself, HEY, I SEWED THIS THING AND IT FITS.
—
Gushiness aside, I'm actually on the fence about whether this is a good style for me. There's something about seeing photos that suddenly makes me more ruthlessly critical about my appearance. Those are some seriously rounded shoulders, yo. Also, the boxy shape does my postpartum waistlessness no favors. (Ah, who am I kidding, I never had a waist.) I bought fabric to make a second Sorbetto, but now I'm hesitating. Any opinions on style gladly received!