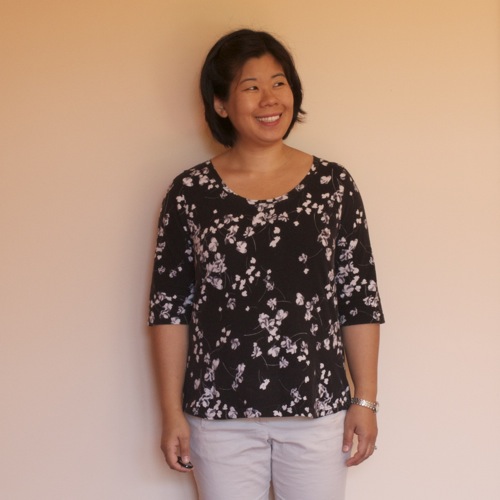 Years ago, I bought Pamela's Patterns Perfect T-Shirt and made a halfhearted attempt with it, using some interlock from Joann's. I don't know where I went wrong (notes gone and wadder long since trashed), but the fabric grew horrendously widthwise, even before the sewing was complete, until I had a belly-baring cropped shirt with some 10 inches of positive ease. Attractive, you betcha.
I put it all away, time passed, I had children, moved to Rochester, etc. The pattern was unearthed from a moving box in June. I'd forgotten that I'd also ordered the neckline and sleeve variations, so I was happily surprised to see it stored right along side.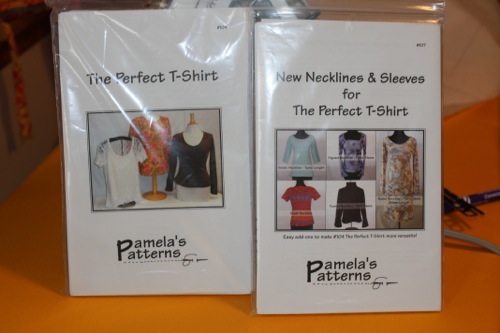 This pattern has numerous fit "problems" already corrected (including high round back and forward shoulder). I also liked that the sleeve was NOT cut on the fold (whose arms are that symmetric, anyway). The folks on PatternReview rave about this t-shirt, so I was ready to give it a second chance with better fabric (this time, purchased from Gorgeous Fabrics). As for size, I was on the upper end of indicated range for size S, but the favorite storebought shirt that I used for comparison seemed slightly wider, so I started by cutting halfway between size S and M.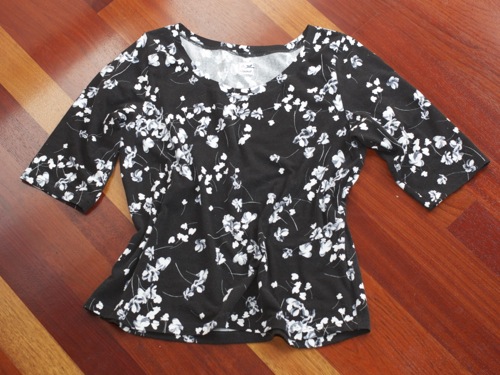 I tried it on as I went along and eventually trimmed all of the extra seam allowance away, so I guess size S was indeed right for me. This fit me remarkably well right out of the envelope – I made no fit adjustments. I changed the sleeve length to my favorite length comfort-wise (I tend to pull my long sleeves up to just below the elbow), but now that I'm reading up on Amy Herzog's sleeve recommendations (plus her interesting thoughts on sweater length here), maybe this isn't the best length visually. Honestly, I get kind of lost in these analyses, but maybe I'll just try elbow sleeves next time?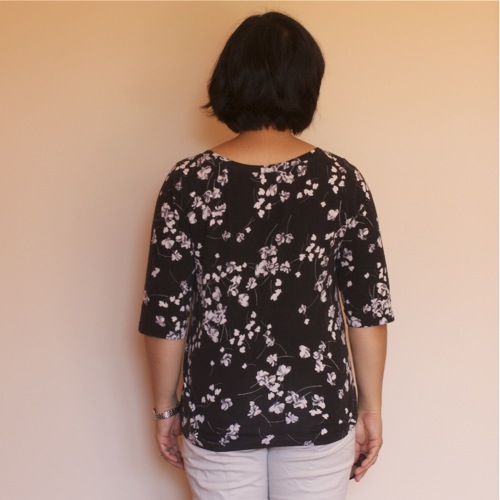 I also added a bit of length to be able to turn up a deeper hem. This was maybe not a great idea because the hem is curved, and I ended up with a little bump of excess fabric on the turned-up portion that I couldn't quite steam out. Well, it's hidden, anyway. I used a coverstitch for all hems.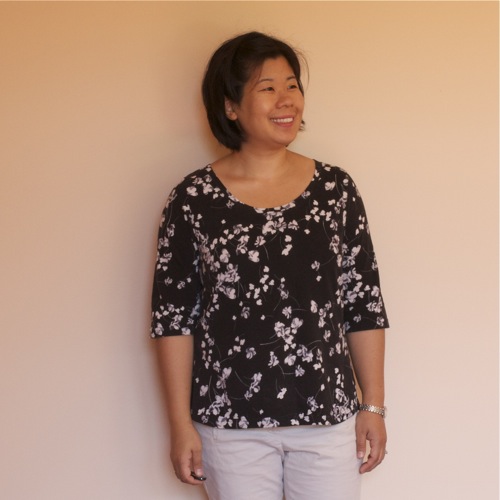 Instead of using the crew/scoop/v neckline of the base pattern, I used the ballet neckline variation from the supplemental pattern. The other minor alteration – the neckband piece is 2″ wide instead of the recommended 2.5″, mostly because my quilting ruler is 2″ wide. (I'm starting to sound like OverlyHonestMethods).
To apply the neckband, I used Sarah Veblen's video tutorial to determine the length of the binding. Instead of trying to apply differential stretch around the circumference (she quarter-marks and just eyeballs the varying amounts of stretch needed for the part of the neckline being sewn, a technique that never fails to amaze me), I quarter-marked and then halved again (ie, 8 pins) the neckline and neckband and stretched the neckband evenly, matching pins, as I sewed. I think it went in fabulously. I serged the inside and then coverstitched from the outside.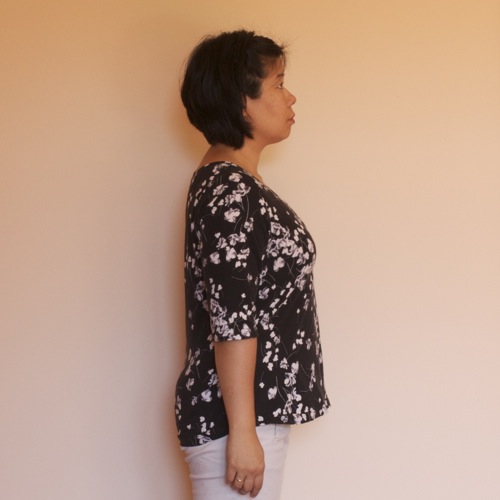 From the side view, you can see that the front hem is kind of far away from my body. Then again, having a loose front gives my stomach some room, so perhaps this isn't a bad thing. Still, I'm going to try the darted front variant (darts in t-shirts, yeah, I know, sort of weird) to see if that will help the fabric hang less off my bust.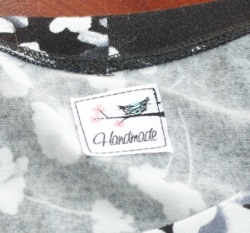 Lastly, I followed Deepika's link to a Etsy vendor who sells darling little sewing labels. My sewing has advanced (I think) to the level that I can make clothes that be worn, worn in public, and worn for a few years. That deserves a label, right? I put this one on the inside, but even with the corners trimmed, it might be a little itchy.
I bought 50 labels (25 for me, 25 for girls' clothes) – you're thinking "Ambitious, much?" – and even Matt laughed when he saw the little overflowing bag. Ah, heck. I think it's a nice finishing touch.