When I was a little girl, my mom would sometimes buy me these "brain teaser" toys. They were the things where you'd figure out how to slip a loop of rope 'round the metal bracket past the wooden ball to free the double rings. Or whatever. It was almost as much of a challenge to figure out how to put the darn thing back together afterwards. Anyway, she and I got a kick out of them. I still have a bunch of these puzzles in a closet somewhere.
A few weeks ago, I got another brain teaser from a fellow knitter, Marilyn, who attends the Northfield knit night.
(Btw – any locals reading this? We meet at the Just Food grocery co-op [which never sells unjust foods] on Tuesdays, from 7-9 PM. All are welcome. Fiber projects of any type are great, but most of us knit.)
Marilyn's grandmother had made some wonderful cotton lace edgings for pillowcase decorations. I think M said it was part of a wedding gift? Anyway, she used them until they tattered, saved what she could, and was beginning to wonder if they could be reconstructed. She felt she didn't have enough lace experience to try to noodle out the pattern. I said I knew a little something about lace, I'd be happy to have a crack at it.
She brought it in the following week, and I took a photo with my PDA camera. (I briefly considered just unraveling a repeat's worth of lace to get the pattern but decided against it.)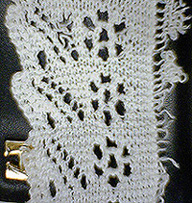 I saw it was garter-based "lace knitting" (plain rows between pattern rows) and not "knitted lace" (where every row is a pattern row). Some eyelets were odd – very large. The teeth were formed by increasing and casting off, rather than increasing and decreasing. I was feeling pretty cocky, and I thought, OK, how hard could it be?
First, tackle the eyelets. How to make 'em so big? I went to my Barbara Walker stitch dictionaries, low and behold, I found: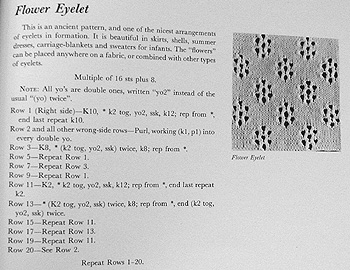 Darned if it wasn't exactly the flower pattern! (It showed up in Volume II, if anyone is interested in seeing the original.) As it turns out, giant eyelets are a double yarnover on the first row, and you k1 p1 into the double yo on the way back.
The rest of the pattern used regular yarnovers, it was simply a matter of plotting out the motifs. I used crochet cotton from Walmart and US 1 (2.00 mm) needles.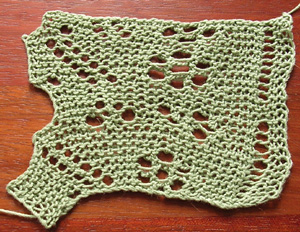 Frankenlace!
The flower, right eyelet edge, and the diagonal double yo ladder look all right, but my scalloped edge was clearly dead wrong. (Let's ignore the mistakes in the middle, shall we?) I realized the single eyelet on the left of the diagonal yo ladder was used to make the scalloped edge, since a double yo without decreases on either side would give you stitches to cast off later.
Overall, the above swatch was just too large, and I made the next swatch using the thinnest needles I own (US000, 1.5 mm).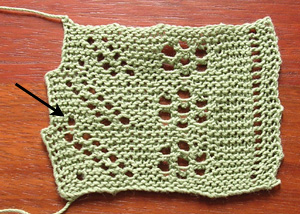 This looked better, but the motifs needed to be placed closer together. Also, something was odd about the lonely eyelet (arrow), it almost looked like it was part of the double yo ladder and that I had forgotten a row. On the 3rd repeat, I made the eyelet on the second patterned row (row 3 instead of row 1), but that seemed off, too.
Then it occured to me that the lonely eyelet might start on a "plain" row (row 2). Eureka!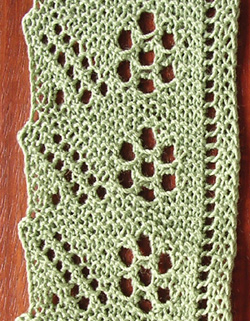 Next, the scallops were hardly noticeable, even with vigorous blocking. Hm. At some point, I realized that the single eyelet was actually larger than the flower eyelets. Hm again. How about a triple yarnover for the single eyelet?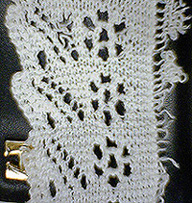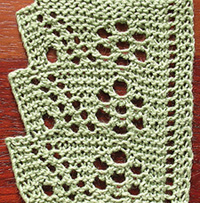 By George, I think I've got it!
My "teeth" are pointier than the original sample because I steam-blocked with pins. (I noted before blocking that it approximated the same shape.) I imagine with some washing and drying, it will look more and more like the original piece.
Overall, this was really a fun challenge. It was a bit harder to execute than I expected, even after finding the BW stitch pattern, so the finished edging has been sweetly savored that much more. If someone would like to a copy (graphed form, .pdf file), please download it here.
UPDATED TO ADD: I forgot to mention, I took the liberty of removing stitches between motifs. I thought it looked better that way by making the border a little more delicate. If you want to duplicate the pattern exactly as the original was, add 1 st between the right eyelet border and the flower, add 1 st between the flower and diagnonal double border. (Cast on 23 st instead of 21 st.)