This past spring, I cast on a new knit-whilst-reading project. (What, you don't have one of those? You should!) As before, my only criteria are that it has 1) miles upon miles of stockinette; 2) minimal shaping.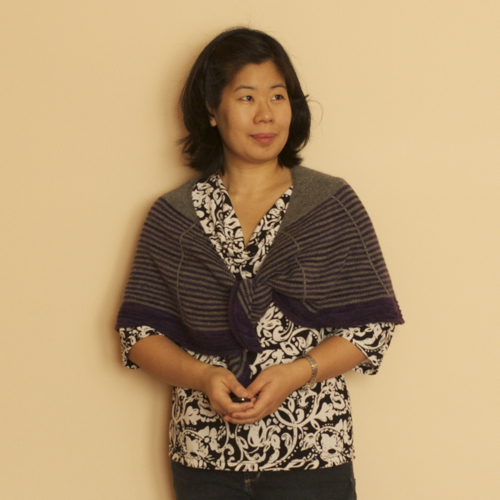 This time, I chose the Daybreak shawl by Stephen West. He's a relatively new designer (ravelry suggests his first pattern was published in 2009), but I can see why he is so popular. This shawl has a very clean look to it, modern and unfussy.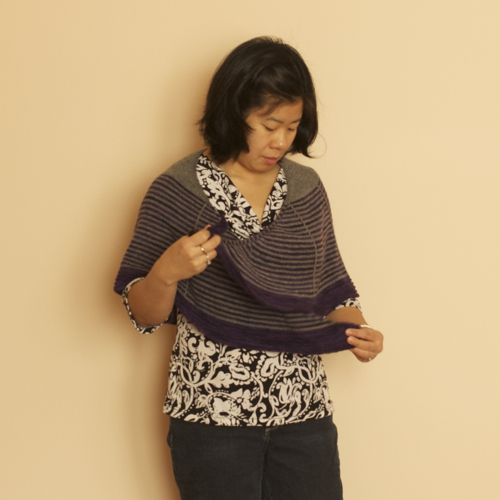 I bought no new yarn for this one; from my stash, I unearthed 2×50-g skeins of Schoeller Esslinger sock yarn in grey and 1×100-g skein of Colinette Jitterbug in variegated dark purple. I seem to have a lot of lavender-purple-grey-charcoal clothes in my work wardrobe, so I vaguely thought it would mesh well with existing outfits.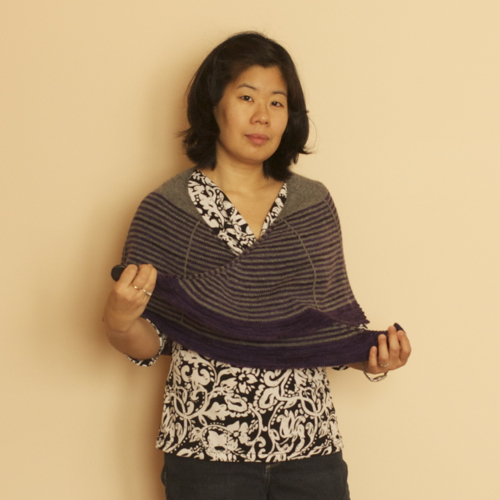 The pattern is straightforward and hard to goof up. My only surprise occurred during the bind off. I like to block shawls hard, so I used this classic stretchy bind off. I began binding off, but midway through, I realized I would run out of yarn. I tinked back the bind off and the entire prior row (this is the long purple edge – many hundreds of stitches) and bound off again. This time, I made it through nearly the whole bind off, but when I got to about 3 inches from the end, I realized I wouldn't have enough yarn. (How much yarn does this bind off eat? For heaven's sake!) Groaning, I tinked back the bind off and then tinked another row, took a deep breath, and bound off a third time. I spent >5 hours tinking and binding this sucker off.
But done is done, and it looks great.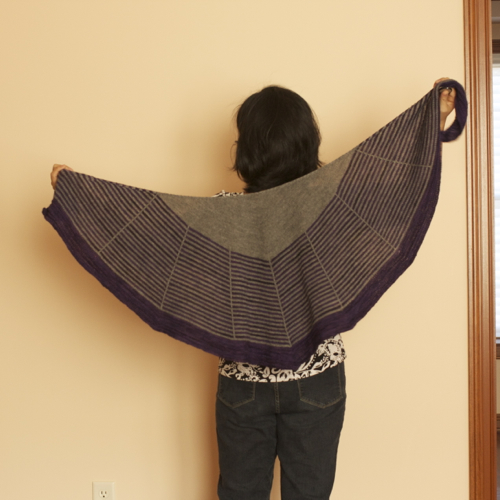 It was blocked using wires, and I tried really hard to make the neckline symmetric in its roundness. Didn't quite make it, but it is close enough. It reminds me of an eclipse, with the open circle moving in to cover the grey circle.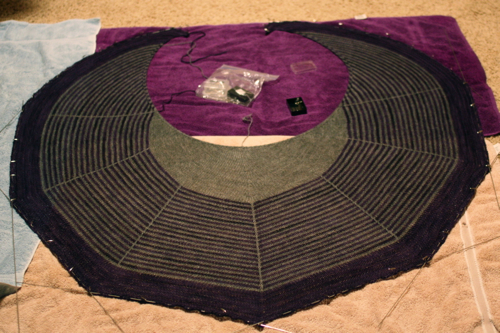 Meredith saw this and exclaimed, "A spider web!"
The tail ends curve generously toward the front, and it turns out that I like this feature very much. (I've only made rectangular and triangular shawls previously.) It sits well on the shoulders, tied or untied, although I tend to keep it tied.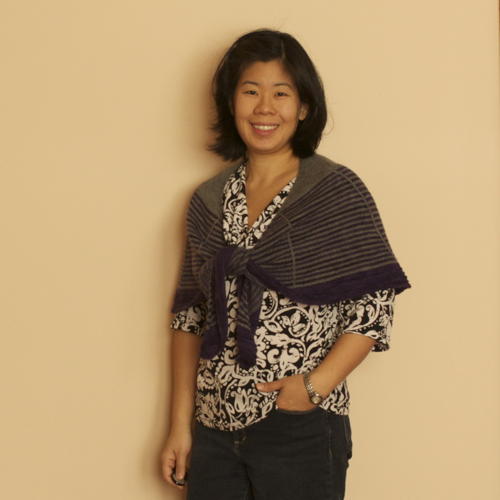 –
In other news, I had my first mammograms ~2 weeks ago. I'm fine, everything is OK, but I just wanted to remind you to take a few minutes to check yourself (or tell your loved ones to go check).
I was taking a shower on the Friday before Thanksgiving when I noticed a distinct lump in my breast. I thought, hm, this seems… not normal. Matt agreed, and I got in to see a primary care doc later that morning.
Doc also agreed that it seemed unusual and asked me when I first noticed it. Uh, a few hours ago? She asked me how often I checked. Every few months, I said, and I'd had a physical in June that included a breast exam with normal findings. I asked if it might be cycle related, and she said no, the lump was a little too large for that. She ordered some tests for the following Monday.
I tell you, it was very strange to kick around the idea over the weekend that I might get bad news. Monday afternoon, I had 2 mammograms and an ultrasound. Every person who examined me (3 techs, 2 docs) asked me how often I checked and when did I first notice it. I'm assuming this is because the lump was so damn large (4.3 cm in its largest dimension) that they couldn't believe I'd discovered it only a few days earlier.
Turns out they think I have an "unusual presentation" of a common, benign condition (fibrocystic changes) because the lumpy area is kind of concentrated in one spot instead of being diffusely spread. Even though they want me back for another scan in a half year, I'm feeling quite relieved and lucky. But ladies, do check yourselves… maybe more often than every couple of months.