I've been eating a lot of bananas lately. I've been making banana bread, pseudo-Yonanas in the food processor, and of course just eating them straight. My daughters also enjoy a fresh banana, but even with all of us monkeys, we don't always eat them before they're overripe.
Getting a little tired of the same old same old, I thought I'd look for a banana bread recipe with yogurt as an ingredient. There was one that I tried last week – oh, awful, it was gummy and rubbery, like a half cousin to bread pudding but nastier. Figured it was still worth trying again, so I perused a few more recipes and settled on this one. This web site is a new one for me, and I am forever amused by a site called "No recipes" that actually gives fairly precise recipes. But whatever, the author seems to know what he is doing, and I really liked his yakisoba recipe, too.
This is a mild cake, not intensely chocolatey. I actually prefer it that way (too much chocolate triggers migraines). The cake part is not very sweet, but the chocolate chips bump it up to please even the sugar fiends in my family. The texture is nice. I had some trouble with the chocolate chips not releasing from the pan (hence the craters), but otherwise, this bread-cake seems pretty foolproof.
Double-chocolate banana bread, adapted from Mark Matsumoto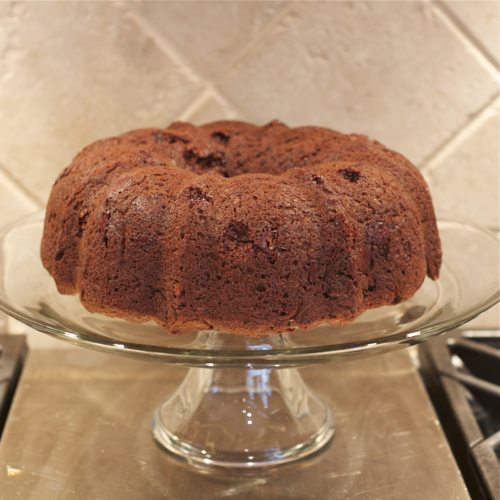 2 sticks (0.5 lb) unsalted butter
1/2 c granulated sugar
1/2 teaspoon salt
4 large eggs
1 cup plain yogurt
2 teaspoon vanilla extract
4 bananas, very ripe
3 cups all-purpose flour
1/2 cup unsweetened cocoa powder
2 teaspoon baking soda
1 teaspoon baking powder
1 cup milk chocolate chips
Heat oven to 350 F. Let butter, eggs, and yogurt come to room temperature. Grease and flour a Bundt pan.
Cream butter into sugar and salt. Scrape down sides, add eggs 1 at a time. Add yogurt, vanilla, and bananas. Beat until homogeneous (it will look kind of like curdled milk).
In a separate bowl, whisk flour, cocoa powder, baking soda, and baking powder. The cocoa powder can clump if you skip this step, so please don't! 🙂
Add dry ingredients to wet, mix until all flour is absorbed. Add chocolate chips and stir just enough to incorporate them. Pour into the prepared pan and bake for ~60-70 minutes (use a skewer to check after 1 hour).
Let cool for 15 minutes, then flip onto a serving platter. Enjoy!