In my head, the title for this entry sounds like "Knock your socks off" – but then it has nothing to do with the rest of the post and is a joke that is funny only to me. This reminds me of one of my favorite jokes from one of my favorite people from college.
Q: What is the difference between a duck?
A: One of its legs is the same!
Get it? Get it? Ah, never mind.
Meredith recently informed me: "Mommy, your jokes aren't really funny." Ha ha, kiddo, wait until my mere presence is enough to make you feel embarrassed in public.
—
Speaking of college, I had a very bizarre run-in at work a while ago. I was breezing through the employee cafeteria one morning (thinking deep thoughts like do I want egg whites for breakfast? Or an omelet?) when some random stranger guy stopped me to ask where and when I'd gone to college. (And lordy, I couldn't immediately remember what year I'd graduated, tee hee, OLD.) But it turns out he recognized me, almost 2 decades later, because we'd shared an undergraduate major and probably a lot of biology classes; moreover, when I mentioned Matt (another biology major back in the day), it turns out that he'd lived in the same dorm as Matt and his sister and even remembered their names. Phenomenal recall. And now he's a doctor at Mayo, LOL.
—
I have two recently finished projects to share.
First – another pair of generic socks. To know the pattern is to love the pattern. I never tire of it.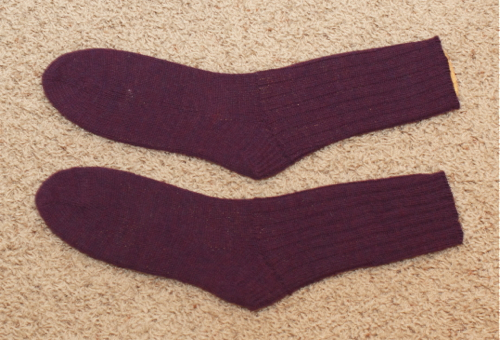 The yarn is Berroco Ultra Alpaca Fine (Berry Pie Mix). This is 50% wool, 30% nylon, and 20% alpaca (all machine washable).
Second – a knockoff of a beloved twirly dress for Meredith.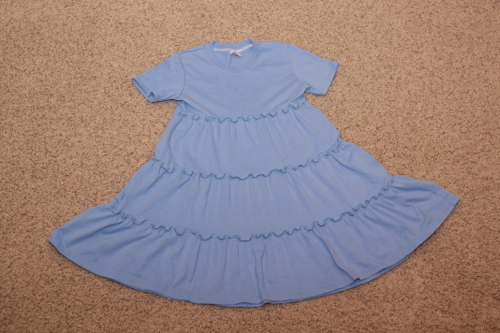 I used Jalie 2805 as the base pattern for the bodice and sleeves, size M. Never go by their recommended sizing, always use an existing garment and take flat pattern measurements to decide size. I used another dress to determine the total dress length and then divided by 4 to determine the height of the tiers. I multiplied the length of each tier by 1.5 to determine the length of the subsequent tier.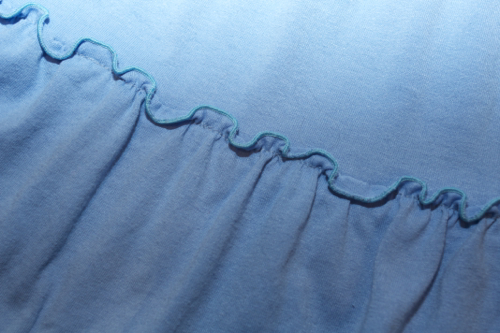 I ruffle-edged each upper edge (the gaps in the rolled hem make me want to upgrade my serger) in contrasting wooly nylon and gathered it to fit the portion above. I used 3 lines of gathering stitches to make it very even. I set the sleeves in flat and then sewed the side seams.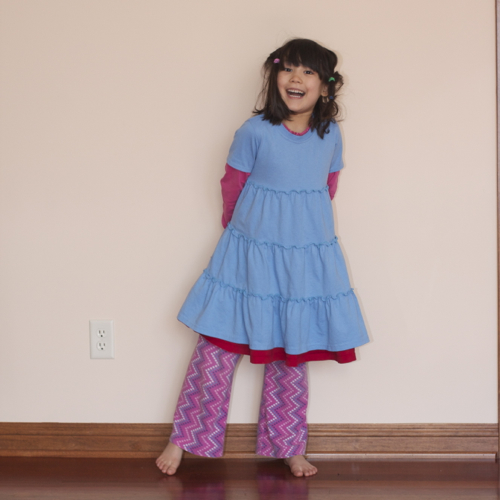 The fabric was actually cotton/poly t-shirts from JoAnn fabrics, I think we cut up 3 size XL shirts. The dyed-to-match ribbed neckband is actually just one of the original t-shirt neckbands, just cut to fit and attached following this technique. Shoulders were stabilized with clear elastic. Seam allowances were serged. Hems were coverstitched.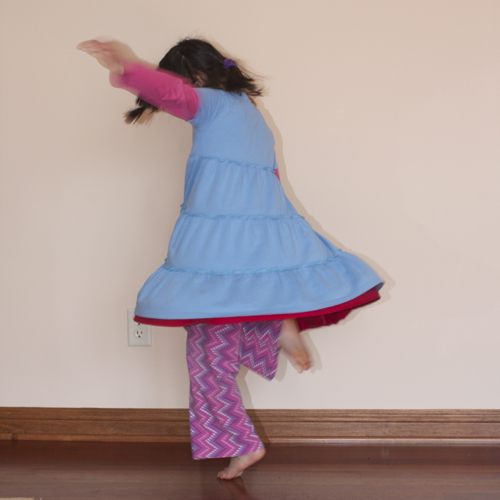 Twirly, twirly
This was not a difficult project, but it was time consuming (and dare I say – slightly boring). By the time I got to the third tier, it felt like miles of ruffles and gathering. But my girl is thrilled in her new dress.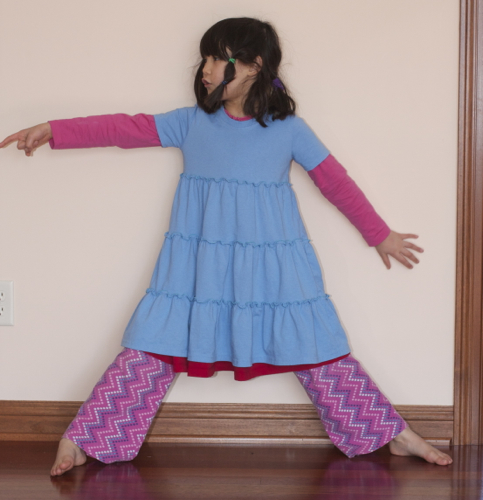 I just want you to know that she chose her own coordinating clothes (an underdress and Ananda yoga pants) and did her own hair. And whenever I asked her to pose, she always did something like this first: