Toward the end of last year, Mrs Mole, custom clothier and genius creator of bridal alterations, e-mailed me out of the blue to offer to show me how to fix the rising hemline of this shirt. Having read her blog for some time, I was unabashedly impressed by her abilities and thus jumped at the chance to learn from her. As luck would have it, I had a lot of vacation time to burn up in November and December, so she and I worked long-distance on fitting a woven top and then a knit one.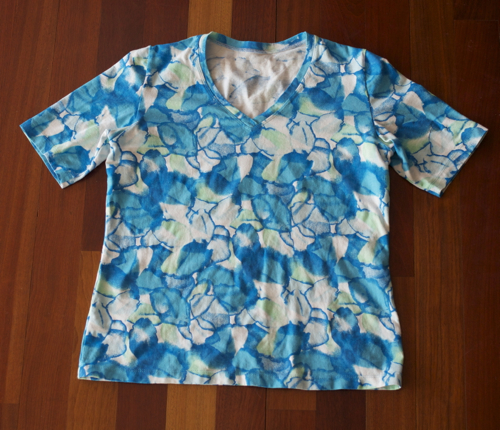 Fitting is tricky. Most books on fitting require you to recognize "drag lines" – wrinkles, essentially – as the first step in deducing how to alter a piece of flat fabric to curve over a 3-dimensional shape. In principle, the line should point to the problem area, eg, a sloped shoulder has drag lines pointing to the shoulder. In practice, recognizing drag lines takes a lot of experience. I'm terrible at seeing the lines, first of all, and when I do see one, I have no idea what it means. Is the line pointing to my shoulder or to my bust or both? Does it indicate that a piece is too wide or too tall or too sloped or is the dart in the wrong place or not the right width or has the fabric stretched or WTF is going on here?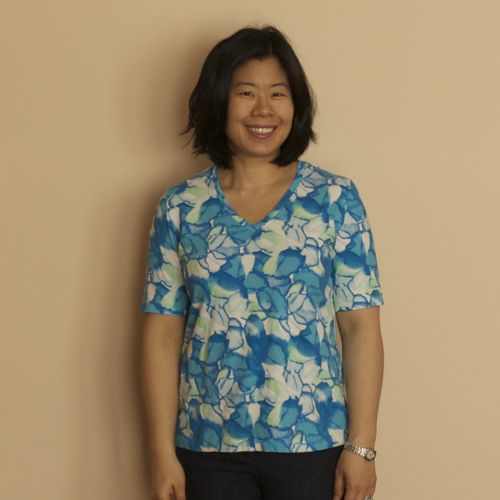 So every week, I would sew stuff up, send her pictures of me wearing a toile, she would use a drawing program to painstakingly trace over important drag lines and then send the photos back to me with instructions on what to slash, spread, overlap, nip in, widen, rotate, etc. It was amazing, I just wanted to suck in every bit of knowledge that she offered. All too soon, however, my vacation days were used up and sewing had to be relegated to the back burner.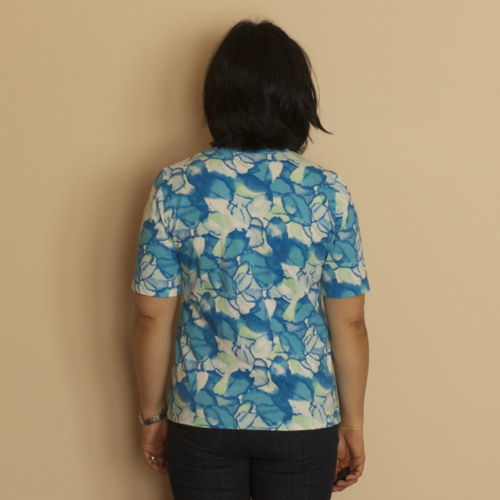 I feel like I learned a lot during that time and even made 6 toiles through the lessons, but I felt sad that I never got a publicly presentable shirt out of the whole thing before my time was up. Still, I didn't give up. It took me 4 months of sewing 15 minutes here, 10 minutes there, to make this shirt. It's not perfect yet, but it's the closest I've ever gotten to date.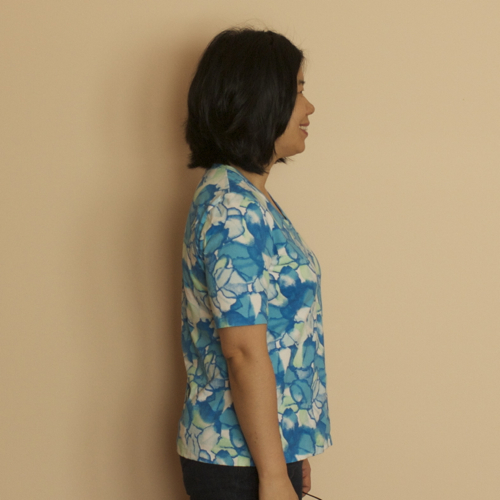 This is Jalie 2805. Mrs Mole and I had worked on altering a different pattern to include bust darts and a center back seam, but after 6 toiles, I started to think that maybe a t-shirt shouldn't have so many seams. Still, it was important to try to get a good fit at the bust and account for some of the swayback. I sort of started from scratch but tried to be faithful to all the lessons she'd taught.
1) Swayback alteration. Instead of using a center seam, I followed the tutorial here to remove 1/2″ from the lower back.
2) Bust adjustment. Instead of sewing bust darts, I added 1/2″ of length and 1/4″ width to the bust (following a tip in Sandra Betzina's Power Sewing). Look to the right side of the image below, and you can see the slender "D-shape" of extra fabric.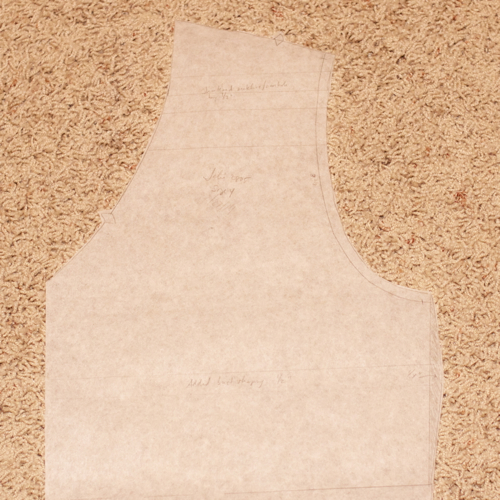 This curved part is eased back in so that the front and back pieces are the same length. When I photograph the back of the shirt, you can see the front is slightly wider than the back at the bust.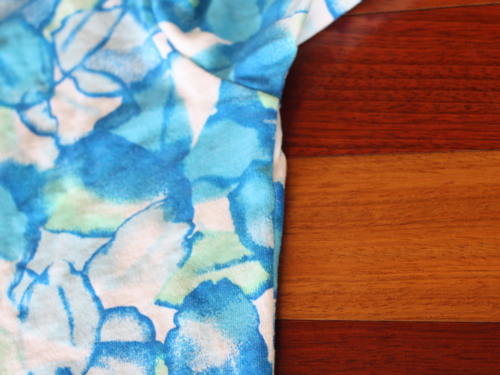 3) Sleeves – oh my, I had so much trouble with sleeves. I can't even begin to describe how many sleeve pictures I sent to Mrs Mole. What I eventually did was to make sure the bodice fit well around the arm, and then I draped and pinned a sleeve onto my own arm to develop the pattern. Yes, it was as awkward as it sounds.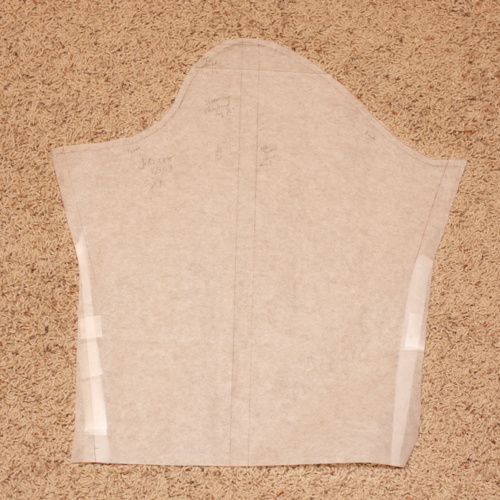 I was a little alarmed by the asymmetry for a while, but then I saw posts like this, which reassured me that my body wasn't freakishly unbalanced.
4) Length – shortened the shirt at the hem by 1″. This was not surprising, given my height (5'4″ on a good day).
5) A note on sizing. Jalie's measurement chart assumes the wearer prefers a lot of negative ease. I measured existing shirts to figure out the approximate size that I wanted.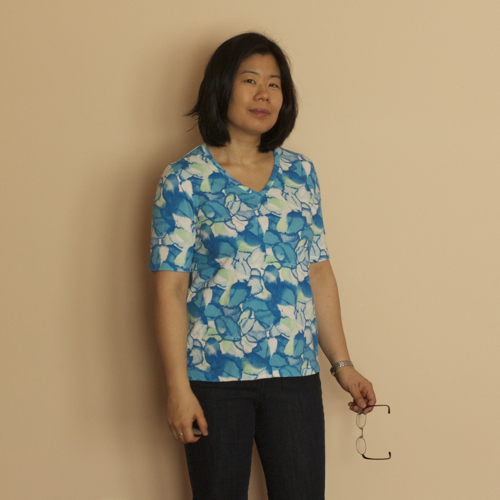 I've gotten pretty good at inserting round neckbands into t-shirts. The Jalie pattern called for a crossover band, which was new to me. I did have to do a little handstitching at the point because I couldn't get the machine to catch all layers but I think it came out all right.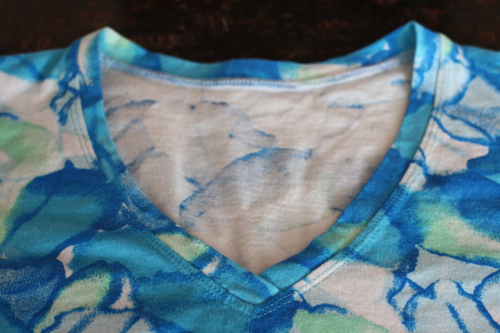 I bought a Babylock coverstitch (BLCS) machine last year. I lurve that little machine. (I used to have a Janome Coverpro that was a POS. Never knew how good a coverstitcher could be until I got the Babylock.)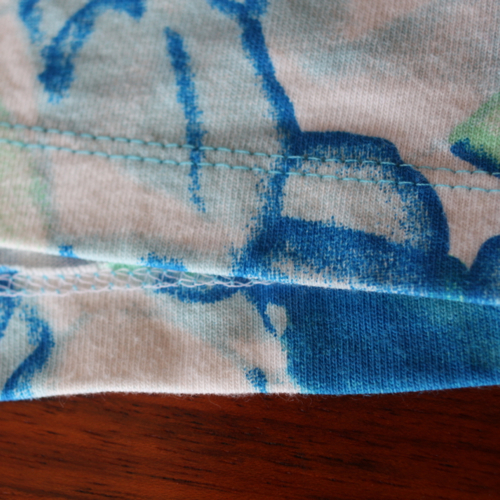 Here's a close-up of the neckband, you can see I somehow managed to top stitch with the coverstitcher around the corner point, and it looks… pretty damn nice, actually!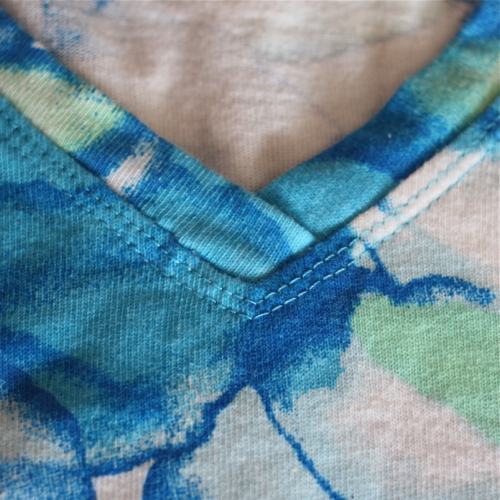 Things to do differently next time:
1) You can see from the side view above that the hem is still riding up a tiny bit in front. I think I'd like to add little more length, maybe another 1/2″, but I'm not sure where. I'll have to chalk some horizontal balance lines onto the shirt to determine where exactly it is riding up.
2) The sleeves are a wee snug. I think if I had even a scant 1/2″ more ease (circumference), then all would be well. I'd like to make a long-sleeve version, too.
Overall, I'm pleased with this shirt, and I'm really grateful to Mrs Mole for her patience and generosity in sharing her knowledge. I have a ton of books on sewing, fitting, and patternmaking, but there's nothing like real live help from someone looking at your personal fitting issues, diagnosing drag lines, and knowing how to fix them all. She was a fantastic mentor! She said I could come back to her again, too, so the next time I have a swath of vacation days saved up, I am totally hoping to do something like this again.
OK, you made it this far! Thanks for reading!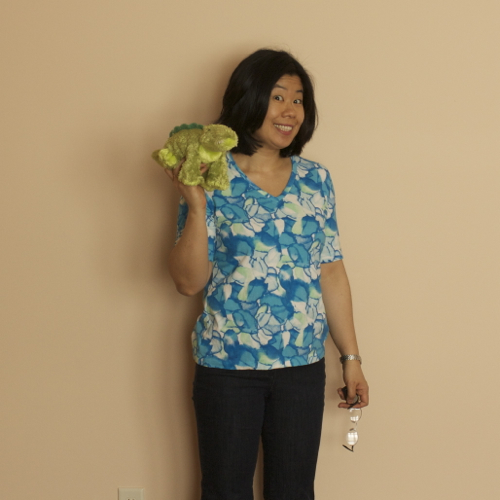 Alligator?