It's been a long time since we've seen any handspun yarn on this blog, eh?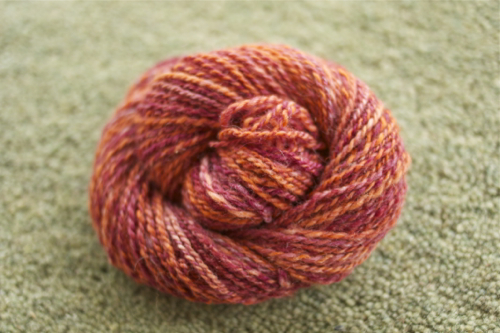 One ounce of wool roving (breed unknown/unspecified), handdyed by me, 2-ply, spindle spun on a midi Bosworth spindle, plied on an electric spinner. This was my rest-between-sets project while I lifted weights, no joke. What else can you do for 90-180 seconds?
I was aiming for worsted weight but don't think I quite achieved that, too many years of ultra-fine laceweight for my hands to let go of habit. Looks like beginner's yarn, doesn't it? I had to ply this yarn twice, actually, the first try was underplied and looked stringy and miserable.
The fiber was a gift from a work colleague. Her parents had passed away, she was clearing out their home, and when she found a small carton with wool that used to belong to her dad, she gave it to me. I can't remember what the box said anymore, but I vaguely remember thinking it looked like a laboratory supply. I dyed it and then it sat in my stash for probably 7+ years.
I'd like to make it into something that I can give back to my friend. However, the wool is not great for wearing (scratchy), plus it would felt upon washing, and I have only an ounce. So… any suggestions for a nonwearable, won't-need-to-wash-it-ever something or other that I could make with 1 oz of DK weight yarn?