I love denim, I love jeans, and I think little girls are just adorable in jeans, but sadly, none of my daughters agree. They absolutely refuse to wear jeans because they find them too restrictive, too heavy, and too bunchy around the waist. Having been clothed in elasticated jersey pants since birth, they see absolutely no reason to give up such comfy pants and will even refuse to wear chinos or other softer wovens. Not to mention, woven pants have pesky buttons and zippers that make solo bathroom trips nearly impossible for the younger crew.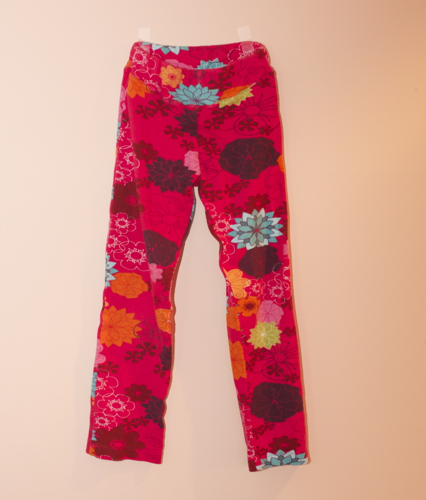 You won't find me arguing for style over comfort, but herein lies the problem – Meredith is very tall for her age (she's the size of an 8-year-old), and most 8-year-olds eschew "baby clothes" for more grown-up styles, so we have trouble finding RTW pants that will fit her and aren't pajamas or gym clothes. She wears a lot of knit skirts or dresses over leggings in the winter because of our first-world pants shortage problems.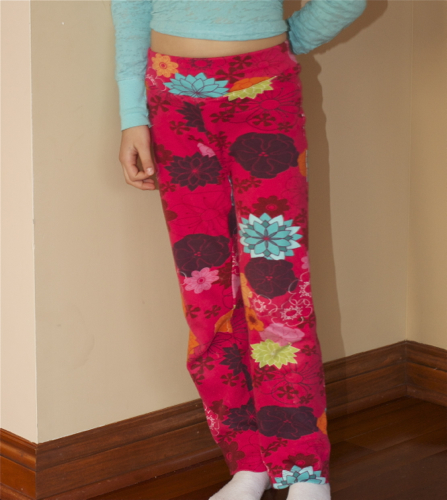 This pattern is from Oliver + S, the Nature Walk yoga pants pattern. It's a very straightforward sew and easy to execute. I was eager to compare it with the Ananda yoga pants, and I selected the size by overlaying the well-fitting Ananda pattern and picking the identical width at the widest point. I also lengthened the inseam to match Meredith's long limbs.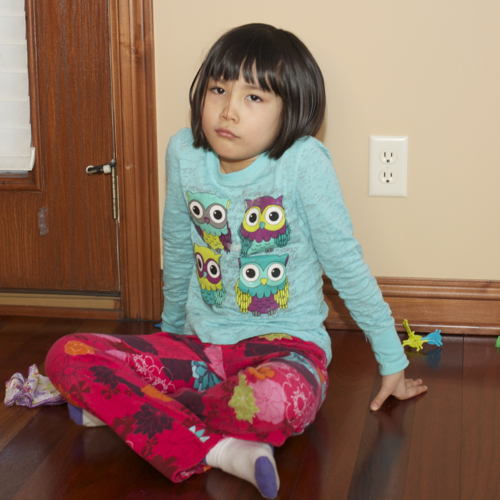 Comfy for criss-cross applesauce
The crazier and brighter the fabric, the more Meredith loves it, so this was a good marriage of fabric and wearer's taste. It is a 100% cotton interlock, a Patty-Young-for-Michael-Miller designer fabric called Aromatherapy (berry colorway) that is probably discontinued now. I'd previously had a lousy experience with cheapo Joann interlock (a t-shirt that grew in width by a whopping 9 inches while shrinking in length by some unconscionable amount), so I splurged on some higher-quality goods and hoped for better.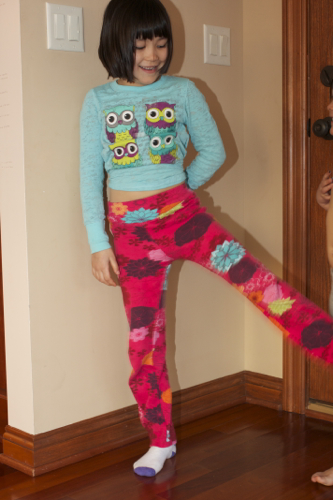 Stretchy enough to "kick" her sister
Turns out, this fabric s-t-r-e-t-c-h-e-d like crazy, too. Not quite as bad as the other, but I still had to create side seams to remove 3 inches of width from each leg to make it fit. I was very careful about not letting the fabric hang off the edge of a table, folding it before carrying it from one place to another, not pulling with the iron, etc, and it still grew. Disappointing. With this experience, I think I quit interlock.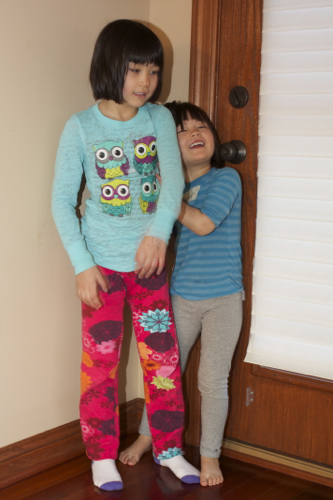 With Jordan, also clad in not-wovens
After having the sides lopped off, the pants fit well and Meredith likes them. I may have made the waistband a wee too tight, I'm not sure. The instructions suggest using a length of elastic 1″ shorter than the child's waist and then overlapping by 0.5″, and it just seems like a lot to take out when the kid's waist is only 22″ anyway.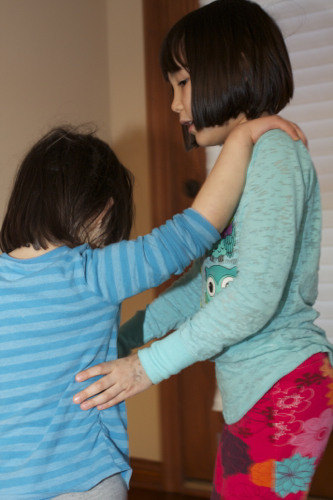 Teaching baby sis to dance
How does it compare to the Ananda pants? While the Nature Walk yoke is interesting, I think I actually prefer the Ananda pants (foldover waist, no elastic) for its ease of assembly, no requirement for elastic, and more forgiving waist. Still, I'm glad I tried the Oliver + S pattern, and I will probably revisit it next winter, when M is 6 inches taller and needing new pants again.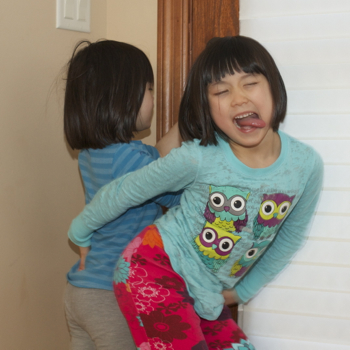 Groovin'!