I finished the girls' summer dresses last week! Aren't they adorable?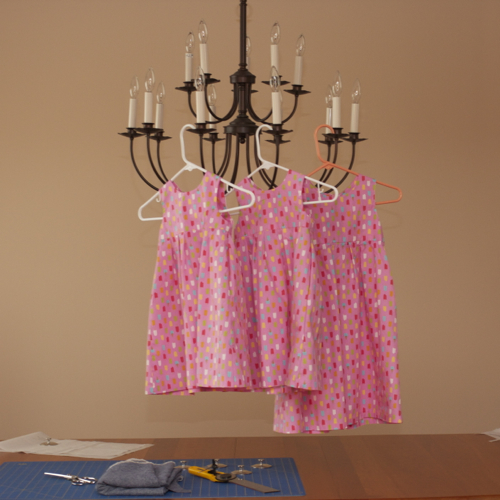 The pattern is the Geranium dress by Made by Rae. The girls and I went to Joann Fabrics late last summer, they unanimously agreed on a popsicle print (a now-discontinued Lisette poplin in 100% cotton), even though I begged them to each pick out a different fabric.
I cut the pieces in August, but summer ended before I could sew anything up. I had somewhat anticipated the delay, so I cut size 4 dresses for Jordan and Casey and a size 6 for Meredith. (Yep, had to buy both versions of the patterns to get both sizes.) I am not experienced at pattern matching, so I tried to ensure only that I lined everything up horizontally.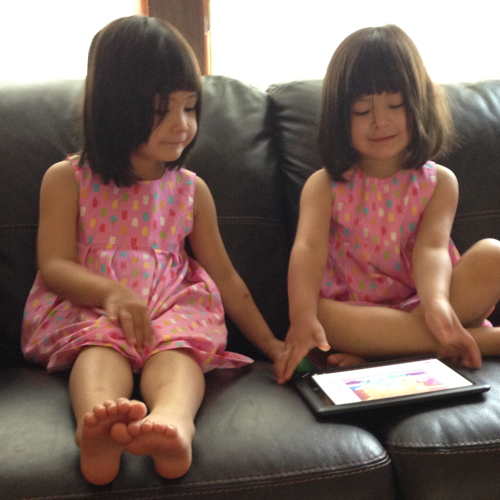 Thanks to Deepika's reviews of the dress (here and here), I knew I wanted to change the back to an invisible zipper. I followed the tutorial she recommended and cross-checked it against this tutorial, but I ended up with a weird bubble at the top of the zipper.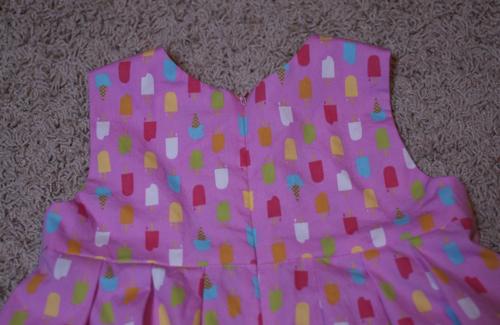 OK, I said I didn't really attempt to match the pattern, but can you see how beautifully it accidentally lined up across the invisible zipper?
You can see it better if you look down from the top.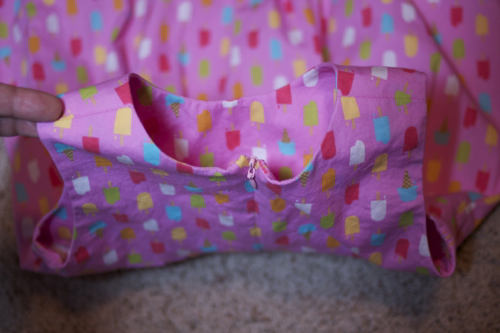 When the zipper is open, the 2 dress halves lay flat, so I knew it had to be the width of zipper pull itself that was forcing the fabric to buckle.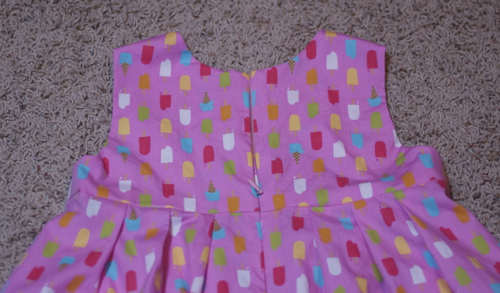 I checked in with Mrs Mole, who advised lowering the zipper and adding a hook-and-eye closure at the top, a standard solution that I have seen many times in RTW (I have a few dresses with that myself!). I mulled that suggestion over but could not force myself to do it because I have an intense (and admittedly irrational) hatred of hooks and eyes. I sought and found a different solution here. (Aside – I am so sad that Sherry no longer updates her blog. I learn so much from her tutorials!)
Yes, the zipper insertion process was time consuming, but I am very happy with the results! It's not 100% perfect, but it's a huge improvement over the earlier iteration.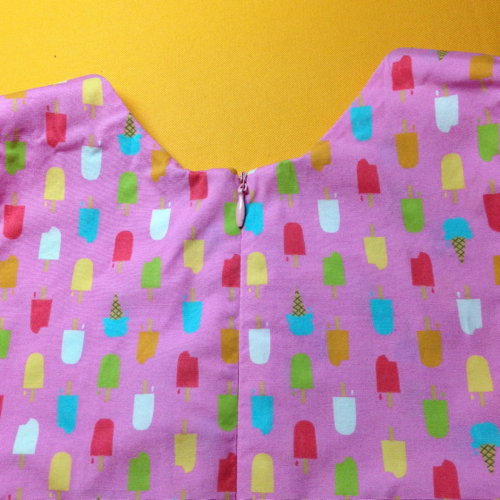 Different dress than the one from above. See, popsicles not matching vertically at all. Think anyone will notice?
Now it will lay flat against the back neck.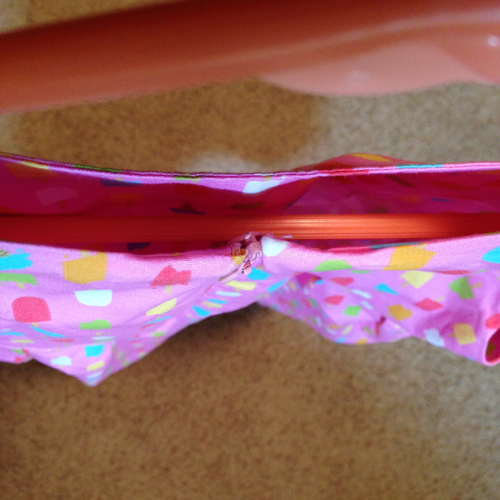 Here's a view of the inside.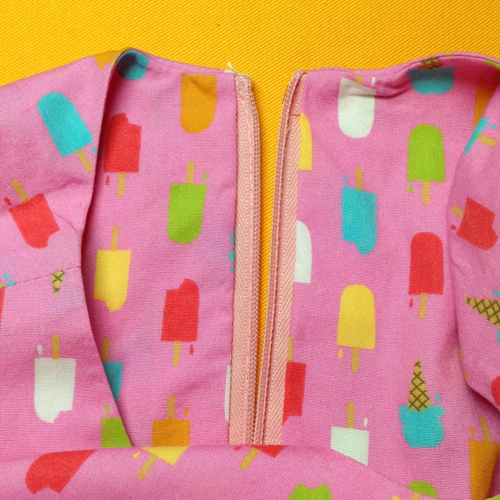 Aside from changing the back of the dress, I also did a minor modification of the hem. Instead of machine stitching across, I pulled out my blindhemmer and put in an invisible hem. You can't see it here, but the hem has a lot of skipped stitches. I ordered some new needles, hopefully that will fix the problem.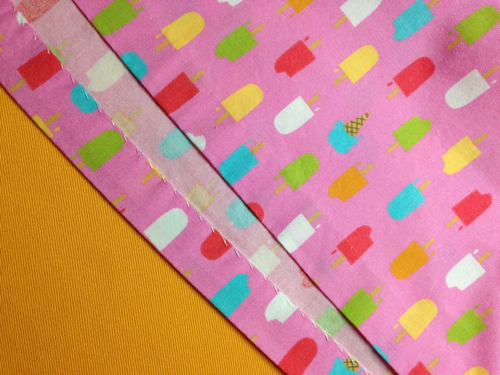 OK, the girls loved their dresses (and bragged that their mom made them to anyone who would listen) but were unhappy about posing for pictures.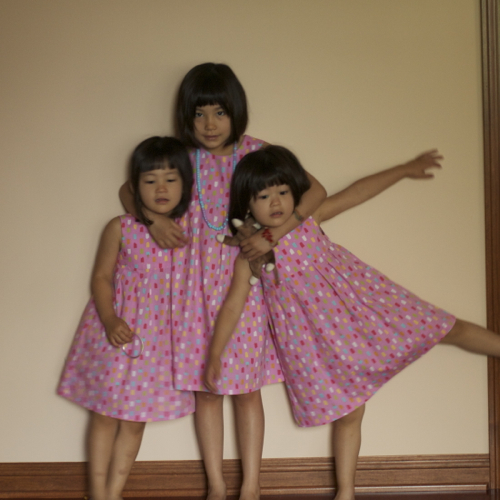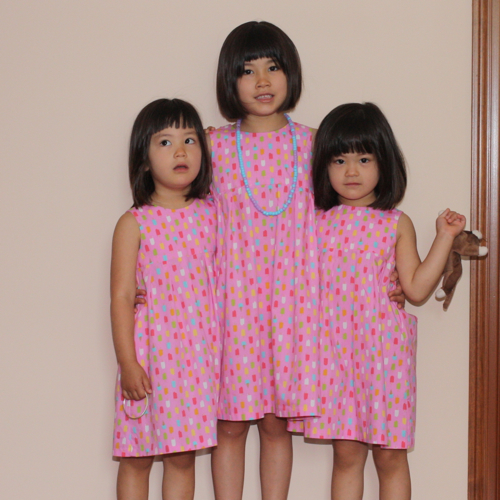 But then I promised them jelly beans (on a Sunday morning, before breakfast!) if they would do a silly dance for me.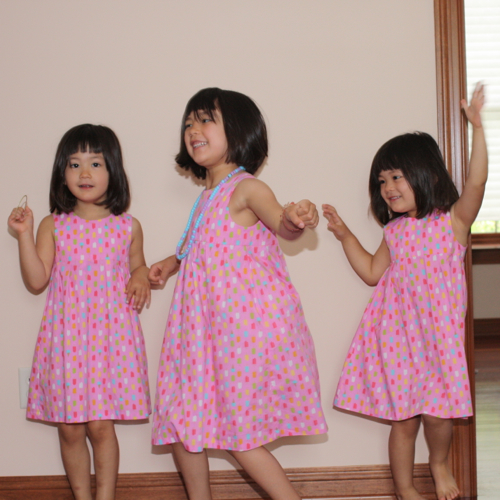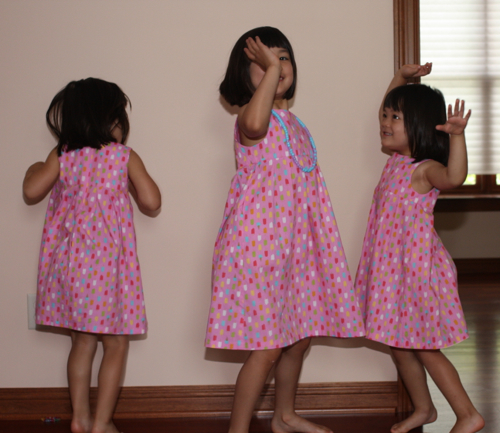 Candy bribes FTW!
The full pattern review is here.