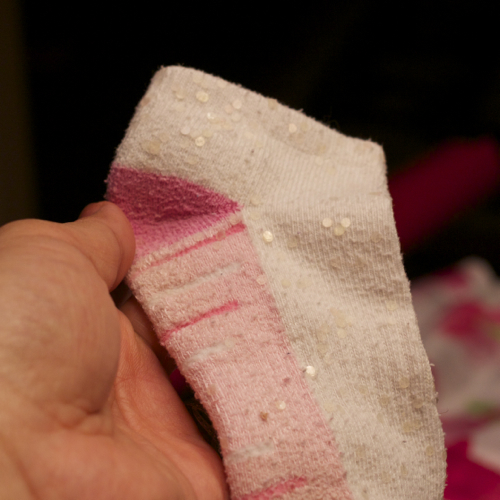 Washed a dress with glued-on sequins at the wrong temperature – the sequins washed off the dress, but enough glue remained such that the these dots, temporarily liberated, successfully adhered to socks, dress shirts, underwear, and the dryer drum interior. They are impossible to remove now.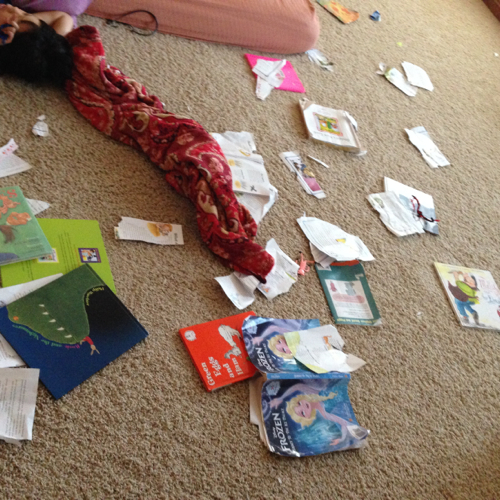 One daughter has a penchant for shredding books in her room when she's supposed to be resting quietly. It's been worse than what you see above – one morning, I looked in and thought the floor strongly resembled hamster bedding. Every few months, we ban books from her room, but they creep back in and then BAM, hamster nest.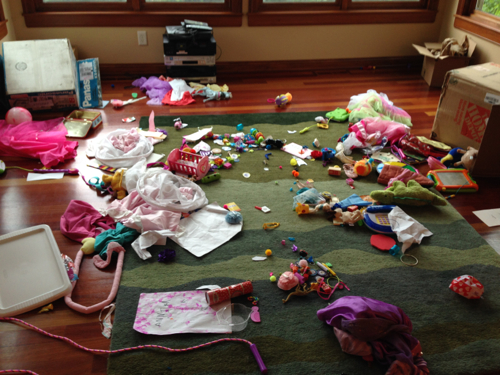 This is the detritus of small children. When they are searching for a particular toy, look out, 'cuz nothing is sacred. Of course, they lose interest in said toy about 45 seconds after they find it. Nothing motivates them to clean – not praise, threats, hugs, bribes, candy, yelling, adult help, clean-up songs – nothing. I'm at my wits' end. When I absolutely can't stand it anymore, I put half of it away and throw the other half away (take it to the trash or storage). They cry and tantrum as I toss out their stretched neon slinkies, lens-less kaleidoscopes, worn out glow sticks, and kids' meal plastic crap toys, but they STILL don't clean up. We're doomed.