Today is a joyful day for me and Matt, it is our 10th wedding anniversary!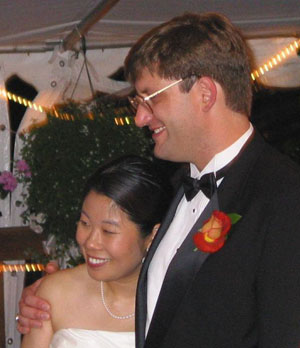 What's happened in 10 years between the two of us?
Added 3 lovely daughters to our family
Said sad farewells to family, friends, and a pet
Bought a house, sold a house, bought a house
Changed jobs 3 times
Enjoyed pretty good health (no major medical anything)
OMG, how can I sum up 10 years in a few bullet points? No, you're right, I can't. It's been a great life together, and I couldn't imagine having a better partner (I mean, OK, maybe he could put away his shoes sometimes, ha ha). But we've stuck through thick and thin, good times and bad, and we're still here, still happy, and still so damn glad to be married to each other.
—
I was a little shocked to see it's been >2 months since I last posted. I have been SO. BUSY. AT. WORK. I don't know what got into me, other than possibly guilt over taking a 2-week vacation in August, but I took on too many projects at once in Sept, which turned into a nightmarish slogathon of 50- to 60-hr work weeks that has not yet relented. (Yeah, I know some people work like that all the time [HI, MARCIA], but I have not been one of those people since I finished grad school.) The end is in sight, I think, but I have done nothing but cycle through ||:work and parenting and cleaning and sleeping:|| for what seems like forever.
With my oldest now in elementary school, we've had a lot of changes at home, too, including flexing my work hours to be at home when school is out and making up the lost work time on lunch hours/nights/weekends. We're doing (relaxed, informal) homeschooling on top of regular school homework, and it has been challenging on multiple fronts. Teaching young 'uns is a tough gig, no joke! Altogether, my current schedule of zero free time is starting to feel unsustainable to me, so I'm going to shake things up a bit and see how they settle out.