As I've gotten older (lazier), I've come to appreciate crafting kits. Someone's picked out a pattern and found the right fabric to go along with it? Terrific!
I've always loved maxi skirts, even as they came in and went out and came back into fashion (mmm, gettin' old), but I especially love maxis with a little something extra. Last February, I splurged on Craftsy's Flirt Skirt sew-a-long kit. This maxi, with its fishtail back, is a winner! It's a simple pull-on skirt with an elasticated waist. The kit has been discontinued, but the pattern alone is here (NAYY). The fabric that came with the kit was Kaufman Essex Linen, a cotton/linen blend.
It is a little wrinkly here (after wearing all day at work, sorry), and it looks like I'm bending my knees weirdly under the skirt when I'm not. Never noticed that until the pictures, though.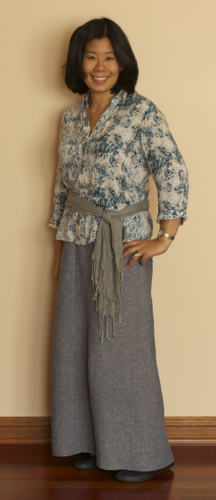 The .pdf pattern was 13 pages to be cut and taped… Screw that nonsense, my time is better spent sewing, so I used Inkscape to stitch the .pdf back together into a giant sheet and had it printed at a local printers for another $10.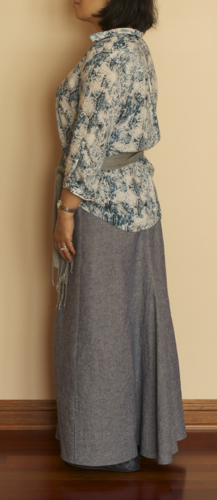 I actually made a toile of this pattern, included horizontal balance lines and everything. From that, I made 2 main changes to the pattern. The original pattern calls for the front to be cut on the fold, but I decided to add a center seam, redraw the grainline, and cut the front as 2 pieces. Also, 5-foot-4-inch me actually had to lengthen the skirt by 2 inches (I know!) for it to extend appropriately to almost-the-floor. I cut the pattern approximately in thirds and added an inch at each cut, blending the seams to a straight line.
One minor change – I made a low-bulk waistband following Pam Erny's tutorial here. It's not the most beautiful thing, but to my eye, it looks a little better than a full casing.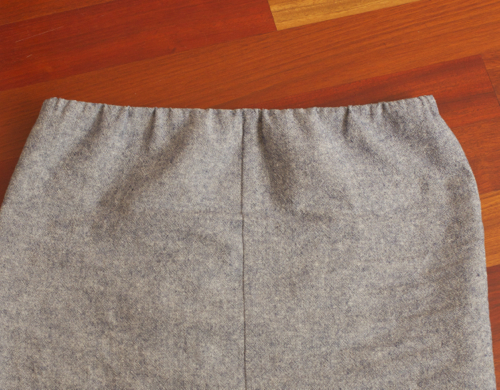 I'm not entirely sold on the pull-on skirt concept because the waist has to be the same size as the hips for it to work… Before I made this, I thought that the straight shape would look decent on someone like me (waist:hip ratio of >0.8), but now that I see it, I think it would look better with darts, a real waistband, and an invisible zipper on the side. Hm. Or maybe it could be made up in fabric with a little lycra in it, so that it can stretch over the hips and still snug up at the waist. Tuck those thoughts away for a future iteration, I guess.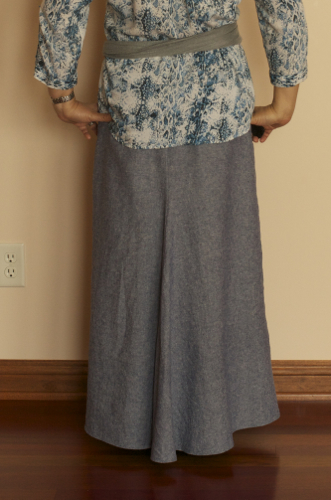 Back
I love walking in this skirt – it has a little swishy drama going on back there, but the best feature of the fishtail is actually that it doesn't hamper my walking stride at all. Not that I take enormous steps or anything, but I hate feeling constrained by clothing, so I especially appreciate being able to walk freely in a long skirt.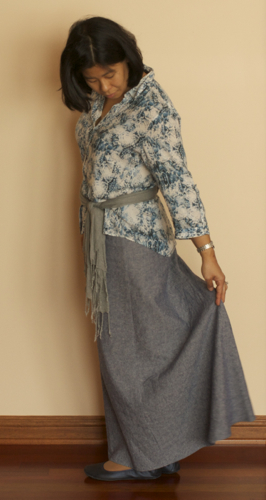 Because maxis cover the shoes, I tend to wear boring flats with these kinds of skirts, but these specific shoes are worth mentioning because they are barefoot shoes – like the Vibram 5-finger type, only less freaky looking. Here's a better view.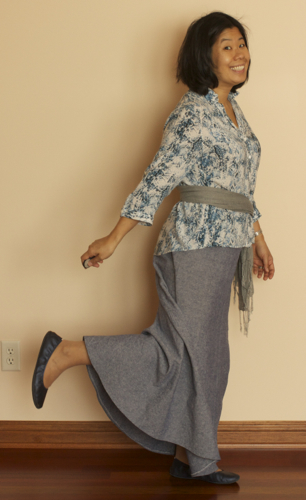 It feels sooo strange to walk in these, I can feel every pebble and cigarette butt on the sidewalk, I am extremely aware of how hard my heels pound when I walk, I feel bumps in the lawn and not only hear but also feel leaves crunching underfoot, etc. This particular pair is made of "vegan leather," which traps moisture, plus the back bites into my Achilles tendon slightly, so I can't wholeheartedly endorse these shoes; still, I like them overall. I suppose I won't wear them when it gets very cold out, I don't think I'd enjoy walking barefoot on icy sidewalks!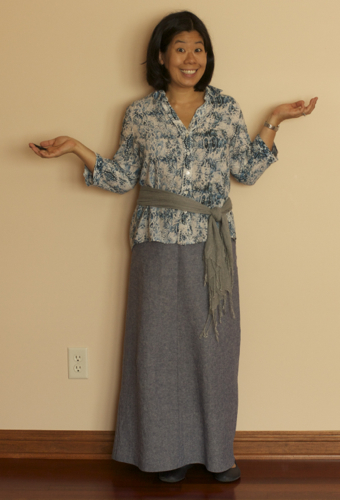 That's all I have to say! Go make yourself one of these fun skirts! The full review is here.