Have you heard of this shearing technique called "Bioclip"? It was news to me! I saw an ebay listing for bioclipped wool and had to learn more. (You must see the photos in that auction. It is stunning.)
The basics – sheep are injected with epidermal growth factor. The EGF makes the wool break uniformly under the skin. An elastic bodybag of netting (sort of like an onion bag?) is placed around each sheep at the time of the injection to hold the wool together on the body. Four weeks later, enough of it has grown out that it is no longer part of the sheep. The wool is then pulled off like you would remove a sweater.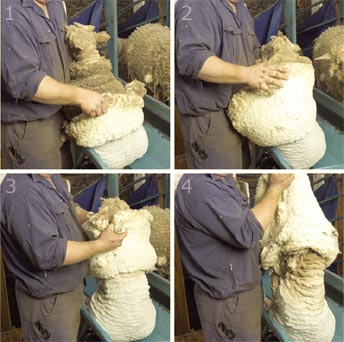 Photo from Merial
UPDATE: Photo lifted from the aforementioned ebay listing.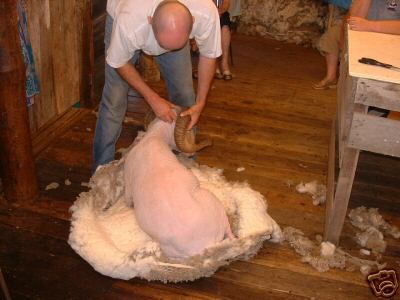 How cool is this?!
Advantages seem to abound – no nicks or cuts to the sheep, longer and uniform staple, faster removal of wool, requires no special shearing skills, no second cuts. I think this is especially useful for Merinos and other breeds with wrinkled skin. UPDATE: According to the manufacturer Merial, Bioclip is only recommended for Merinos and half-breed Merinos because they have continuously growing fleece.
I really want to see what the wool is like when it is sheared this way. Is it even done in the US?
UPDATE: According to some online articles, the cost per sheep seems to hover around $6 AUD, which is around $4.50 USD and is also about 2-3x the cost of shearing by hand in Australia. Long-term effects of EGF injections are unknown, but Merial claims that there are no adverse effects (they say it degrades within 48 hours).