Last week, I developed a hella craving for cheesecake. I was reminiscing about the good old steakhouse days (before we had children, Matt and I occasionally would treat ourselves to a big steak dinner and polish off a generous slice of cheesecake afterward), and the next thing you know, I was dreaming about crunchy graham cracker crusts and clouds of sweet cheese.
One of the top hits on my blog is a recipe for NY style cheesecake. Funny how something I posted 7 years ago still has relevance today. It makes a great cake, and I still bake it for dinner parties, it's really a fantastic recipe. However, last weekend, I wanted something smaller and faster for a family dinner. I ended up adapting a recipe from Kraft, of all places.
Crust:
1 c graham cracker crumbs
2 T sugar
3 T butter, melted
Filling:
2 x 8 oz cream cheese, room temperature
1/2 c sugar
1 t vanilla extract
2 large eggs
Heat the oven to 325F. Line a muffin pan with paper baking cups. Mix the crust ingredients together. Spoon into 12 equal portions.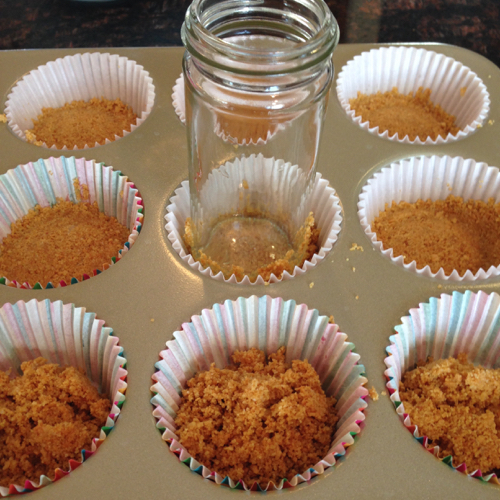 I used an empty spice bottle to pack the crumbs tightly down into the pan. No need to bake the crust ahead of adding the filling. Note: This makes a pretty thick base, but I love a lot of crust on my cheesecakes. I could probably eat it alone as a cookie, mmm…. Reduce the crust ingredients by 1/3 if you prefer less crust.
Beat the cream cheese until light, then add sugar and beat some more. Add vanilla and 1 egg, beat, add the second egg, beat some more. I have a rubber-tipped blade on my mixer that scrapes the bowl as it beats, which I find very helpful for cheesecake. If you have a regular beater, use a rubber spatula to scrape down the sides and beater in between adding ingredients.
Spoon filling into the baking cups. You'll have enough leftover batter to satisfy even the greediest of bowl lickers.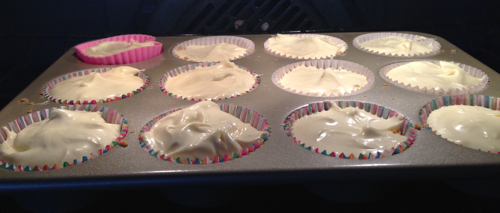 Bake the cheesecakes for ~25 minutes or until the internal temp reaches 150F (mine went a little past that, whoops, to 158F). The center will still look a little jiggly when you take it out of the oven. Let it cool in the fridge for a few hours before eating.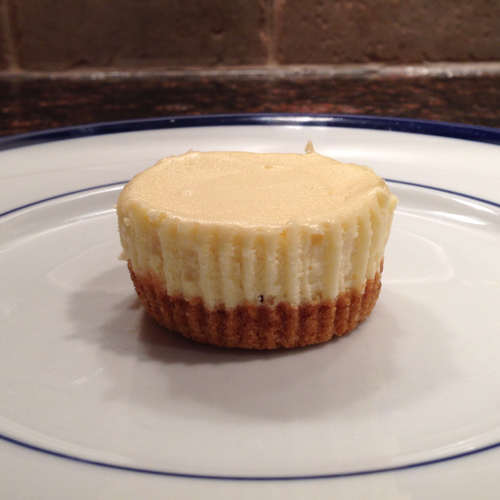 Enjoy!