When I last posted about adjusting the Renfrew t-shirt, I'd made a couple of muslins and reviewed some of the adjustments necessary to improve fit. I've now sewn 3 more versions, let's review! I was in a huge hurry to take these photos before my daughter came home from school, sorry that they're a little fuzzy (no time to reshoot!).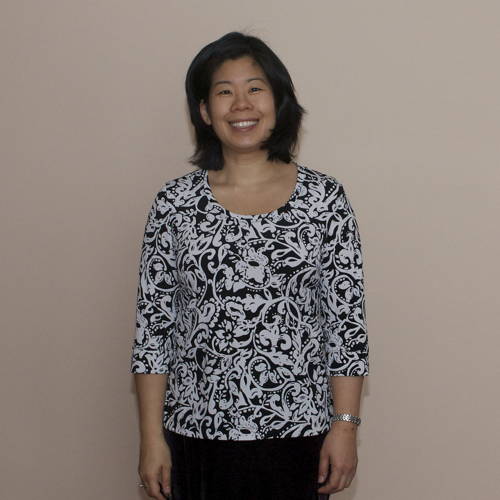 First up is a shirt sewn from ITY polyester, purchased a few years ago from Gorgeous Fabrics. Per the muslin version from before, I cut a size 12 at the shoulder and expanded to size 14 at the bust downward. Let's see what's going on…
I see a slight pucker at right sleeve cap, oops, but I'm assuming no one will ever notice because of the fabric. I skipped the neckband pattern piece and followed Sarah Veblen's neckband tutorial, which I've used before to great success. With this shirt, however, I first cut the neckband too short, which caused everything around the neck opening to gather weirdly. That neckband was picked off and a new one was sewn on. I also cut slightly too much off at the hem.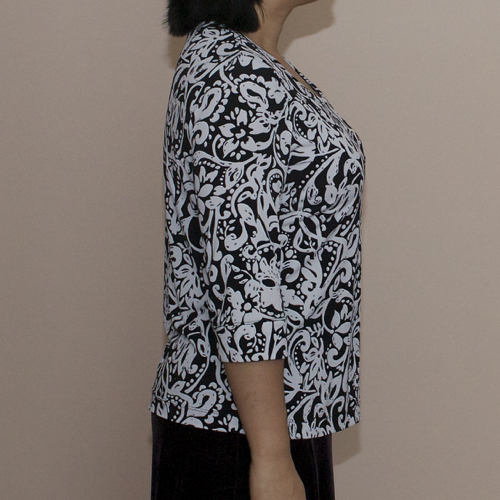 I gave up trying to ease 1 inch of extra front length into 5 inches of the back and just gathered it at the side bust; I'm calling that a legitimate design choice.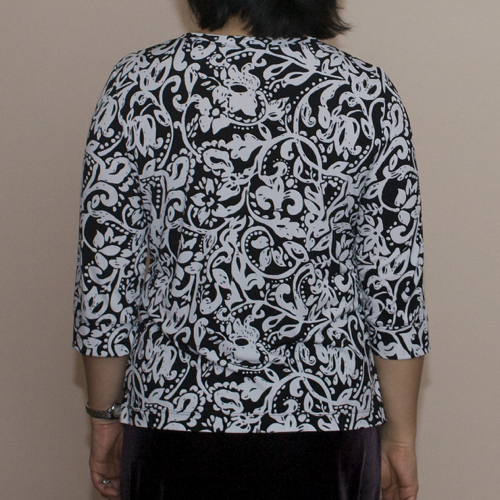 Note that the excess fabric in back is reduced but not wholly gone. The fit seems a lot looser than what I saw in the muslin; I attribute that change to the thin, drapey ITY fabric (very different from "Beefy T" cotton).
I realize you can't really see anything going on with the patterned fabric (not a coincidence), so I made a version in a solid color to get a better idea of how to improve the fit.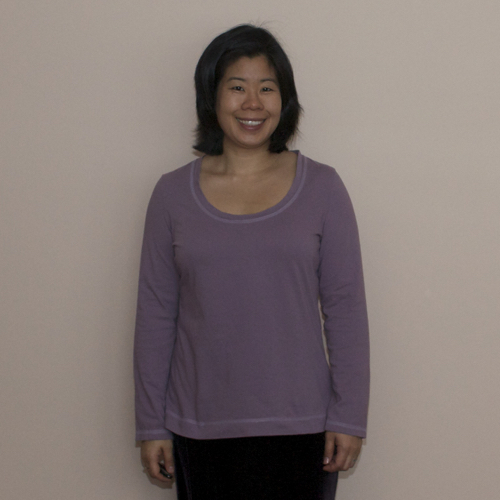 This is sewn from a cotton mystery blend (maybe with a little lycra in it?) from the now-closed Mill End Textiles. This is a strange fabric, it sticks to itself and even slightly to my skin. I added a 3-needle reverse coverstitch to the neckline and hems to make the top a little more interesting.
I lowered the neckline by 1″ on this version. My caution in ensuring that the neckband was not too tight resulted in the pendulum swinging the other way, this neckline is slightly too loose and doesn't hug the body. 🙁 The neckband is also too wide and folds over. You don't see it here because I actually ironed this shirt for the photos, and holy cats, life is too short to iron t-shirts on a regular basis.
What else? I see wrinkles on right shoulder only, which I think is pointing to asymmetrically sloped shoulders. The same wrinkles are evident in the floral tee above (but invisible in the photos here because they are masked by the patterned fabric). The shoulder seam is too far back and needs to be brought to the actual top of my shoulder. I made long sleeves without the banded hem; I did take a half inch off the length but could probably stand to take off a little more.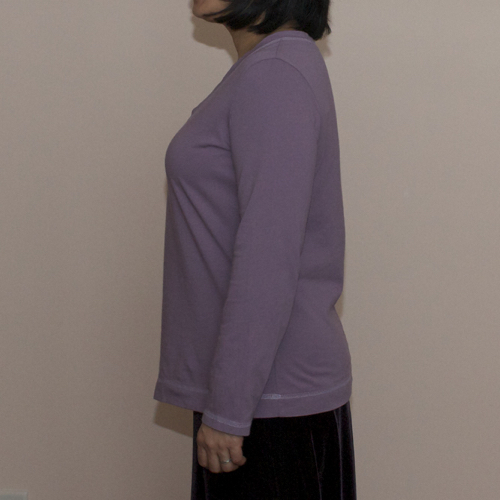 The side bust gathers are not doing anything to stop the deep folds from forming under the bust. The shirt also is just hanging straight down from the bust, but maybe a little underbust shaping wouldn't be a bad thing. I don't favor the common strategy of negative ease throughout because that would only highlight my lady belly, so I'm ready to explore French darts.
You can see my differently sloping shoulders pretty clearly in the back view. Also, I have little "wings" of fabric in the back sleeve cap that can be shaved down. The length of the back is good, but the bagginess at the lower back will not go away without darts.
The fit still seems kind of loose, even in this thicker fabric. Given the tightness of the very first muslin, I was not expecting 1 size up to feel so floppy.
OK, here's the third and last iteration for this update. I went back down a size (10 at shoulders, 12 at bust and below) and used an even thinner and drapier ITY polyester knit than the floral one (also purchased a few years ago from Gorgeous Fabrics). I was afraid that this shirt would be too tight, so I went with the cowl view to distract the eye upward.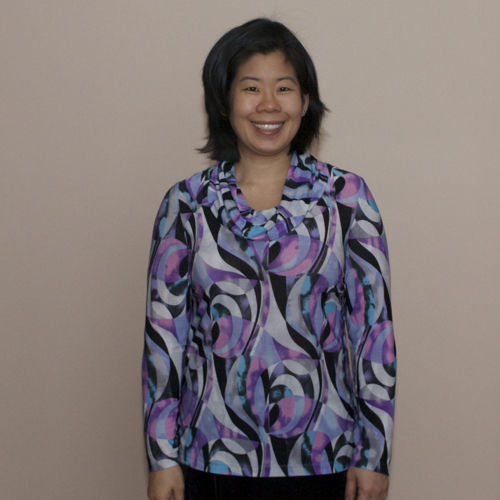 I did not have enough fabric and had to piece the cowl. Other than going back to the smaller size and adding the cowl, I made no other changes. I'm not crazy about the loose turtleneck style; in this near-liquid fabric, it feels simultaneously heavy and flopsy.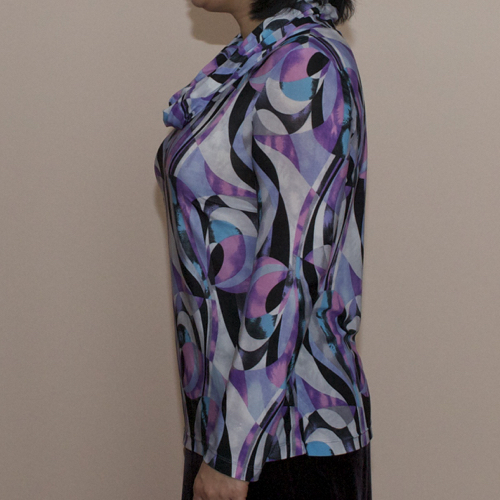 Size-wise, this seems OK (or possibly borderline too tight?). Maybe I'm just being self-conscious. What do you think?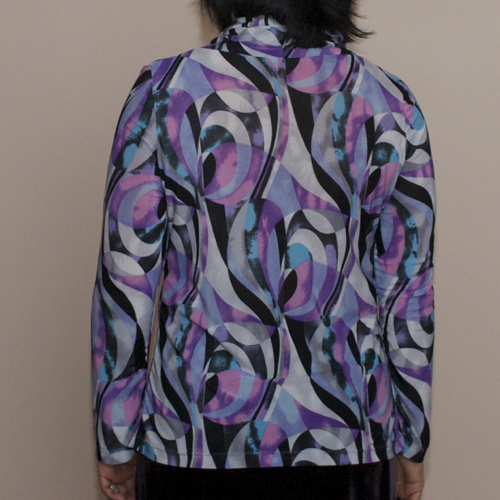 All 3 shirts feel pretty comfortable, and I'm happy about wearing them out and about.
Here's the to-do list for the next round of changes:
Move shoulder seam forward by 2 cm
Angle shoulder seam downward on right side only
Shave excess fabric off the back sleeve cap
Shorten the long sleeve length by another half inch
Decrease height of neckband
Add French darts to front
Add vertical fisheye darts to back
I feel oddly satisfied with this process of making incremental changes. It's not unlike optimizing a laboratory protocol; you tweak just a couple elements at a time and see how those changes affect the culture conditions, assay reproducibility, etc. It is a slow process and perhaps a little boring (sorry), but I'm learning and hopefully improving as I go.