Let me introduce another round of t-shirt tweaks! I was saving this fabric for something good, it's a fascinating digital print of Times Square on a rayon/lycra blend, reminds me of Desigual shirts. I purchased this yardage from the always-fabulous Ginny's Fine Fabrics and Support Group. So wonderful to be able to browse there during a lunch break!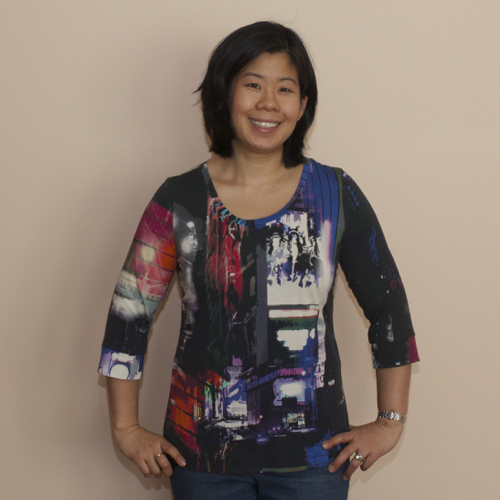 I did the easiest alteration first – moved the shoulder seam forward by 2 cm. The original pattern had almost identical armhole seam lengths for the front and back bodice, which didn't make sense to me. Now the seam doesn't feel like it's sliding down my backside!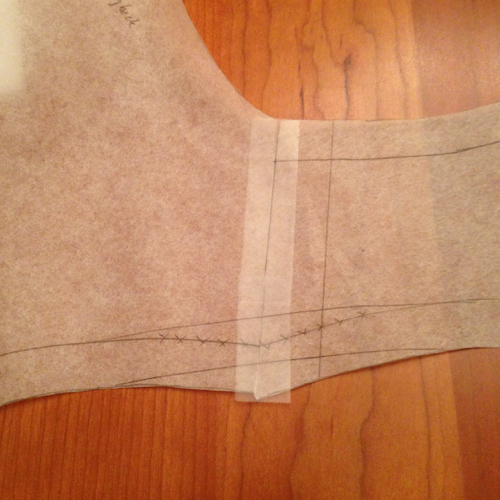 Remove seam allowances, abut 2 edges, redraw seam line, cut apart, add back seam allowances. Here, I'm also truing the shoulder apex.
Seems like I spend a lot of my free time mulling over sleeves… I'd been using a pattern based on a sleeve that I'd draped on myself last year. It was OK but not great, despite endless rounds of tinkering. Meanwhile, I'd made a holy grail out of getting striped set-in sleeves to match a striped bodice. Imagine my delight when I saw on Cloning Couture's blog that it was indeed possible! I won't lie, I immediately ordered the Allemong drafting book that she used to draft her sleeve.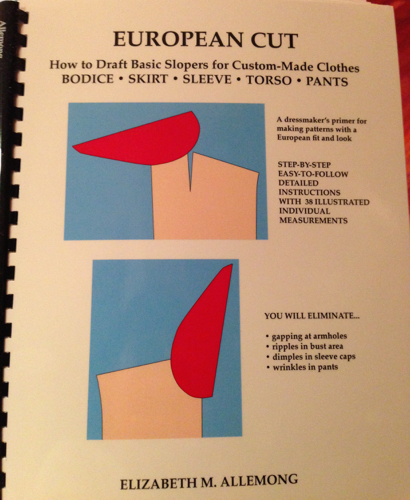 So the book arrived and OMG it is 38 superdetailed measurements before you can do any actual drafting. Whoa. Now Matt is actually pretty good humored about helping me with this sort of thing – over the years, he has patiently and lovingly covered me in duct tape, measured me for Wild Ginger Pattern Master software, for Cochenille Garment Designer software, for Custom Fit sweater knitting software… (Can you see I'm crushing on custom pattern software?) But the Allemong sloper seems like another beast altogether, I hesitated to ask him again and I have no sewing girlfriends.
Still, drafting the sleeve cap requires just 3 measurements, of which only 1 is a body measurement (bicep; the others are flat-pattern measurements of the bodice front armhole and back armhole). The rest of the cap is drafted with simple math, eg, bisect this line, divide this other line into quarters, draw a line connecting 2 dots and divide the new line by a third to generate a new point that you connect to a preexisting line… Taken 1 step at a time, it's simple to follow and quickly generates a primitive cap.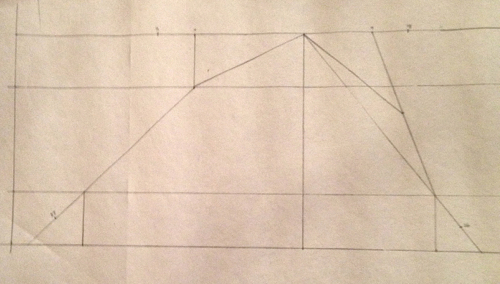 The magical part occurs when Allemong instructs you to slap down a French curve to flow from one set of dots to the next. Add seam allowances and whoa! Personalized, anatomically correct sleeve cap?!? I measured the seam lines, and the whole sleeve cap seam line is only 1.7 cm longer than the corresponding bodice seam line. Very cool!!!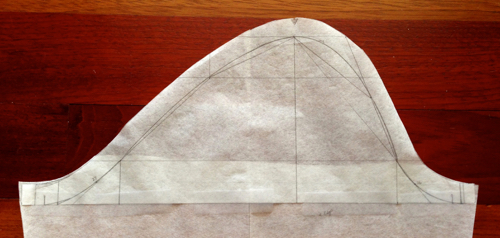 Next, I spent a long time agonizing over pattern placement for the cutting layout. I didn't want to have a bright patch highlighting the wrong part of my body, if you know what I mean. I laid the entire piece on the floor, circled the approximate bust point on the pattern, and tried as many layouts as I could. This fabric was expensive, so I had only a little over a yard and no room for error. I'm pretty pleased with how it turned out, especially with the vertical line running down the center front.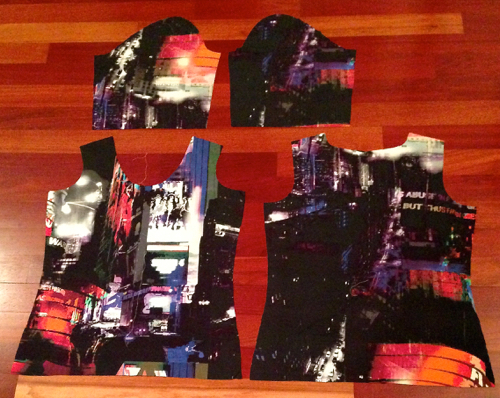 This time, I set the sleeves in flat, something I rarely do. I angled the right shoulder seam downward a little to match my shoulder slope, so the right sleeve cap had more distance to ease in, but it still looks OK. I eventually will make a full pattern piece with different shoulders and different corresponding sleeve caps.
It's hard for me to understand how the Allemong formula works when I think of the myriad different shapes of an arm, and yet… It seems to work great! See for yourself!
I lightened the color a lot so you can see the details. To me, this looks darn near perfect – smooth cap with no drag lines, puckers, or excess fabric.
This shirt also underscored some of the challenges of working with knit fabrics because the varying stretch and drape among jerseys. This material is a rayon-lycra blend, whereas the prior shirts I'd made were polyester/lycra ITY and cotton/lycra. I made the same size 10-12 hybrid as I did previously, but it was embarrassingly tight; I had to let out the seams by 1/4″ from the waist downward to gain an inch of circumference. It's probably not a bad idea to make wider seam allowances in the future and just shave them down during fitting.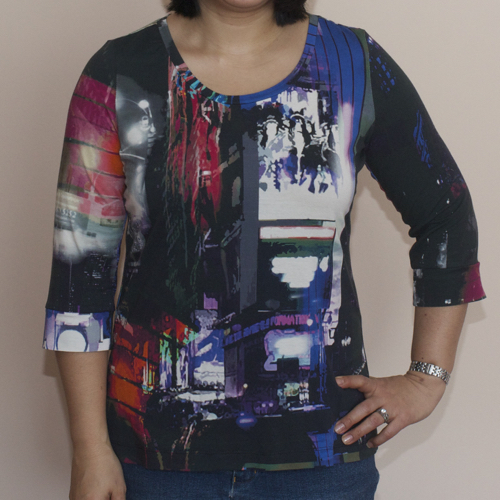 Remarkably, the pattern was printed meticulously on grain. Very surprised and pleased to see that. Do you see what I did with the neckband?

I cut it so that it would repeat the motifs of the shirt right below it. It's not a precise match, but I'm not sure it could have lined up exactly anyway. It's good enough. I did completely mess up my calculation for where to cut the neckband edges, though, the seam was supposed to match the shoulder seam. Oops. Hopefully, that's mostly invisible.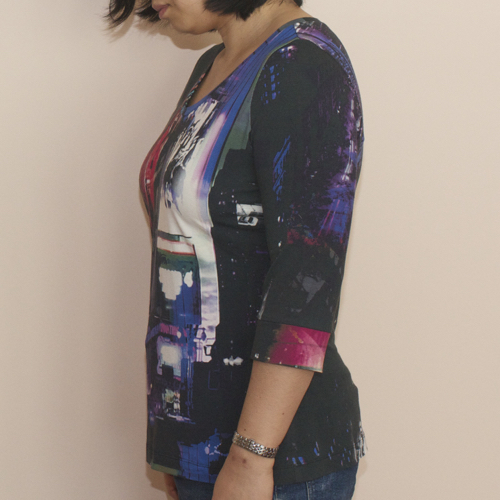 Side and back views, lightened for detail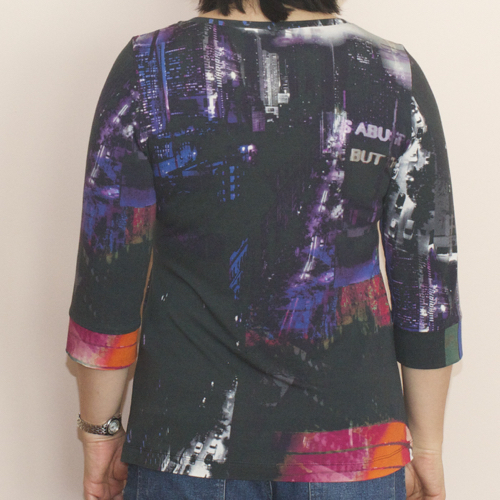 I again gathered the side seam at the bust and left the back plain; adding darts is still on my list of future changes. Curiously, the back bagginess seems different with this fabric, funny how rayon hangs differently than poly. (Looks like part of the back got caught on my pants for the photo, those diagonal lines aren't usually there.)
Are you sick of these t-shirts yet? Don't be! I'm working on a new muslin with French darts, back darts, and shorter sleeves. Thanks for hanging in there with me.