I am on the quest for the perfect sock yarn. Having knit and worn many socks, I have figured out what I feel are the most desirable factors for a successful sock yarn.
a) Must be fingering weight.
b) Must be machine washable.
c) Must be soft to touch.
d) Must have strong fiber.
e) Must be spun fairly tightly.
After making a thick pair of slipper-socks, I definitely prefer socks that can fit into my regular shoes. Lord knows I don't have the time to handwash socks, especially since I wear 5-7 pair a week. (I toss mine in a lingerie bag, machine wash, and hang to dry.) My skin is somewhat sensitive to prickles, and I'm much happier with socks that don't constantly remind me of their presence. I hate darning or dealing with ripped socks, and the best sock yarns I've used have always had some kind of reinforcing fiber (like nylon) in them. The spun tightly thing is somewhat debatable for me – I suspect a looser-spun 3-ply would wear quite well, maybe even better than a tightly spun 2-ply yarn. Lastly, I prefer socks to be colorful, too!
I realized a long time ago that sock yarns are the perfect project for color experimentation. One only needs 4 oz of fiber (often less) to make a pair of adult socks, and that amount is large enough to do some serious colorwork and small enough to spin up in a reasonable amount of time and not go nuts or get bored. I think this is a nice way to sample colorways, find out how the colors interact with each other, etc. without committing to a large project or a striped sweater. Another plus – even the most conservative knitter will make a pair of wildy colored socks and LIKE THEM.
After hearing too many people rave about the turkey roaster as dye pot, I caved and bought one at WalMart. A hearty "Thank you!" to Cathy, who suggested that I dye in the laundry room instead of the kitchen. Why didn't I think of that?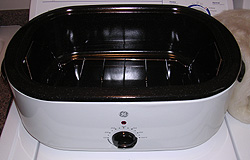 I carded white superwash superfine Merino and tussah silk in a 75/25 ratio. For those who don't know, I have a doublewide motorized Strauch/Fricke Finest carder with the 128 ppi cloth. I love it. Anyway, for this batch, I was slow and meticulous about blending. I carded batts that were about 2 oz, split them into at least 12 smaller batts and recarded each one thoroughly. One of the lovely aspects of carding commercially prepared top – the crimp has been ironed out of it somehow, it does not succumb to noils even after repeated carding. Eventually, I thought the silk was distributed evenly and brought it to the roaster.

Love the billows of fiber! I adore the silky shine!
I wanted cheerful colors to banish thoughts of the dull grey winter sky, and I selected "Ripe Tomato" and "Maize Yellow" from my collection of dyes. (Even the color names evoke thoughts of summer!) The dyes in this batch are "One-shot" dyes that have acid already mixed in. I sprinkled dye in stripes and poked at powder piles with a chopstick to help them dissolve.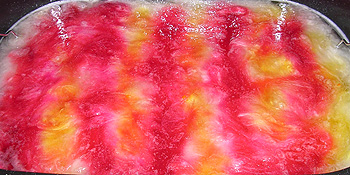 Yellow is usually subordinate to any other color in a shared dyepot, and I expected the fiber to turn out mostly red with a little orange. Ripe Tomato turned out to be Fairly Fuschia in real life, but it wasn't an unpleasant color. I cooked it at 185 F for a half hour or more, but the red did not exhaust, it just migrated and turned most of the wool reddish orange.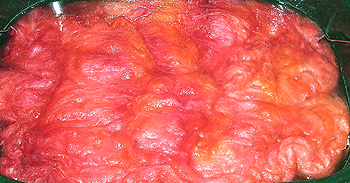 I sprinkled in some citrate, probably about 2 tablespoons, lifted and submerged the fiber via the rack to dissolve the citrate, and cooked it a little longer. After another 30 min. or so, the dyebath liquor had just a faintly pink tint. I let it cool to room temp, rinsed, spun in the washer, and let it dry.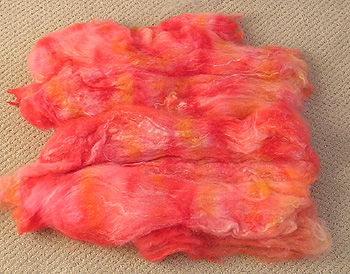 So pretty! The final color is a gorgeous coral – pinky orange that gets paler with silk and darker with wool. The batts also have darker red blops and a few lighter orange areas. Defintely nothing on the batt is plain yellow. I could hardly wait till the fiber was ready to spin. I'm tearing strips off each batt, alternating batts, and spinning to make a 2-ply yarn. I did a good job blending the fiber, and the color varigations are cool.