Last FO of 2005
Friday December 30th 2005, 6:49 pm
Filed under:
Knitting
I knit a pair of Jaywalker socks that everyone and her sister have been knitting this fall. They are for my long-time friend from college, Annalisa, who you have seen before. She just had her second baby (a beautiful boy – congrats again!), and I know she's going to be really tired and busy taking care of a newborn and a 2-year-old. I know Annalisa is so selfless, she has always thought of others first, and I wanted to give her a little gift (in LOUD BRIGHT COLORS! HELLO!) to treat herself. Husband Alain was all stealthy-like and conspiratorially sleuthed out her shoe size. (OK, he just asked for her size point-blank but refused to explain why he needed to know. Tee hee!)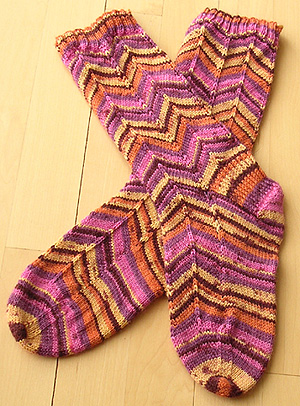 Pattern mods – I used US0 (2.0 mm) needles and the second size (84 st circumf) in the Magknits published pattern. (I like to have relatively tight fabric for socks, it just feels better to me.) The socks were tight around my foot, but Annalisa is a tiny thing with petite feet (size 6!), I think they will fit her OK. Let's see, other mods – I cast on over 2 needles (held together) to make sure the cuff would be nonbinding. I stopped doing the slip-stitch after decreasing all the extra stitches (after turning the heel) because I forgot to do it for a few rounds and then decided it looked fine as it was. Although I used the "regular" Kitchener stitch to graft the toe, I recently saw a novel way to close off toes that is virtually indistinguishable from Kitchener stitch. (This technique is also detailed on Lucy Neatby's site.)
I used the Meilenweit yarn that I purchased last summer, and there was plenty leftover. Unlike other Meilenweit yarns I've used, this one had a tendency to split, particularly during the cast on. But the colors were glam (the hot pink matched my winter coat! People stare at my coat as I walk through the patient lobbies at Mayo!), and I found myself smiling whenever I picked them up to knit a few rounds. Thanks for the great pattern, Kathy!

Print This Post