I inherited my mother's ultrasensitive sense of smell. It's like… the closest way I can explain it is, you know how you can smell EVERYTHING when you're pregnant? It's like that, except my nose has functioned at this higher level all my life. It's a blessing and a curse, really. Everything has an odor. All those things that you think don't smell like anything? You're wrong. I can totally smell that. From pretty far away, too. 😉
Last year, Katy @ NoBigDill talked about their family's solution to sour-smelling towels. She described buying thin cotton Turkish towels that dried fully between showers, and my nose perked up at the thought.
I bought 2 yards of Robert Kaufman linen/cotton (55/45) Essex fabric (the "wide" version, which is 56″), and I used scraps of the same fabric in plum for a band of color. Essex is considered a lightweight fabric (6.00 oz. per square yard), but I think it has a fairly firm hand; in fact, it's the same fabric that I used to make my Flirt Skirt.
This was a very simple project. I laundered the fabric about 4 times to shrink it up, ironed the whole length, and then cut the fabric in half (to make 2 towels). I cut off the selvedges and made deep mitered corners following this tutorial.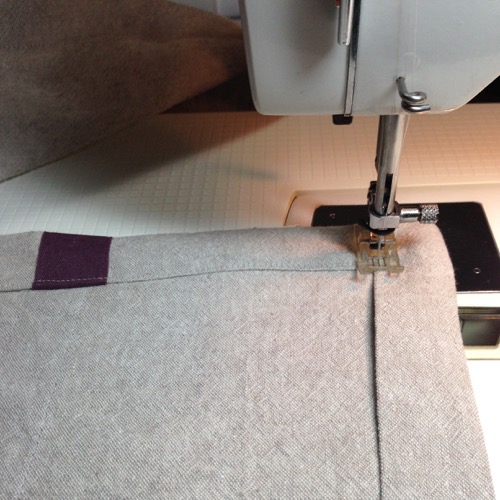 I cut a strip of purple fabric (perpendicular to the selvedge) and pressed the edges to the wrong side center by passing it under a single pin (like making bias tape without a tool).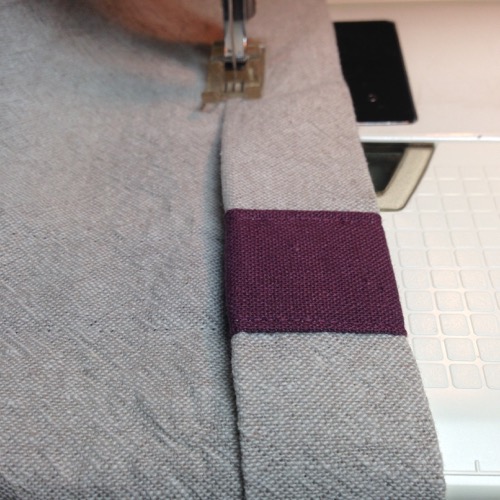 I sewed the stripe (edgestitch) onto the fabric and then edgestitched the hem all the way around. Pressed it one more time, just for photos. For sure, life is too short to iron towels on a regular basis! The final dimensions are about 50×30 inches.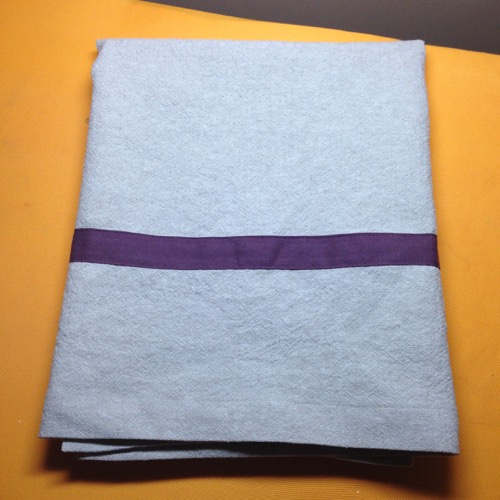 Of course, I had to try it out with my shower today. It felt weird drying off with such a thin fabric, but it worked out just fine, of course. I kind of wish I could have made it a couple inches bigger (53 inches?), but shrinkage and the 1″-hems precluded a longer towel.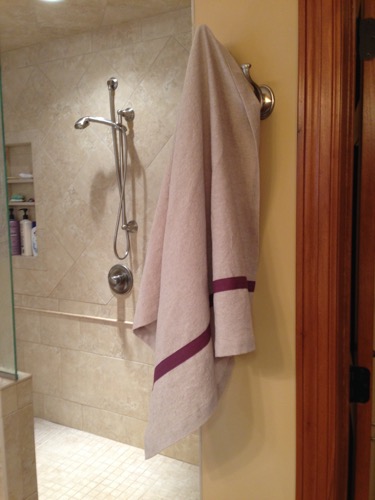 I stitched this on a Husqvarna 6460 that was my late grandmother-in-law's machine (purchased in 1979). Although the machine sat unused for several decades, it seems to work just fine. I really enjoy sewing with purely mechanical machines, they make me happy.