I bought a short piece of ITY from Nancy's Notions in March. It was advertised as "fronds," but when I got it in my hands, it started to look like "feathers."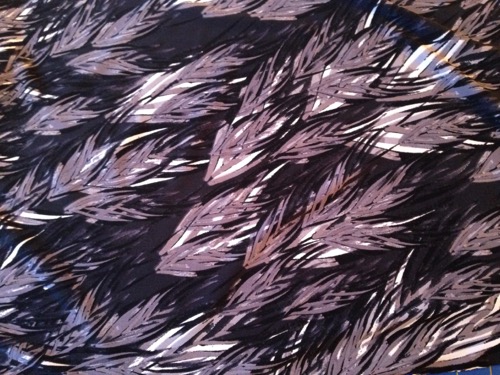 Feeling indecisive during layout, I put out a call for advice on Instagram, and Kathy very helpfully suggested that I drape it on myself in both orientations. Ah, in the feathers direction, I looked like a miffed bird, so fronds were the way to go!
I pulled out all stops and used my ever-evolving shirt pattern with the custom shoulders and sleeves. This time, I added French darts (borrowed from Silhouette patterns' Ann's top) and back darts (borrowed from Maria Denmark's Audrey dress).
Chalk would be near invisible on this fabric, so I marked darts using tailor's tacks.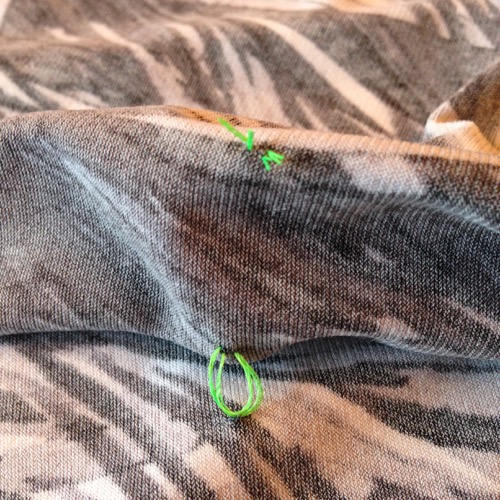 I realize you can't really see any details on this print, but that's OK. I'm still mustering up the courage to make this up in a solid color. 🙂 But please note, if you can, the very limited number of drag lines, the lack of saggy-baggy in the back, and the even hemline. I added an extra half-inch to all side seams but ended up cutting them all off again. I set the sleeves in flat but attached the cuffs in the round.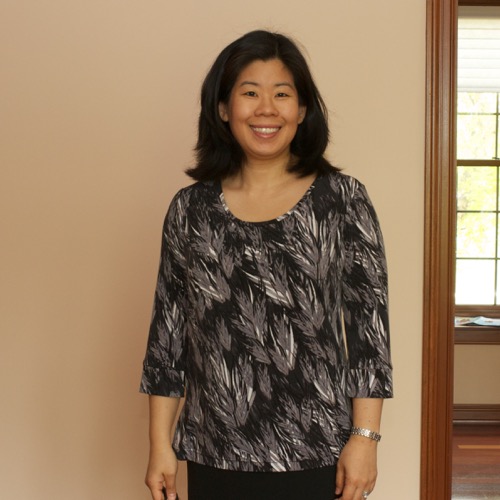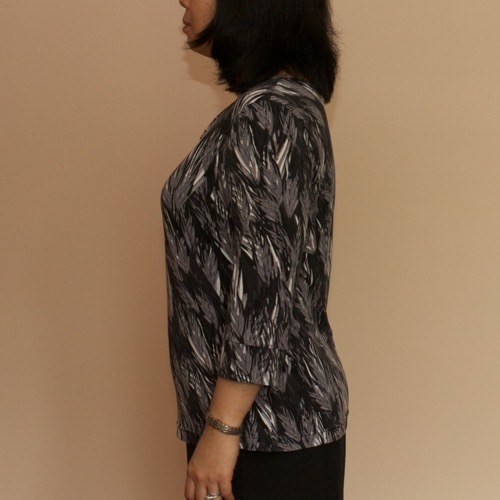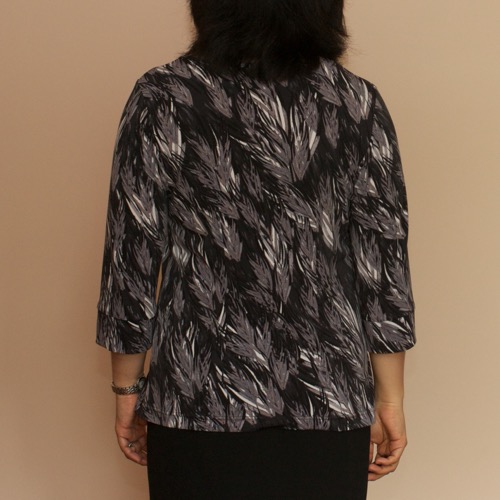 The skirt is also new (review is here). This is the Magic Pencil Skirt by Pamela's Patterns. Fabric is some kind of rayon-poly-lycra blend from FabricMart that I bought a couple years ago. I'd assembled the skirt last year and gotten to the pin-fitting, try-on stage when I got discouraged (sewing late at night after a long day of work and kids is not really conducive to success). It sat as a UFO for months, but it's finished now. The amount of skirt pegging seems universally lauded by everyone who's ever sewn one up, and I have to agree – it really is spot on.
I'd show you the darts and waistband, except my tummy is covered with little Xs of Steri-strips, and I'd rather not photograph that. So, yeah, I had to undergo laparoscopic surgery last week to remove some diseased lady parts (1 ovary and 1 tube). Everything went as well as could be expected, and the pathology results are negative for cancer [big sigh of relief]. Recovery has also gone as expected (postoperative day 1 = miserable pain; postoperative day 6 = off all meds), but I look like I'm 5 months pregnant. (I'm seriously holding my breath for the above photos… except I can't seem to suck in my belly much any more.) I guess 4 incisions through all the core muscles will do that. Hopefully, this preggo belly is temporary…